Long-lasting as it is, Hanoi has become one of the most attracting ancient capitals in the world. Hanoi has something for every visitor, from mesmerizing tradition to mouth-watering street food, from luxurious hotels to affordable accommodation. It is the best place to explore on foot. This French colonial city is also known for its colorful nightlife, alluring silks and traditional handicrafts, beautiful lakes and rivers, glorious old French colonial architecture as well as a multi-cultural community of Chinese, French, and Russian. Hanoi traffic is another crazily awe-inspiring thing as well. Chaotic and noisy, but yet fascinating and captivating, Hanoi seems to have everything worth a must-visit. Let's explore our ultimate Hanoi travel guide to learn more about this city, and well prepare for your next adventure.
I. Overall Information:
Importance: Capital of Vietnam – the political center
Region: Red river delta, northern Vietnam
Population: 8,053,553 people
Numbers of Districts: 12 urban districts and & rural districts
Airport: Noi Bai International Airport (30km from the city center)
II. History
Hanoi is a rich cultural city with a history that dates back to more than 1000 years ago. The location was often chosen as a political center by Chinese conquerors since the Tang dynasty in the 7th century. To defeat the people's rebellion, the administrator of the Chinese Tang built Dai La Citadel (Citadel of Great Dike). At present it is in Ba Dinh district.
In 1010, the king Ly Cong Uan moved capital from Ninh Binh to Hanoi and named it as 'Thang Long' with literally meaning as 'Ascending dragon'. Because one night he dreamt of a dragon flying up the sky which was a sign of luck and prosperity. The capital's name was changed to Hanoi in 1831.
In 1802, the first Nguyen Emperor, Gia Long, moved the capital to Hue.
Under French colonization, in 1902, Hanoi again became an important administrative center. French established Hanoi as the capital not just of Vietnam, but of all Indochina. This was largely because of Tonkin's proximity to southern China, where the French sought to expand their influence, and because of Tonkin's mineral resources.
On May 7th, 1954 after a nine-year war between the French and Vietnamese, Hanoi became the capital of the Democratic Republic of Vietnam (North Vietnam).
From 1968 -1972, Hanoi was bombed several times by American which caused massive damage at that time.
On July 2nd, 1976, following the defeat of the south regime; Hanoi was proclaimed the capital of the reunited Socialist Republic of Vietnam.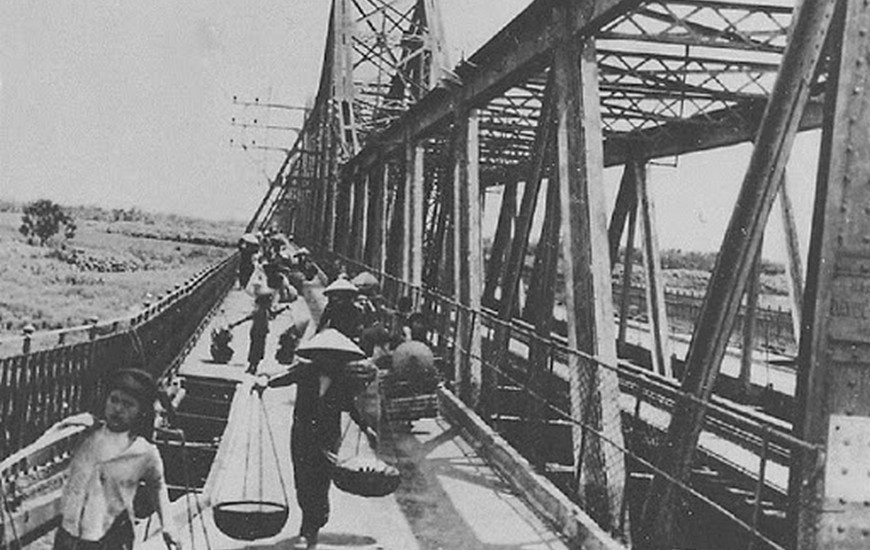 III. Districts In Hanoi
Hanoi has 12 urban districts, and 17 rural districts which are extended parts. There are ample number of fascinating sights to discover, scattered all over the districts of Hanoi, each of which with its ambiance and uniqueness. Out of the 12 urban districts, there are 3 most important ones that attract tourists: Hoan Kiem, Tay Ho and Ba Dinh.
1. Hoan Kiem (Hanoi Old Quarter)
Hoan Kiem is the most attracting sightseeing district. It is the downtown and commercial center of Hanoi where you can find most of the largest Vietnamese public corporations and bank headquarters there. However the central government offices are located in Ba Dinh districts. Visiting Hanoi without stepping inside Hoan Kiem district is the same as traveling to Agra (India) without going to the Taj Mahal.
The most hectic one would be the Hanoi Old Quarter. This is where you will find most of the eateries, accommodation, and shopping. Hanoi Old Quarter is famous with narrow streets where lots of vehicles going to and fro from every direction. The area is also a must-do place where you can explore all the traditional features of Hanoi to the fullest.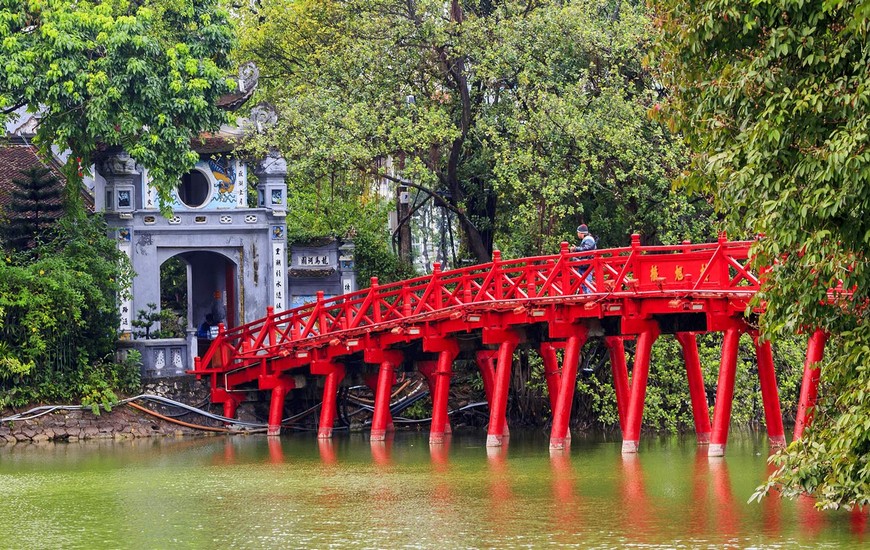 2. Ba Dinh (French Quarter)
When it's come to the most important cultural and historical monuments, Ba Dinh is an ideal place in Hanoi. You can explore museums, the ancient citadel and the Ho Chi Minh mausoleum; all within walking distance.
Ba Dinh, used to be called "The French Quarter", is right next to Hanoi old quarter. It is one of the most urban districts in Hanoi and at the same time is a calmer and classier part of the city. This is where all the government offices, embassies, luxury hotels, and the famous Hanoi opera house are located. It reflects the French colonialized period in Vietnam where you can find many old buildings imprinted in impressed French architectural styles.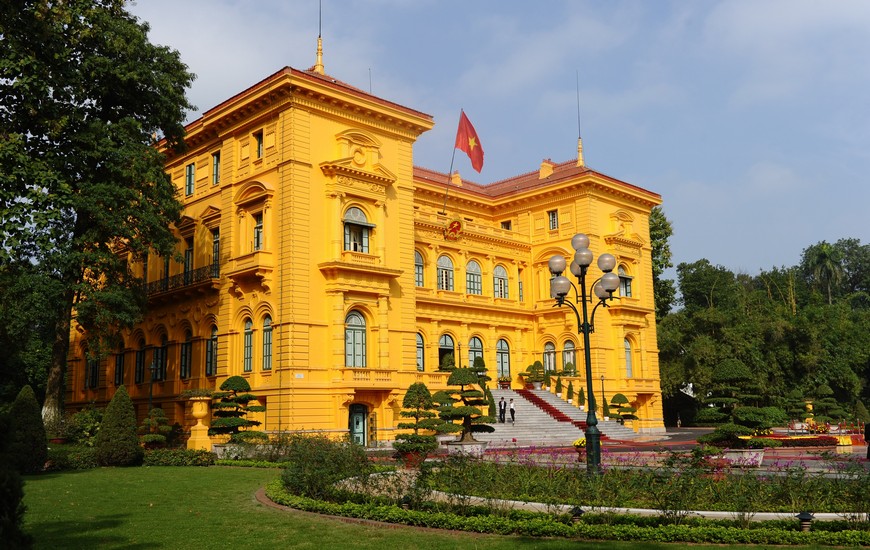 3. Tay Ho (Westlake)
Tay Ho district is named after West Lake (Ho Tay). It is one of the largest freshwater lakes in Vietnam. Some Hanoians see this area as a chill-out area for them by befriending with the nature of the freshwater lake and the beautiful flower villages surrounding. It is one of the most popular destinations in Hanoi for anyone who loves photography as well. Thanks to its serenity and close distance to downtown, it is a high-class residential area. Coming here you will find plenty of historic places, café, restaurants worth exploring.



IV. Best Time To Visit Hanoi
Hanoi has a humid subtropical climate with lots of precipitation which is common in northern Vietnam. However to enjoy the best of Hanoi, you should select a perfect time to make it to the fullest. The best time to travel to Hanoi is in the fall, from August to November. Usually at this time, the rainy season in Hanoi often ends and the sky is crystal clear. The sun is also not too intense and the humidity is very low. There are a lot of songs about the idealistic autumn in Hanoi.
Apart from August to October, you can also travel to Hanoi from February to the beginning of April. This time the city is blooming with beautiful flowers which you can enjoy while walking on the street. You can also take part in different Vietnamese festivals during this spring season.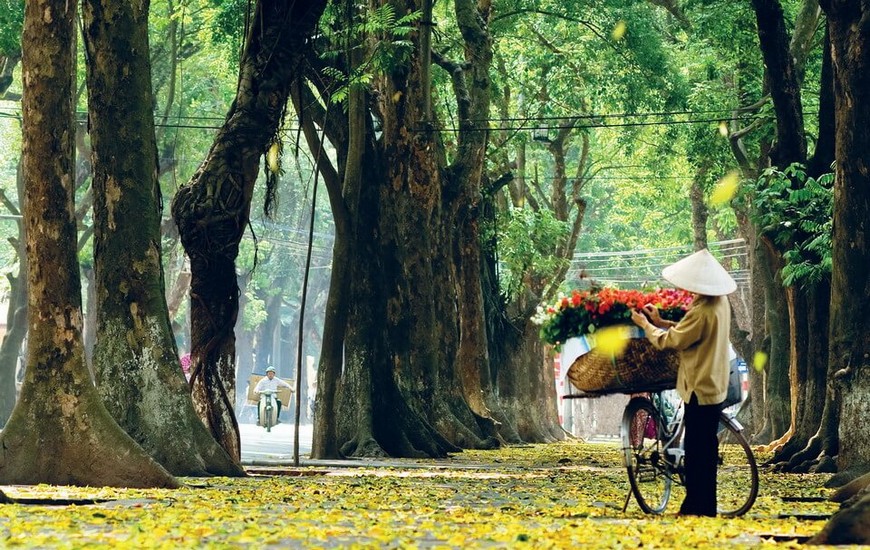 V. Top 10 Things To Do In Hanoi
Hanoi has so many mind-boggling things and places for its visitors from 1000-year history to lively places, from heart beating traffic to mouth-watering local food. Below are the top 10 things you should do when visiting Hanoi:
1. Explore Hanoi Old Quarter
On your trip to Hanoi, you should spare a few days around Hanoi Old Quarter. It is one of the most fascinating places with lots of hustling and bustling. One of the mesmerizing features is the narrow streets packed with scooters, bicycles and cars swarming around pedestrians. Please read our Hanoi Old Quarter Travel Guide for more information. You can do a fun cyclo ride or electrical car to explore the town. But the best way is by walking by which you can witness the local pace of life. The Old Quarter is also famous for ancient temples and pagoda.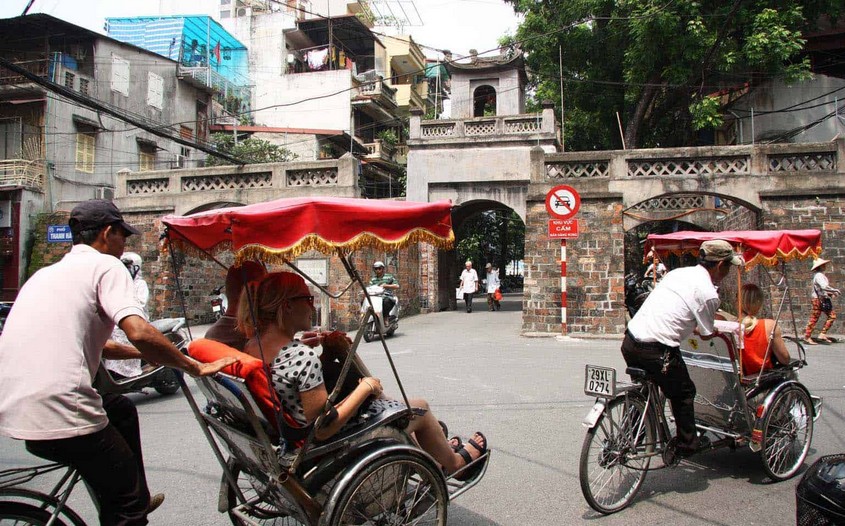 2. Join Hanoi Street Food Walking Tour
Hanoi is one of the food capitals of the world and its Vietnamese food is impeccably rich in flavor, completely different from the other regions of the country. The most famous dishes include: Beef Noodle, Spring Roll, Bun Cha, Egg Coffee and the list go on.
The best way to discover Hanoi real culinary is by joining one of the Hanoi Street Food Walking Tour. You will not only obtain all the best local food experience but also learn deeply about the culture and tradition in every taste you try.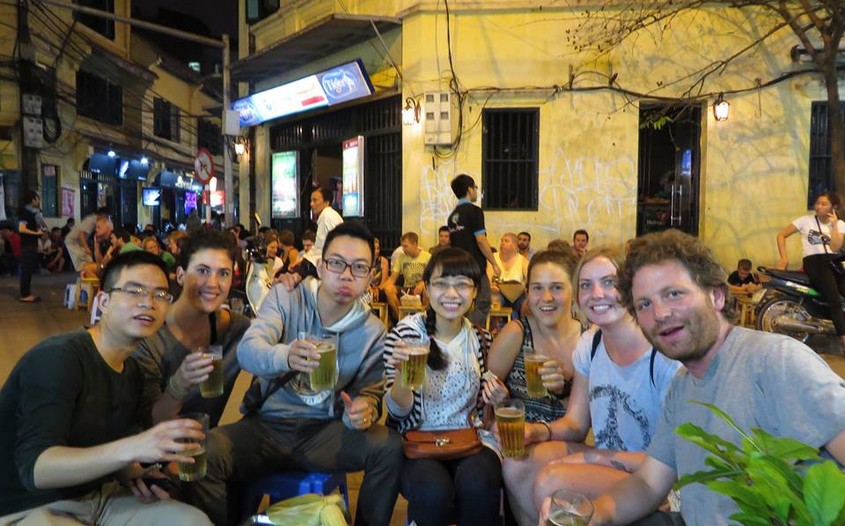 3. Try The Water Puppet Show
Water puppet performance is one of the most popular traditions in Vietnam. The show has its roots that back to the 11th century. The water puppet is very close to the rural village life of Hanoi people. This traditional entertainment originates from the time when flood attacked rice fields and villagers made fun by standing in the waist-deep water with the puppets performing over the water surface.
A large rod is used to support the puppets which move across the water with the help of puppeteers who are hiding behind the screen. Most of the shows depict Vietnamese folk tales and legends about the farming village lives in a fun fashion and way.
There are two famous water puppet theaters in Hanoi Old Quarter: Thang Long (57B Dinh Tien Hoang St., Hoan Kiem Dist., Hanoi) and Bong Sen(16 Le Thai To St., Hoan Kiem Dist., Hanoi). Both are just next to Hoan Kiem Lake. Tickets range from 150,000Vnd to 200,000 Vnd (about USD $5 to $8)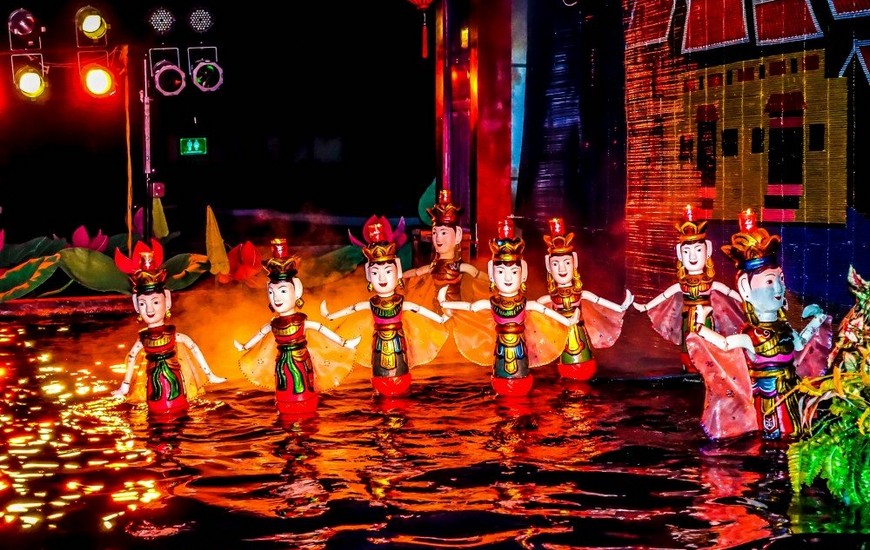 4. Hanoi Train Street
Just hashtag Hanoi Train Street on Instagram and in the very next moment, pictures of tourists will be flooded in front of your eyes. This is a place worth visiting for a good pictures and unforgettable moments. The unique thing you can find here is two blocks of residential houses are separated by a narrow railway. Not long ago, local people opened cafes right at the railway to serve adventurous visitors. But now they have been forced to close due to the safety of people. But you can see the train street from the safety barrier and feed your Instagram with amazing pics.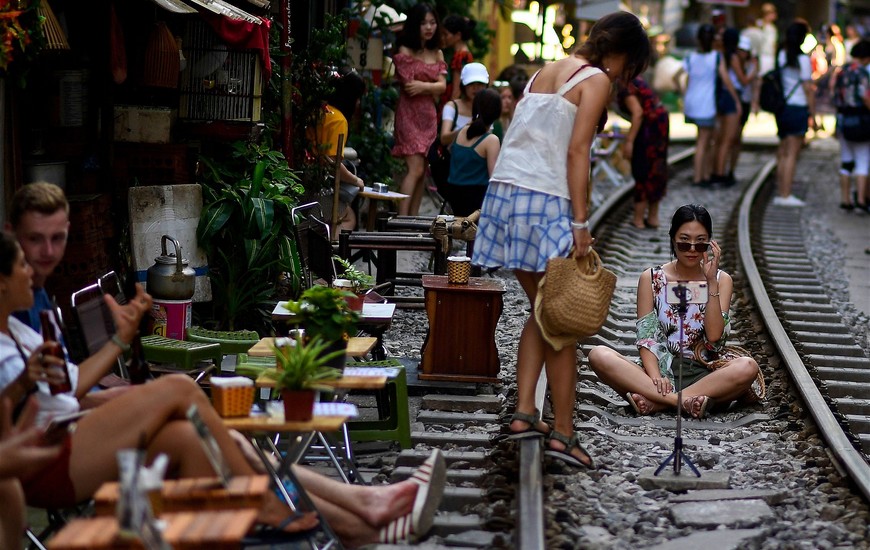 5. Chill At Hoan Kiem Lake
Hanoi Kiem Lake (Lake of Returning Sword) is a central attraction of Hanoi. The legendary of the lake dates back to the 15th century under Le Dynasty. Now it is a popular hangout spot throughout the years with lots of locals and tourists. You can see a lot of people enjoying, dancing, jogging and relaxing during the sunrise and sunsets. The highlight of Hoan Kiem Lake worth a visit are Ngoc Son Temple, Pen Tower, Ly Thai To Monument and Thuy Ta ice-cream Shop.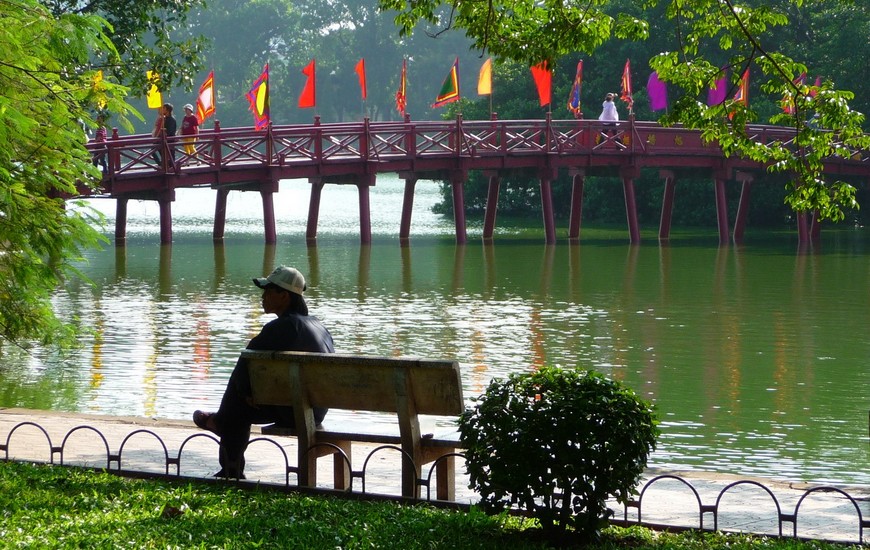 6. Visit The Temple Of Literature
The Temple Of Literature is a must-do for your sightseeing trip in Hanoi. This is the first university of Vietnam dating back to the 11th century. There you will find a feeling of peace and nature in the middle of the city bustle. It is also a good chance for you to learn more about Vietnamese traditional culture and architecture.
For more information about the place, please read our Guide To The Temple Of Literature In Hanoi.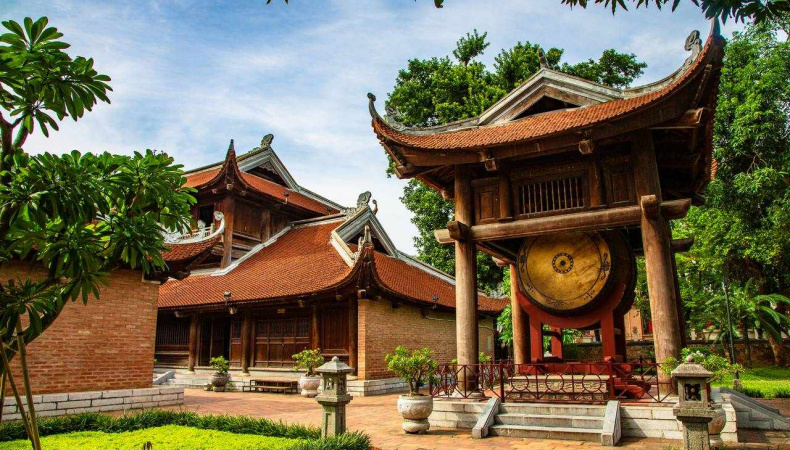 7. Explore Ho Chi Minh Mausoleum Complex
Ho Chi Minh Mausoleum Complex is one of the most popular attractions in Hanoi. It is the final resting place of the greatest leader of Vietnam – Ho Chi Minh. Visiting the site gives you an opportunity to learn about Vietnamese history through two wars with French and America as well as the life of Uncle Ho. The Ho Chi Minh Complex includes Ho Chi Minh Mausoleum, Ho Chi Minh Museum, Ho Chi Minh Stilt House where he lived and worked from 1954 until he died.
The unique One Pillar Pagoda is also interesting with its extraordinary architecture. The pagoda was built in 1049 according to the shape of the lotus flower. Now it has become an important symbol of Hanoi.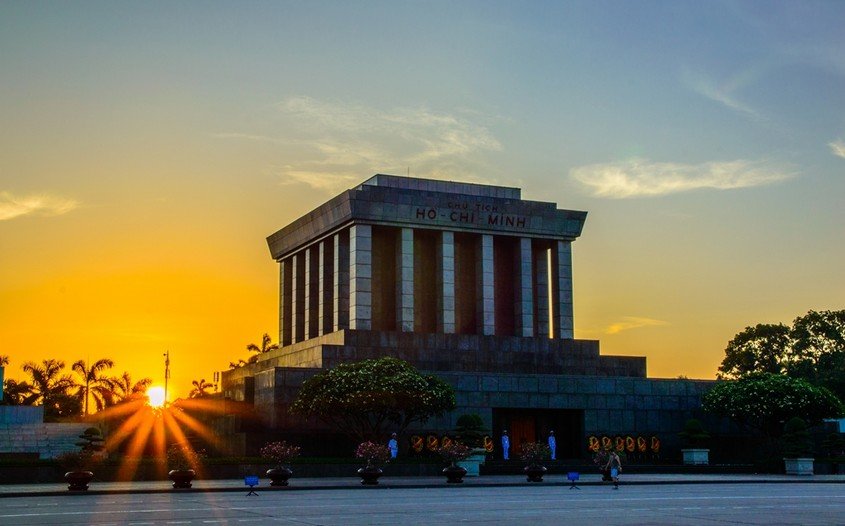 8. Visit Thang Long Ancient Imperial Citadel
The Thang Long Imperial Citadel signifies and depicts the centuries-old history of Vietnam. Because of its historical, architectural and cultural importance, Thang Long is now a UNESCO world heritage site. With convenient location, the citadel is very easy to reach from the Old Quarter. It is also close to some famous sites such as West Lake, Tran Quoc Pagoda, Vietnam Military Museum, and Cua Bac Catholic Church.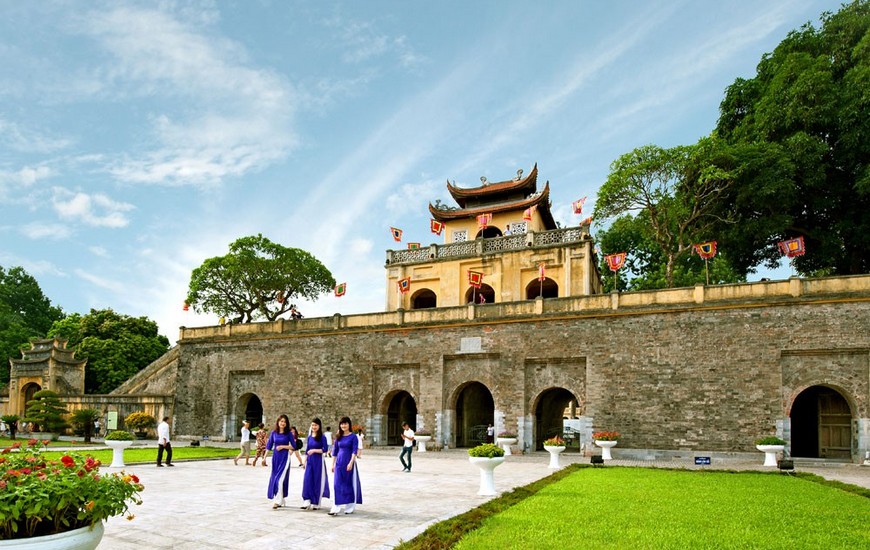 9. Wander Around West Lake
West Lake Hanoi is also a place that you can't miss. The surroundings offer walking or cycling trails around the biggest lake in Hanoi (18 km). There are a lot of bars, cafes and restaurants near the lake where you can enjoy the most peaceful moments at sunsets or sunrises. There are also a lot of tourist places near the lake like Tran Quoc Pagoda, Quan Thanh Temple, Phu Tay Ho. Don't forget to try Westlake Ice Cream as well which is a specialty loved by most Vietnamese.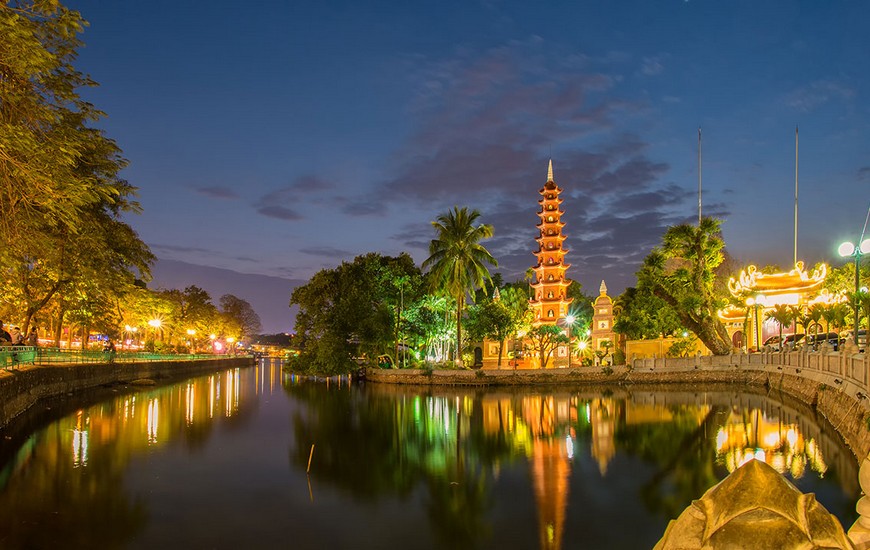 10. Behold Hanoi From Above At Lotte Skyscraper
Lotte Tower, with 67 floors, is the second highest skyscraper in Hanoi after Keangnam tower. It is a complex tower where you can find supermarkets, restaurants and bars, 5-star Lotte hotel, offices, and residential apartments.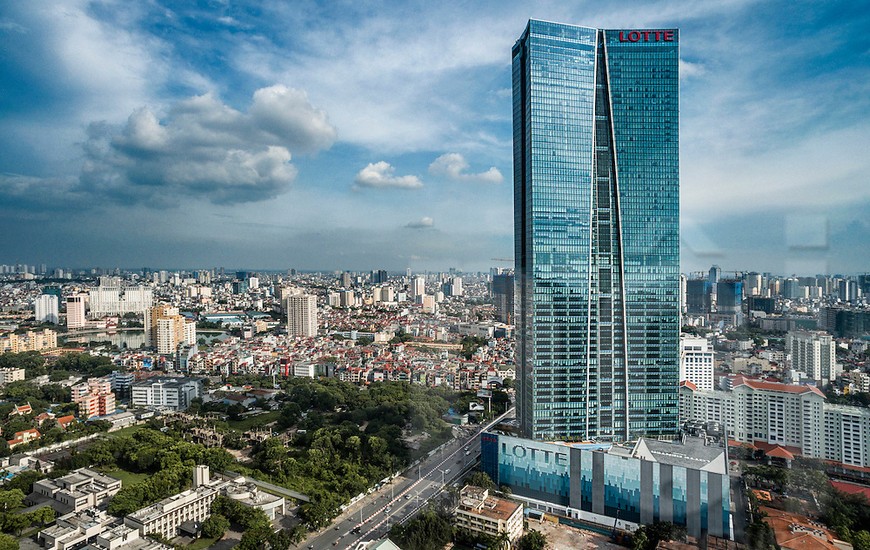 Located in Ba Dinh district, Lotte has a more convenient location than Keangnam. It is very easy to catch a taxi from the Old Quarter. At the top floor, there is a bar and observation for visitors to watch Hanoi and West Lake from above. It must be a thrilling experience!
VI. Off The Beaten Track In Hanoi
If you get bored with the crazy traffic and touristic sites, why not try to get off the beaten track in the middle of the city? It sounds weird but at Conical Travel we make everything feasible. Let come to our Hanoi Banana Island located on the bank of Red River. A chance for you to visit the wholesale fruit market followed by a panoramic photo opportunity over Long Bien bridge and Red River. There you can do biking, walking or scooter riding off the beaten track around the island where there are full of vegetables, herb, flowers, and banana forrest. You can also meet local people and get a deeper insight into riverside life that still stays unexplored. Why wait? Contact us to customize a life-time adventure in the middle of Hanoi capital!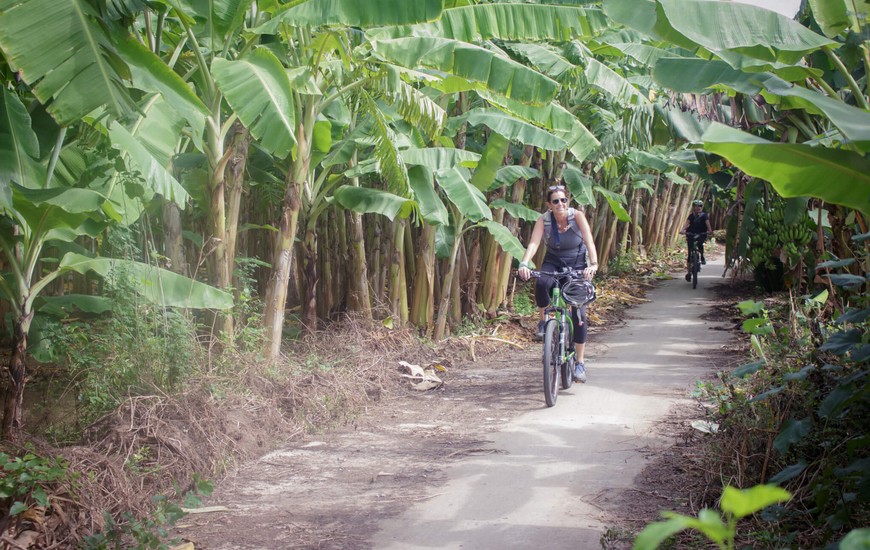 VI. Best Restaurants In Hanoi
In this Hanoi Travel Guide, we will recommend you best restaurants in Hanoi where you can try authentic Vietnamese food or western food style. The list is as below:
1. Duong's Restaurant & Cooking Class:
Owned by Mr Hoang Duong, one of the top Vietnamese chefs. He blows his passion and experiences into his own restaurant to bring authentic Vietnamese taste to people all over the world.
Address: 101 Ma May St., Hoan Kiem Dist, Hanoi
2. Sen Tay Ho Buffet Restaurant:
Specialized in serving Vietnamese buffet, Sen Tay Ho has been a must-do place for visitors. The place is big enough for up to 1000 customers with various food and good quality facilities. The restaurant serves lunch and dinner with prices range from $10 USD to $20 USD.
Address: 614 Lac Long Quan St., Nhat Tan, Tay Ho Dist, Hanoi
3. Bun Cha Huong Lien:
Huong Lien Restaurant is one of the best places in Hanoi which serves most tasty Bun Cha – one of the traditional food of Vietnam. The restaurant is famous for the visit of Barrack Obama and Anthony Bourdain. But the real thing that makes the restaurant loved is the authentic taste of Bun Cha that you can not find in other restaurants. The price ranges from 50,000Vnd to 200,000 Vnd (about $2 USD to $9 USD).
Address: 24 Le Van Huu St., Hai Ba Trung Dist., Hanoi
4. Thang Long Grilled Fish Restaurant (Cha Ca):
Among thousands of traditional Vietnamese food, there is one which is the mixture of simplicity and luxury. It is cha ca or grilled fish. The cha ca stems from the lives in the river delta and has been handed down from generation to generation. The secret taste of Cha Ca is now preserved in Thang Long restaurant and has been loved by customers for years.
Address: 19, 21-23 Duong Thanh St., Hoan Kiem Dist., Hanoi
5. Green Tangerine Restaurant & Cafe'
Located in the middle of Hanoi Old Quarter, the restaurant offers authentic French cuisine dating back to colonial time. The atmosphere is a great mixture of cozy Vietnamese style and luxurious European features. It is really worth a try if you travel to Hanoi.
Address: 48 Hang Be St., Hoan Kiem Dist., Hanoi
VIII. Where To Shop In Hanoi
Dong Xuan Market is the largest indoor market offering a large number of goods from local products, fresh food and seafood, accessories, clothing to electronic and household appliances. Visitors will get almost everything in this market. The market is busy all day time. On the weekend, there will be night market stretching from Dong Xuan Market to Hoan Kiem Lake. Here you can buy a lot of things at cheap prices. But please remember to bargain well before any transaction.
Apart from Dong Xuan Market, there are an ample number of traditional markets and narrow shophouses where tourists can buy quality goods. They are Hang Gai Street (Silk Street), Lotte Center Hanoi, Trang Tien Plaza ( for luxurious things), Hang Bac Street (for silver and exchanging money), Hang Dau Street (for shoes). There are a lot more out of the Old Quarter like Vincom Center, Aeon Mall…etc. All promise to meet the demand of any shopaholic visitors.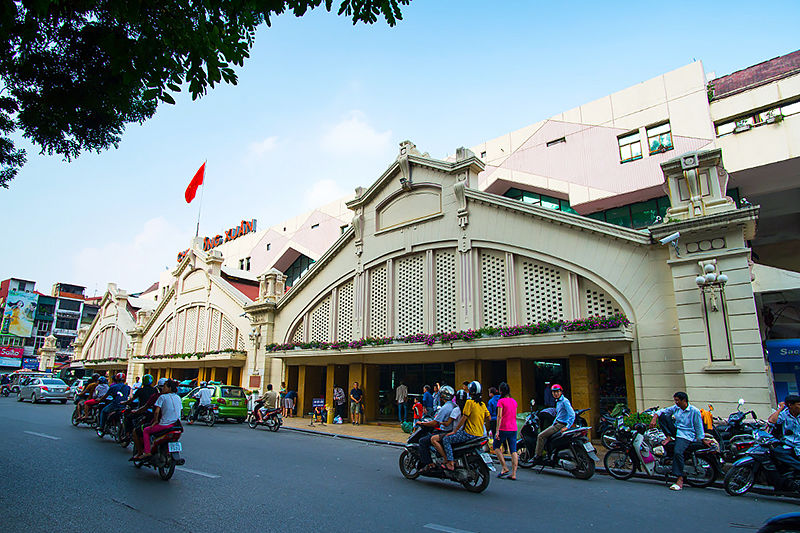 IX. Where To Go From Hanoi
There are a lot of destinations for you to go from Hanoi for one or a few days. Our Hanoi Travel Guide will reveal some recommended places for tourists from Hanoi:
1. Ninh Binh
Located 120 km from Hanoi, Ninh Binh is a tourist attraction that you can easily reach from Hanoi. The destination is famous as "Inland Halong Bay" because of striking landscape formed by a system of karst mountains, rivers and rice paddies. There are a lot of places for you to see in Ninh Binh:
Hoa Lu Ancient Citadel
Tam Coc – Bich Dong
Mua Cave
Van Long Nature Reserve
Trang An Eco System
Bai Dinh Pagoda
Cuc Phuong National Park
You can discover Ninh Binh in one day to three days. We highly recommend the Hoa Lu – Tam Coc 1 Day Tour from which you can explore Ninh Binh to the fullest!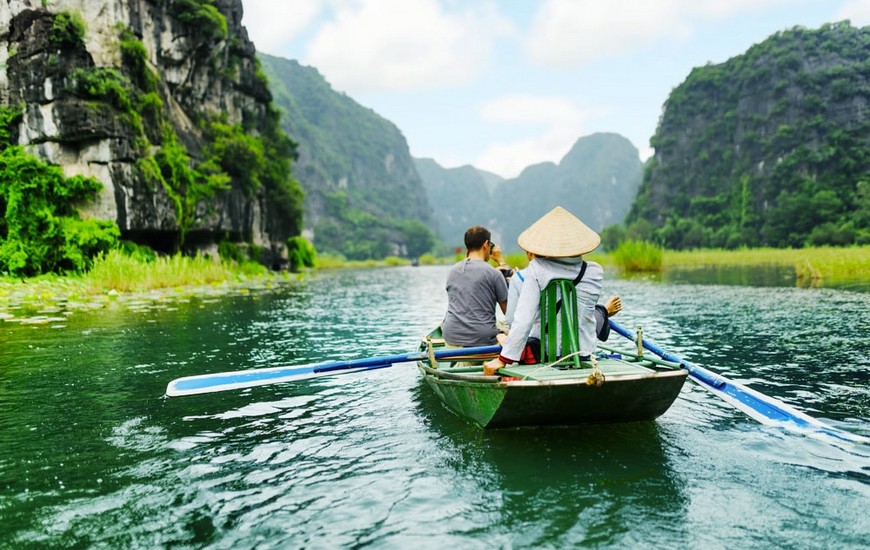 2. Ha Long Bay
Ha Long Bay is a UNESCO World Heritage and most popular tourist attraction in Vietnam. Located 160 km to the East of Hanoi, Ha Long is a paradise on earth with a system of sea, 2000 karst mountains and islands, heavenly caves and grottos, and local fishing village. The place promise a once-in-a-kind exploration for nature and landscape lovers. If Thang Long Hanoi means "ascending dragon", then Ha Long means "descending dragon" with an exciting legend.
From Hanoi you can join on a Ha Long Bay 1 Day Tour or Ha Long Bay 2 to 3 Days on Cruise. There are some other hidden parts of Ha Long Bay if you want to keep from the crowd such as Bai Tu Long Bay and Lan Ha Bay. Please contact us to customize a dream trip to this wonderful site.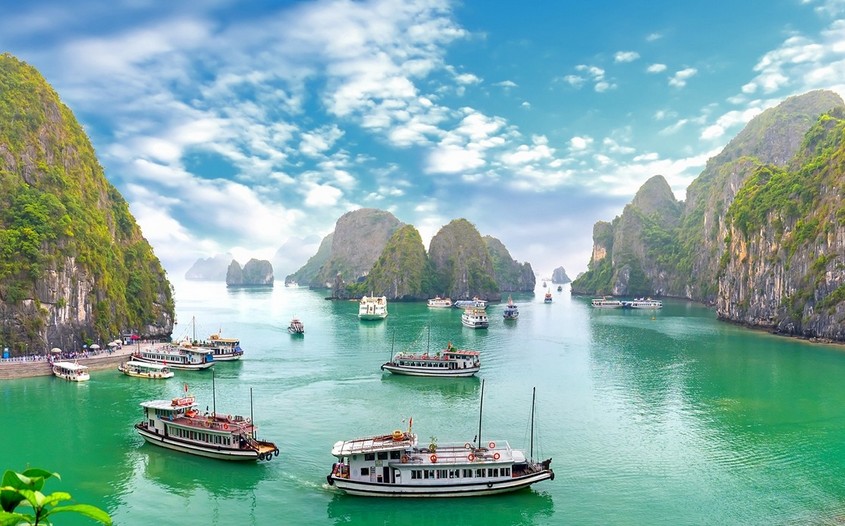 3. Ha Giang, Ba Be Lake & Ban Gioc Waterfall
If you have more days to spare and would like to discover far-north Vietnam off the beaten track, then Ha Giang, Ba Be Lake and Ban Gioc Waterfall are destinations you should visit. They are mountainous areas with pure nature, breath-taking landscape and local ethic minorities. The visit there means you will get unforgettable experiences and witness things you have never seen in your life, as well as you will see nowhere. There are a lot of options for you to choose depending on your length of schedule: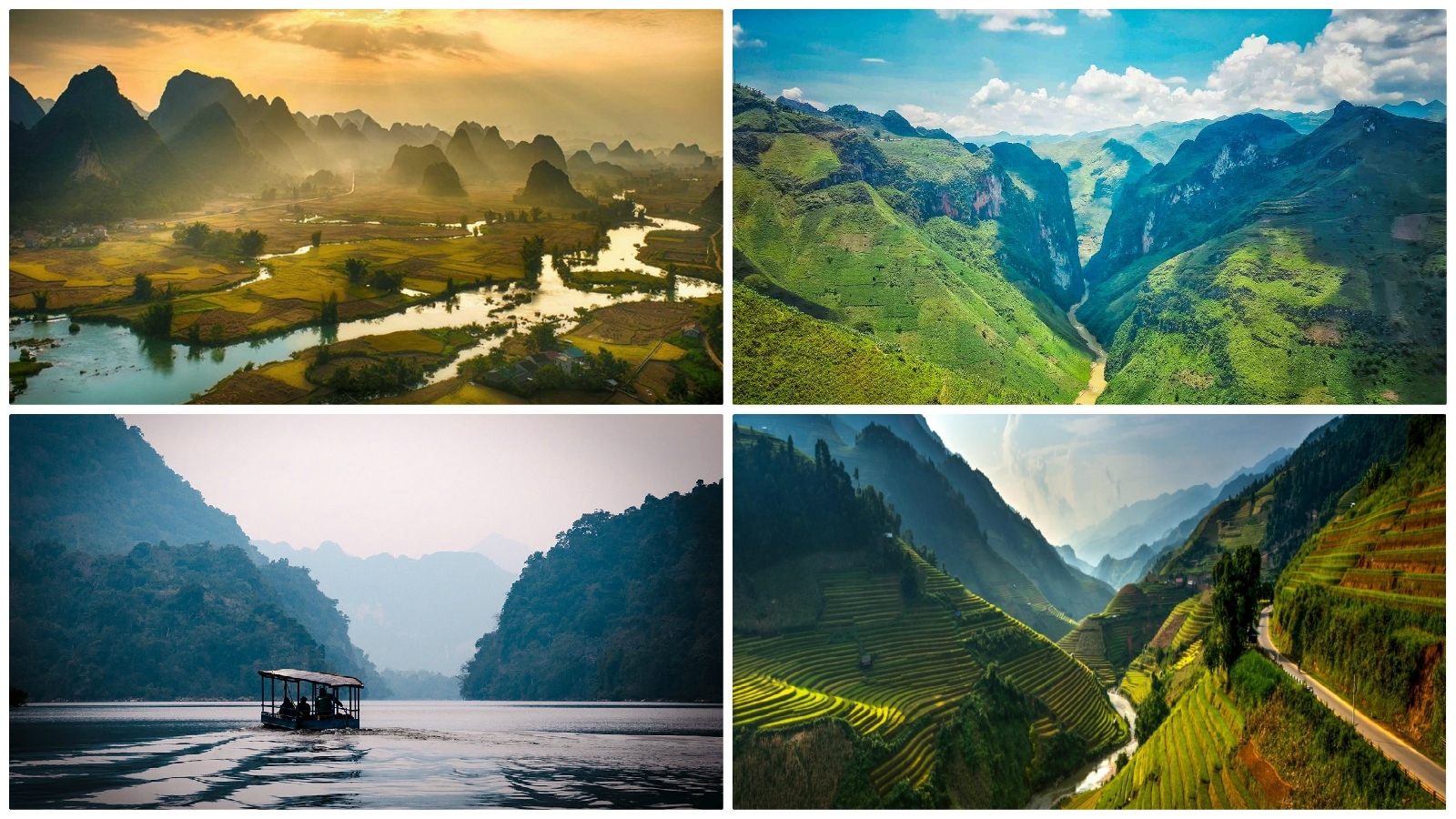 Above are our ultimate Hanoi Travel Guide for you to be well-prepared for your next trip to Hanoi. If you find it useful, please share to your friends and follow us to get more helpful tips to travel in Vietnam and Indochina! If you have any questions, please feel free to contact us via [email protected].