Looking for Ba Be National Park Travel Guide?
Ba Be National Park is located on the Northwestern side of Ba Be District, which is 250 kilometers away from Hanoi. The total area of the Park is 10.048 hectares. The entire site lies within an ancient karst limestone region formed by a special geological structure filled with a wide range of vertical mountains, caves, streams, and rivers contributing to great diversity.
Ba Be National Park was recognized as an ASEAN Natural Heritage in 2004, the 1938th Ramsar in the World and the 3rd Ramsar in Vietnam.
What Makes Ba Be National Park a Significant Destination?
Ba Be Lake – A Precious Gem in the Heart of Ba Be National Park
The lake is recorded to be 145 meters above sea level with an average depth of up to 25 meters. The bottom bed is found created with millions of crags and crevasses, which forms a suitable habitat for a wide diversity of marine species.
The surrounding of Ba Be Lake is enclosed with limestone mountain ranges emerging from water which can be discovered with a kayaking trip.
In terms of the grotto system, caves at Ba Be were created by a special activity of karst formation dating back to millions of years ago, in which Puong Cave and Nang River are the two most iconic representatives for such type of terrain structure.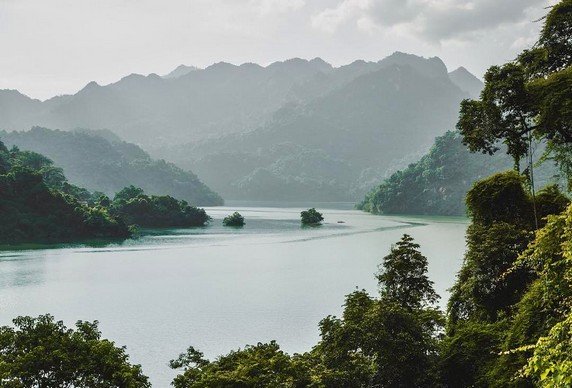 A Diverse System of Flora and Fauna Species
This rainforest park is home to over 550 recognized flora species. Meanwhile, the system of wild animals can be listed with 65 mammals, 233 bird species, 106 types of fish, 353 butterflies and 4 species of turtle. And above all, a Vietnamese salamander is a highly endangered also calls Ba Be its home. Hunting and deforestation are forbidden actions informed by the Vietnamese government within the area of Ba Be National Park, except for fishing.
Home to Various Tribal Groups of Ethnic Dwellers 
Ba Be is home to a total of 13 ethnic minorities. A majority of them is recorded to be the Tay and followed by the Yao and Hmong.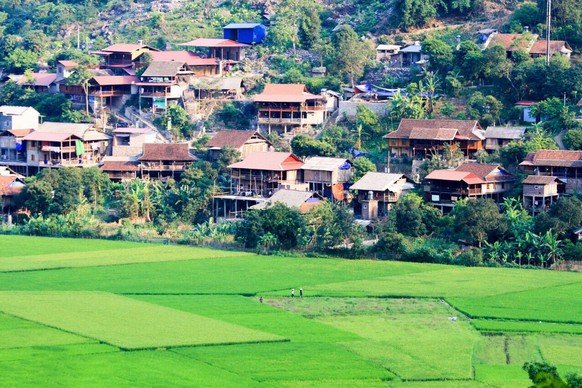 The Best Time to Visit Ba Be National Park?
As fully surrounded by a vast layer of primitive forest and limestone mountain ranges, which contributes to all-year temperate weather in the forest.
The best time for a trip here should be in summer, which makes it an ideal moment for a swim in a typical mountain lake. Other than that, a spring vacation to Ba Be brings you a chance to join the indigenous citizens in their colorful Ba Be Lake Festival, which falls on the 9th and 10th of lunar January each year.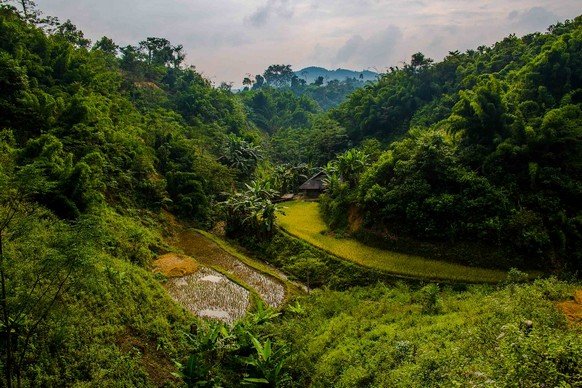 How to Travel to Ba Be National Park from Hanoi?
By Motorbike
This option is good for those with a big passion for adventures. Travelers can rent a motorbike from Hanoi, follow Highway No. 13 towards Bac Kan and Phu Thong Town, and then make a left turn following Provincial Highway No. 258 (TL 258) for roughly 40 kilometers to reach Ba Be National Park.
By Bus
This can be seen as an easier and slow-paced way. Usually, the locals would opt for Thuong Nga bus departing at My Dinh Bus Station directly to Ba Be National Park. The distance between Ba Be and My Dinh is 234 kilometers.
What to Eat in Ba Be National Park?
As Ba Be National Park is a locality in Bac Kan Province, exotic dishes in this site inherited from the mother province itself. The following archive lists down five best authentic foods in Ba Be. They signify the special features of the area's regional topography.
Cá nướng Pác Ngòi – Pac Ngoi grilled fish

Lợn sữa quay – Roasted sucking pig

Gà chạy bộ – Free-range chicken

Măng hấp thịt – Steamed bamboo shoots with pork

Mắm tép chua – Sour fermented shrimp paste
Top Must-Do Activities in Be Be National Park
With such a one-of-a-kind terrain in which the tribal groups make it their home, Ba Be National Park offers you multiple outdoor activities that can hardly be found anywhere else. Below revealed the top-rated experiences in Ba Be National Park that travelers love to do each time they visit:
Listen to the silence of Ba Be wilderness when floating on the surface of Ba Be Lake by a dug-out, and get to know the saga of the lake by the word of mouth from a native sailor.

Trek through the national park to admire nature and local lives.

Going with the flow for a close discovery into the Puong Cave along Nang River.
Kayaking and fully explore a chain of mystic caves and massive waterfalls, such as Hua Ma Cave, Fairy Cave, Dau Dang Waterfall and a lot more.
Admire the enormous stalagmites and end the day in a homestay in Pac Ngoi Village.

Get a pleasant swim in the fresh cooling emerald waters.
Want to ignite your trip to Ba Be even more? Find your dream trip at:
For easy level: Allure Of Ba Be Lake & Ban Gioc Waterfall 4 Days
For adventure level: Trekking & Cycling In Ba Be National Park 4 Days