Are you planning a hike in Vietnam and getting stuck at the limited suggestions on the Internet? Rest your worries since we are here to surprise you with 15 top-notch hiking trails in Northern Vietnam. Get your gears ready!
1. Mai Chau Valley
The idyllic valley of Mai Chau is 150 kilometers to the Southwest of Hanoi. It remains a popular location for cycling and trekking despite the rice paddy fields and tilled soil with crops that covers most of the area. However, if you're looking for a more serious challenge, Mai Chau has a lot of hidden parts with jungles and mountains.
Since Mai Chau is in a valley surrounded by mountains, it offers great natural landscape on hiking trails. The trails are unnamed and not marked in any way, so make sure to book an organized group tour. Following the trail will lead adventurers through Mai Chau's sprawling bamboo jungle.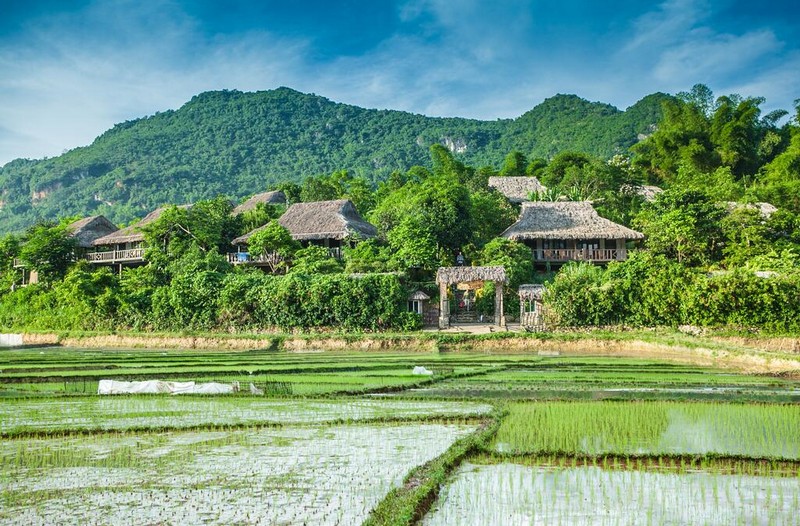 2. Pu Luong Nature Reserve
In the remote regions of Hoa Binh and Thanh Hoa, Pu Luong Reserve stands as one of the beautiful places you can unwind. This rustic destination is located 160 kilometers southwest of the capital city of Hanoi. It remains a popular getaway to veteran travelers as well as new foreign visitors.
The local trails winding through pristine forests, ethnic hilltribes of Thai people and their cultivated rice terraces are perfect for trekking and day-long hikes. Tourists favor this nature reserve, with some even hiring guides for multi-day hikes. Homestays in the area have also seen a rise in overnight bookings.
3. Cao Bang Geopark
Tourists wanting an alternative to the touristic Sapa can find Cao Bang geopark a good option. It's a frontier province in Vietnam's northernmost area near the border with China. Adventurous travelers can find this mountainous area the perfect place for outdoor activities, especially trekking and hiking.
Most people will choose Quang Uyen or Trung Khanh district for their hiking trips. The secluded hamlets and waterfalls add mystique to the distinct experience about its people and nature. The Ban Gioc falls stands out as one of the places you can't afford to miss.
With hiking trails stretching for miles, the journey will let you witness ethnic tribes adorned in traditional costumes. If you are fond of local products, check with your local accommodation to know the schedule when the Tay and Nung people have their weekly market fair.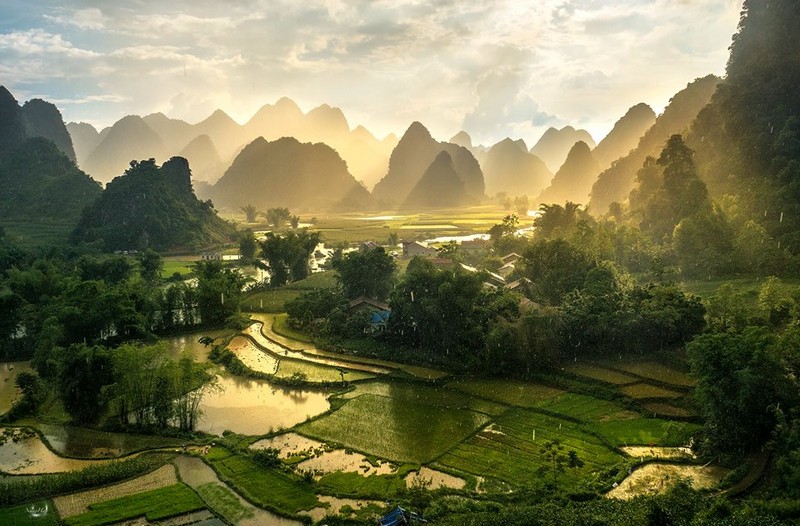 4. Fansipan Peak
Vietnam's highest landmark of Fansipan stands at 3143 meters on its peak. Brave adventurers can conquer the summit without using any special types of equipments. Physically fit tourists can ascend to the top within 6-8 hours depending on how frequently they take breaks.
However, those wishing to see the mountain's views without the strenuous climb can utilize the new yet controversial cable car. Hiring a guide isn't an absolute requirement, but doing so can save time from conquering the steep and rugged trails. Behind Sapa's misty facade, the mountain rewards an impeccable view to those who dare to venture to its peak.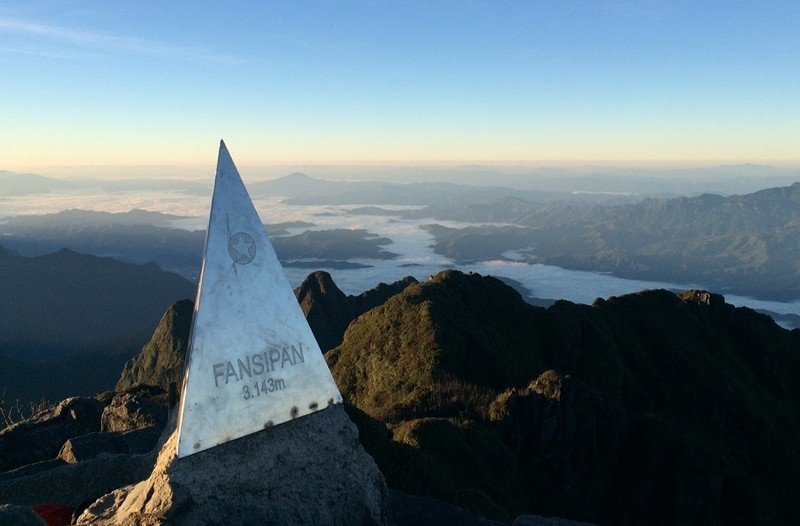 5. Muong Hoa Valley
The emerald-green valley of Muong Hoa located 10 kilometers away from Sapa town is one of the breathtaking vistas in Vietnam. Hiking through the Lao Chai and Ta Van will let you witness the locals' rice cultivating techniques.
Despite the misty yet cool ambiance, the hiking trip along and through terraced fields warrants a romantic getaway. If that's not enough to convince you, then perhaps the ingenuity and beauty of the landscape will.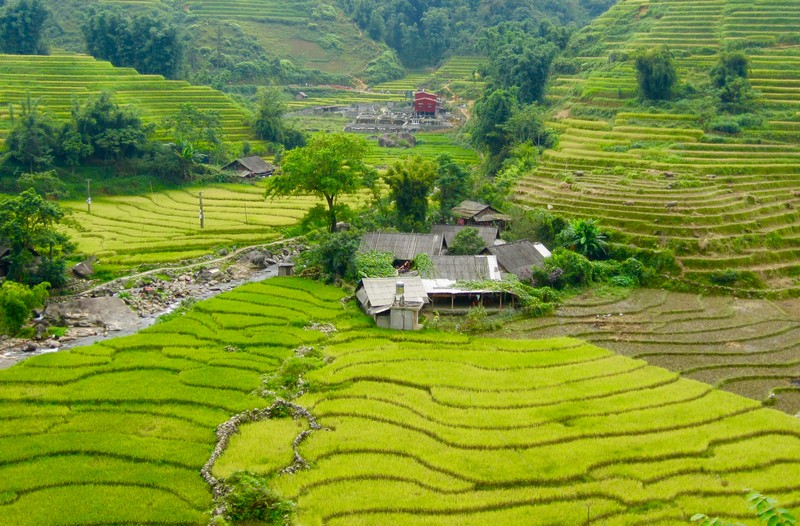 6. Giang Ta Chai to Su Pan
The border shared between the villages of Giang Ta Chai and Su Pan is located 18 kilometers from the town of Sapa. This specific division of land makes a favorite trail for the hikers. Not only will you be passing rice terraces but also bamboo forests and stunning waterfalls. The Red Yao people which is the 2nd largest ethnic minority group in Sapa after the Black Hmong call this place home.
You'd know you're in the right place when you see locals dressed in plain black trousers and embroidered tunics. However, they do wear colorful traditional costumes on occasions. It's no surprise that this route ranks top in Sapa hiking tours and hiking in northern Vietnam.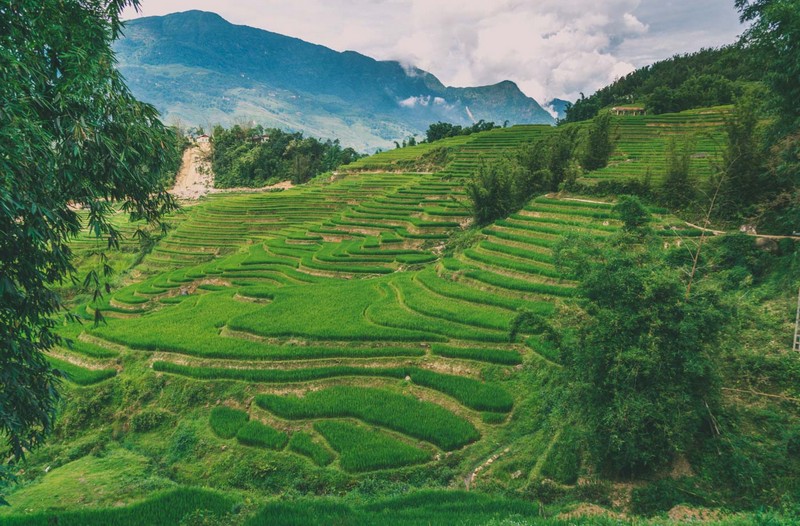 7. Ba Be National Park
With an expansive area covering 100.48 square kilometers, hiking through Ba Be National Park will take you to get indulged in the diverse sceneries. The small trails, uneven terrain, tropical forests, rice paddies, and small rural villages are all packaged into one exciting experience.
As you start from Ba Be Lake, you'll then proceed towards Coc Toc village. Make sure to snap the various landscapes along the way. The park's local guides will lead you to the entourage, pointing out the best spots as you move along. Tay fishermen will welcome travelers from Ba Be lake; while the Hmong and Yao locals will be your companions as you ramble deeper into the National Park.
8. Mu Cang Chai
The lush fields of Mu Cang Chai is arguably the home to Asia's best rice terraces. The cultivated topography both natural and man-made is a testament to the magnificent landscape. Its charm is undeniable, as it keeps on luring photographers, avid hikers, and even daring motorists.
The best way to indulge is by slowly hiking through the ribbons of paddies surrounding the hills. Rice terraces, tea, corn plantations plus an added surprise of a tropical rainforest make hiking in Mu Cang Chai one of the best hiking experiences in Northern Vietnam.
Though not many are aware of this place since tourism is relatively new, it's not a problem for visitors anymore as the local Hmong dwellers are the best companions who blow your mind with their stories, culture, and tradition. Their daily to and fro has paved way for hikers, creating interconnected routes that can take you to the different hamlets.
9. Hoang Su Phi
The mountainous landscape of Hoang Su Phi in the northwestern expanse of Ha Giang completely contrasts its surrounding area. However, the rocky plateau of the Ha Giang area lacks the vegetation that covers the majority of Hoang Su Phi. Expansive tea plantations and the iconic rice terraces trickle down at the sides, as the trails lead along the high mountain passes.
Along the way, you'd encounter the locals comprising Yao, Nung, and Flower Hmong ethnic groups working on their fields with very simple tools. You can be welcome to spend overnight at a Yao Ethnic homestay and get the opportunity to immerse yourself in the local culture. The Yao reside primarily on this side of the region and the main inhabitants of Hoang Su Phi. If you end up staying, the experience will not only treat you to fantastic valley views; but also amaze you with their craftsmanship at weaving bamboo and rattan.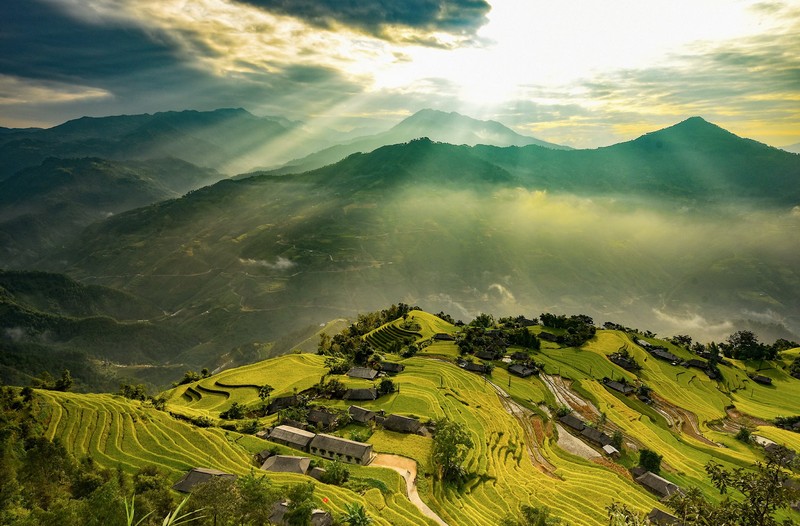 10. Dong Van Karst Plateau Global Geopark
Known as Vietnam's first geopark and second in Southeast Asia, the Dong Van Karst Plateau spans over Ha Giang province. It covers an area of more than 2,300 m2 of the northeastern province including 4 districts: Quan Ba, Yen Minh, Dong Van, and Meo Vac. The average elevation heights of 1.4 to 1.6 kilometers make it a prime location for hiking.
Beautiful limestone karsts make the majority of the land in combination with long winding roads. From amateur trail chasers to more serious mountaineers, Ha Giang province has a variety of terrain to suit anyone's tastes. And one thing for certain, friendly tribes and exceptional panoramas await your hiking experience.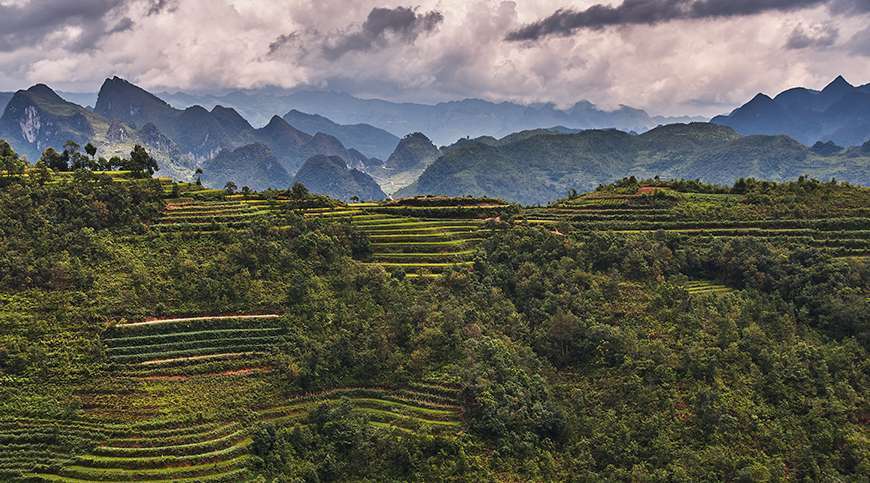 11. Cat Ba National Park
The limited number of golden-headed langurs calls Cat Ba National Park their sanctuary. Their dwindling population standing at 65, which makes the langurs one of the endangered species from the 32 mammals inhabiting the park. Travelers can be lucky to see the precious langurs when hiking through Cat Ba National Park.
Two-hour treks to Ngu Lam Peak and day-long hikes to Viet Hai Village are what travelers usually partake in. Both choices however make for an interesting journey because of the challenges each activity poses. The short but strenuous hike to the top of Ngu Lam peak is totally doable just by yourself and brings views over the surrounding jungle; while a guide is recommended to accommodate travelers wishing to hike the 9 kilometers trail towards the village of Viet Hai.
12. Cuc Phuong National Park
Cuc Phuong National Park boasts a massive collection of flora and fauna, making it seem like a massive natural museum. It's 120 kilometers away from the capital of Hanoi and around 45 kilometers from Ninh Binh city. Various hiking routes at different times of the day are available without supervision by a local guide. However, some trails would require guidance from the park guides or local scouts.
The most difficult route is the road to Muong Village which not only is 30 kilometers long, but also would take 2 days. It's the most challenging hike the national park has to offer. Upon arrival, you'll know the trip is worth it because of the poetic Buoi River and friendly locals. Their demeanor is hospitable, which warrants a comfortable stay and plenty of opportunities to experience the traditional customs!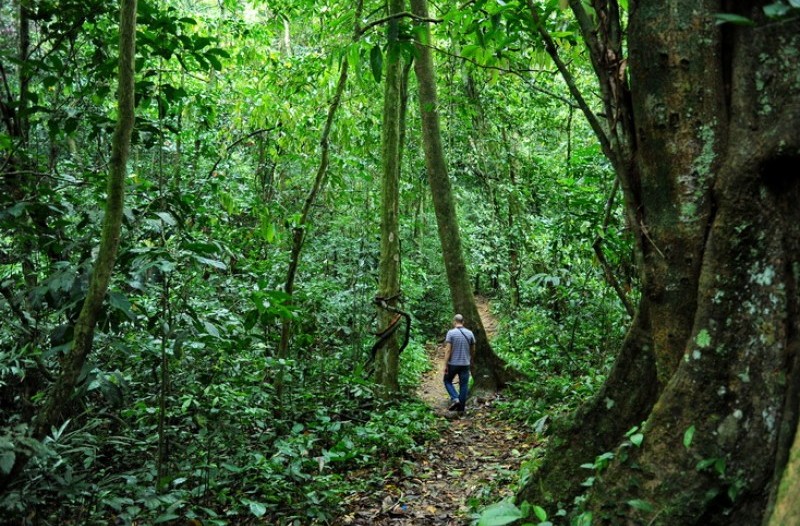 13. Tam Dao National Park
Time to get your heart pumping in the mountain town of Tam Dao. The trail which is located 2 hours away from Hanoi is home to four different mountain trails. Beginners can take part in the shortest 10 kilometers route, while experienced hikers can dash through the 70 kilometers one. The route kicks-off from the scenic mountain town with altitudes reaching 900 meters. A course unveiled a couple of years ago will take passionate hikers through forests and creeks within the park grounds. Apart from the exhausting hike, the beautiful and rich ecosystems of the Bear Sanctuary, Dragon Navel, and Love Valley along the routes are sure to take your breath away! If you think the first day was tiring, wait till you see what's in store for the second day. You'll have to brave through rocky and steep jungle trails to conquer the park's 2nd-highest peak. And the third day is no different, albeit more relaxed as this it's a 4-hour hike to the Tam Dao Radio Transmitter. The clearing on reaching both summits is rewarding as it gets with unparalleled views from mother nature.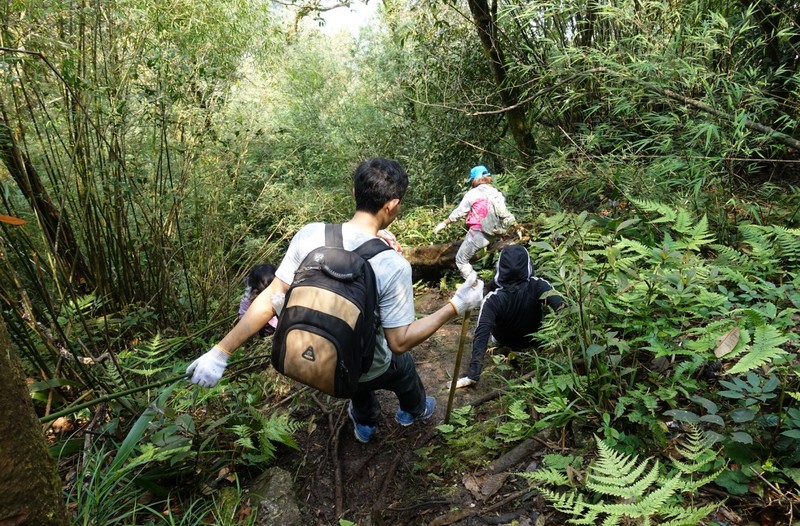 14. Bac Ha – Lao Cai
Beautiful landscapes filled with rich history are the highlights of Bac Ha, northeast of Lao Cai province. It's 300 kilometers away from Hanoi with majestic mountains, raging rivers and mysterious caves, and most importantly hospitable locals. It serves as a hub for the diverse ethnic minorities of the northwest, which hugely drives tourism towards Bac Ha. Aside from hiking opportunities, undeniable views of the well-maintained terraced paddy fields and minority villages color the mountainside.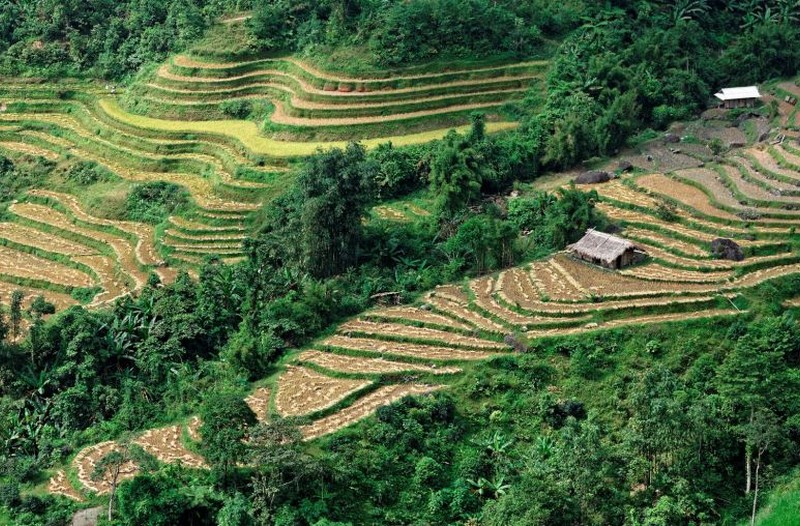 15. Bach Moc Luong Tu Mount
Bach Moc Luong Tu Mount (or Ky Quan San) is the 4th highest peak in Vietnam. However, conquering the mount is rated as difficult as the 1st highest – Fansipan Mount.
Hikers, campers, and backpackers often venture its trails for the comparable views at the top. The trail is a lengthy 13.5 km journey located in the rural area of Bát Xát, Lao Cai. It has become a great alternative for thrillseekers wanting the same level of exhilaration without the crowds from its sister mountain – Fansipan. The summit of the mountain stands at an elevation of 3000m with hiking routes passing through 30 kilometers of forest road. At most, it would take travelers 4 days of grueling conquest to progress along hills, forests, and even rocky terrain. Bach Moc Luong Tu as it's referred to by the locals, is arguably the nicest but most difficult peak to conquer in Vietnam.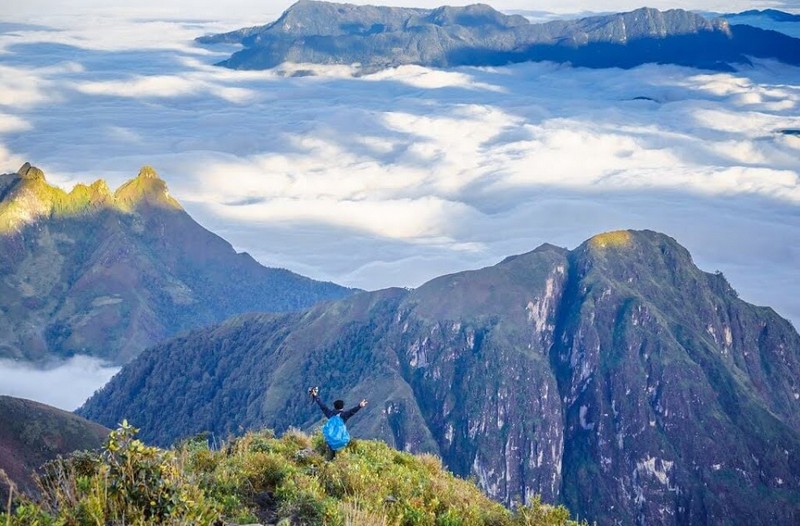 Now you can pick one of the top places above for your upcoming hiking in Northern Vietnam. Safety is always the most important. And in order to not get lost, remember to get a local guide accompanied. The locals know best and they will make sure your hike fun, safe and sound!