Ban Gioc waterfall is one of the most famous sites in Cao Bang province and one of the best tourist attractions in Vietnam. Located right at the borderline of Vietnam and China, the waterfall is about 400km from the city of Hanoi. Settled deep in the woods, the waterfall is truly a hidden gem. This is the fourth biggest waterfall shared between two countries and the largest natural waterfall in the South East Asia region. Ban Gioc waterfall is comprised by two parts: one on the left (the smaller part) and one on the right (the main part). The smaller part belongs entirely to Vietnam, and the main part is split between Vietnam and China. You can see the border marker separating the two countries when visiting Ban Gioc waterfall.
Unlike other normal waterfalls with one stream running straight down from the top, the terrain of Ban Gioc waterfall consists of bumpy mounds. From a far distance, the waterfall looks like a giant staircase. This helps divide the stream of water into many sections and creates different layers to the stream.
Location: TL 211, Đàm Thuỷ, Trùng Khánh, Cao Bằng, Vietnam
Entrance Ticket: 45,000 Vnd / Person
Ideal Time To Travel?
The rainy season in Cao Bang usually starts in June and ends in September. During this time, the flow of water is more intense which gives the waterfall a magnificent look. This time is also the best period for rice season. If you are a person with a passion for a spectacular natural view, this is the best time to visit Ban Gioc waterfall. But keep in mind that the rain may also cause floods so you ought to follow the weather forecast before paying a visit.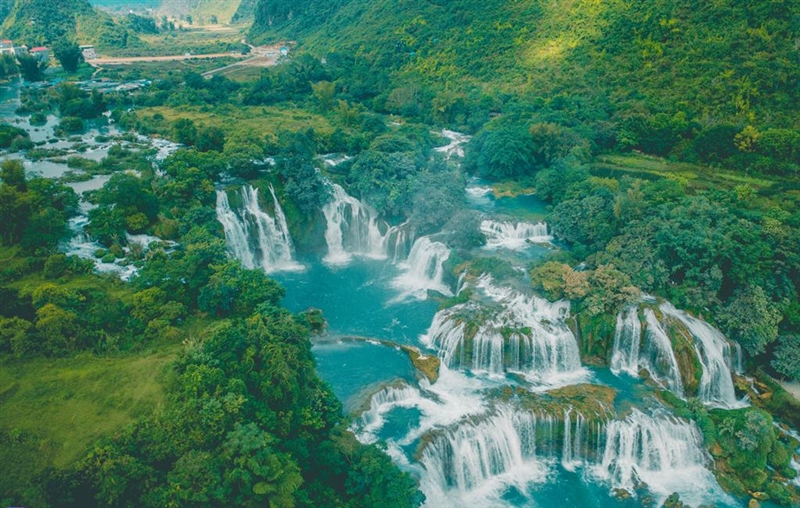 What To Do & Around?
One lovely suggestion is that you can have a picnic lunch (or brunch) while enjoying the breathtaking scenery of nature. Remember to prepare a picnic basket beforehand since the location of the waterfall is quite a ride from local shops and markets. Moreover, a boat trip to get closer to the waterfall and China territory is also an exciting experience. The boat ticket is only 50,000Vnd per person.
You can also take a look at other sites surrounding the area such as Nguom Ngao Cave, Phat Tich Truc Lam Pagoda.
Nguom Ngao Cave
The cave is only 3km from Ban Gioc waterfall. This is a limestone cave with a mysterious beauty. Inside the cave are many stalactites and stalagmites forming unique shapes and figures. The color of the stone here is different from other caves as a result of high calcium concentration mixed with many impurities.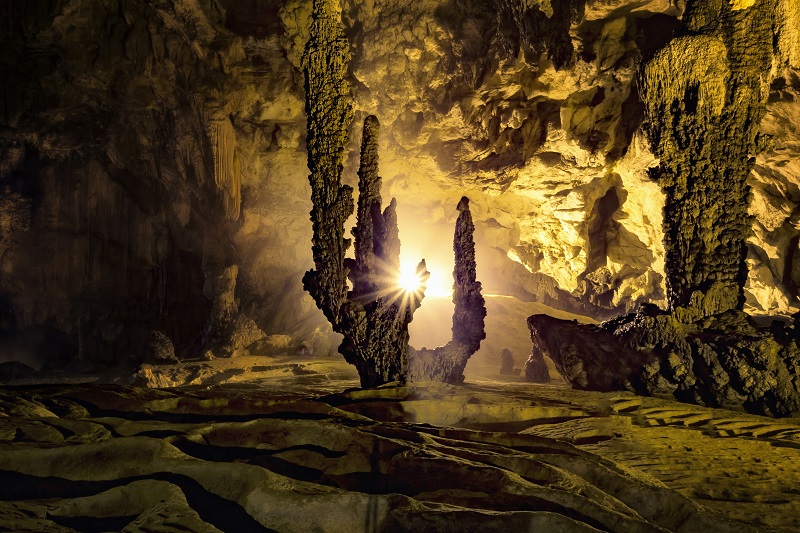 Phat Tich Truc Lam Ban Gioc Pagoda
The pagoda hangs halfway up the Phia Nhan mountain. Standing here, you can enjoy the view of Ban Gioc waterfall from above since it is only 500m away, and the Chinese town across the border. This is a perfect place to visit for anyone wanting to indulge in the sacred, serene atmosphere of a religious site.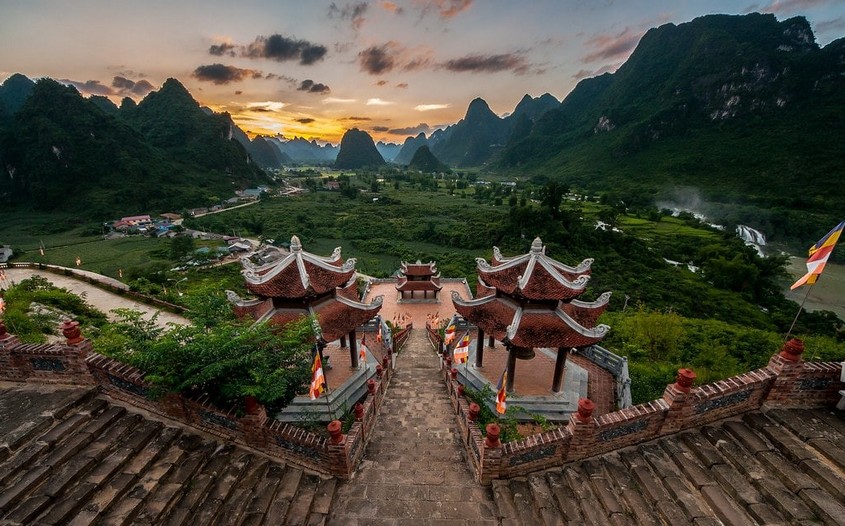 What To Eat?
Cao Bang has many famous specialties that are native to the region. Here are some recommendations for your most complete culinary experience.
1. Grilled agarwood fish
The reason for the name is because these fish live on decaying leaves and roots of agarwood growing along the river. Hence, the taste of agarwood is soaked in their meat. Local people usually catch them fresh from the river, gut them and stuff the inside with some vegetables and seasoning. They then get wrapped in banana leaves and grilled. You can enjoy this dish the simple way by dipping the meat into fish sauce, or wrapping it with rice paper and some side vegetables. Both are guaranteed mouth-watering.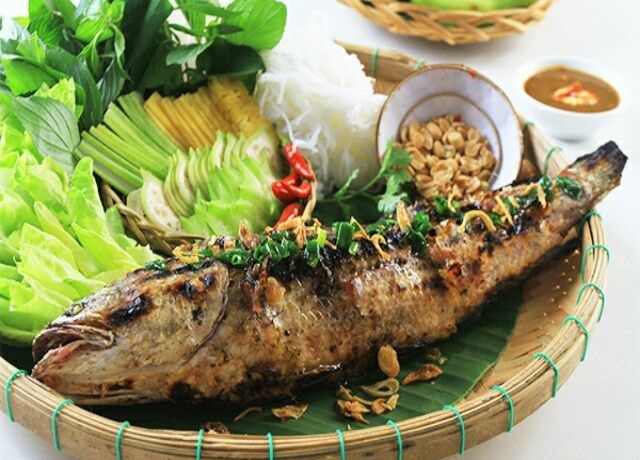 2. Roasted duck with 7 seasonings
The 7 seasonings bring a unique twist to the usual roasted duck. The ingredients of the seasoning come from the Tay people – an ethnic minority in Vietnam. They have a special way to cook the duck that you cannot find anywhere else. First, they stuff the duck with 7 seasonings and then sew it shut with a sharp bamboo stick. Then the duck is coated with honey and put on a charcoal grill. What a mouth-watering dish!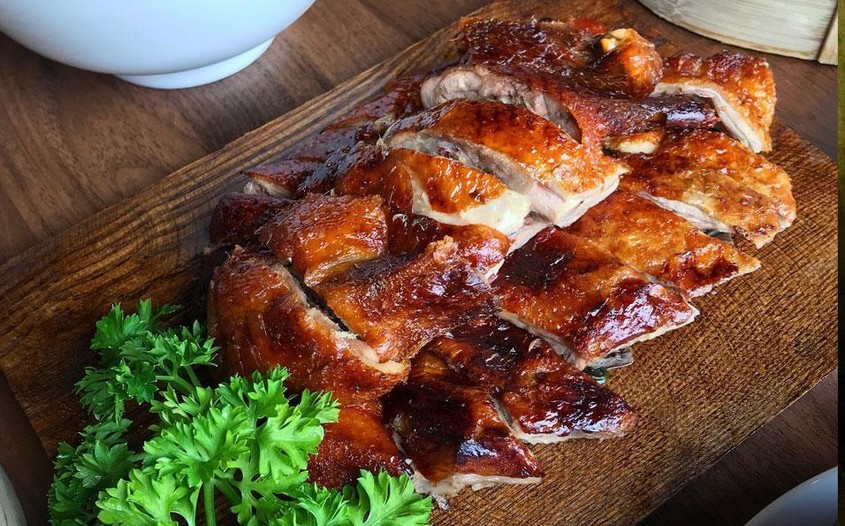 3. Ap chao pie
This is a usual treat in the wintertime of Cao Bang. The outer crust is glutinous rice flour mixed with taro and the stuffing is ground pork. The pie is then deep fried in oil and served with a sweet and sour dipping sauce – a perfect combination.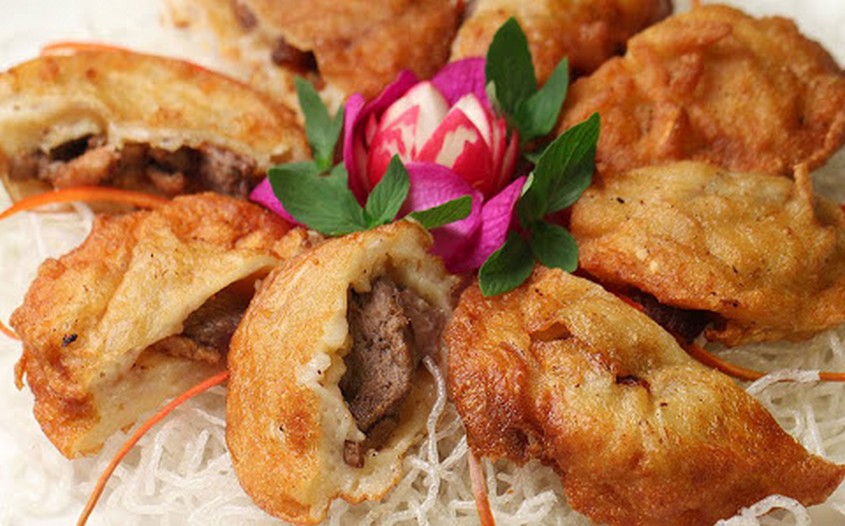 4. Ant's egg sticky rice cake
If you have a passion for exotic food then this is definitely a must-try delicacy. A small note is that this dish is only available from the end of April to May since it's the breeding season of ants. So if you want to have a taste of this specialty, you need to visit Cao Bang during this time. The outside of the cake is made from sticky rice flour and the stuffing inside is ant's egg stir-fried with well-seasoned ground pork. Take a bite and you can feel the crunchy eggs, the chewy glutinous cake, and the savory pork, all of which combine to create a unique taste.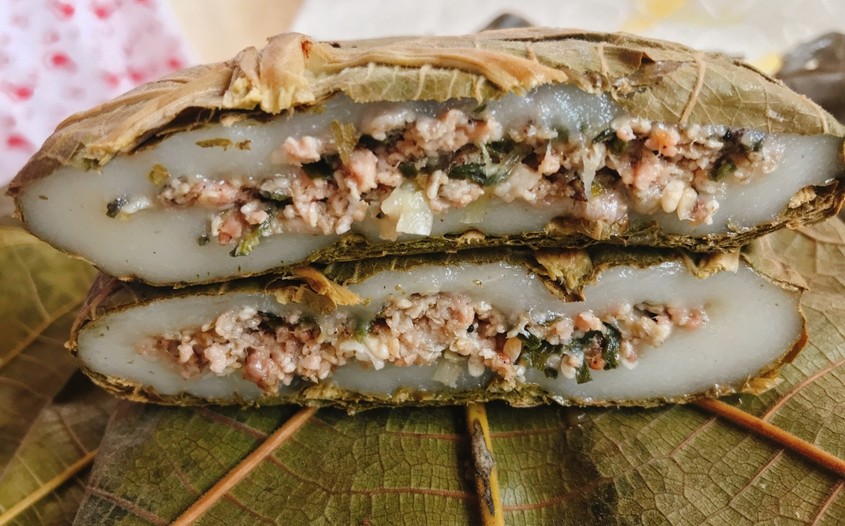 Best Way To Get To Ban Gioc Waterfall
You can travel to Ban Gioc Waterfall from Hanoi by yourself or joining a trip. Normally it will take you 3 days to do the whole trip there.
1. Travel By Yourself
The best way to get to Cao Bang from Hanoi is by night bus from My Dinh bus station. The night buses are very convenient and safe. The ticket is only 200,000 Vnd per person. The most chosen brand is Thanh Ly Bus (0944266266) which starts from My Dinh bus stations from 7 PM to 9 PM daily and arrives Cao Bang City bus station from 4 AM to 6 AM.
Once you have arrived Cao Bang city, there are 3 ways that you can get to Ban Gioc Waterfall:
By Public Bus
The public bus starts from Cao Bang city bus station and ends at Ban Gioc Waterfall. The ticket is 70,000 Vnd.
By Rental Motorbike
If you would like to discover the region in a thrilling way, renting a motorbike is a perfect choice. The route from Cao Bang to Ban Gioc Waterfall is rated as one of the best riding routes in Vietnam. You can easily find a motorbike renting agency around Cao Bang City. The cost for one motorbike/day is from 120,000 Vnd to 150,000 Vnd.
By Taxi
Taxi is always available in Cao Bang. Please remember to bargain carefully in advance. Here are some contacts of famous taxi brands in Cao Bang:
Huong Sen Taxi: 0206.382.82.82
Vinh Dung Taxi: 0206.3755.755
Duc Ngoc Taxi: 0206.379.79.79
2. Tours From Hanoi
If you are a first-timer to Vietnam or would like to discover the region to the fullest with the help of a knowledgeable local guide, joining a tour from Hanoi is a right choice. Some trips can include other destinations in the regions that give you more interesting experiences. There are a lot of trips with different lengths for you to choose to fit your time schedule. Here are some options that are recommended by us and thousands of traveler connoisseurs:
Ba Be Lake and Ban Gioc Waterfall tour from Hanoi 3 days: if you are in short of time, this 3-day trip is enough for you to discover all the highlights of Ban Gioc waterfall combined with the nature exploration of Ba Be lake & Ba Be National Park.
Ban Gioc Waterfall & Ba Be Lake tour 4 days: this option is the most perfect for you to experience the regions to the fullest. If you have 4 days to spare, why wait?
Majesty Of Untouched Northern Vietnam tour 6 days: this trip takes you on an exciting loop from Ha Giang to Ban Gioc Waterfall and Ba Be lake. Joining this tour means you will have chance to get off the beaten track to explore all the deepest local features of remote northern Vietnam.