Ha Giang Travel Guide – Top Unique Things To Do
Ha Giang is Vietnam's Northernmost highland province coming in the shape of a hat covering the starting point of the country and running along the border with mainland China through 300 kilometers.
Topography-wise, this province is granted by Mother Nature with an exceptional setting bearing an everlasting attractiveness of a typical mountainous wilderness that cannot be found anywhere else.
Because of such, a trip to Ha Giang when in Northern Vietnam comes along with a wide array of interesting experiences. These can be seen through its gigantic landscapes, a system of crooked waterways and harsh highlands terrain. Our Ha Giang Travel Guide will reveal how to make your trip there an amazing experience.
Geology
Ha Giang was designed with a sophisticated terrain divided into three main sections.
First, the Northern stone mountain field is filled with a highly vertical gradient parting its own set of valleys, rivers, and streams.
Second, the Western soil mountain field witnesses a slightly high terrain with alpine slopes while narrow alleys and rivulets.
Finally, the core region is formed by mountains, Lo River valley and Ha Giang city center.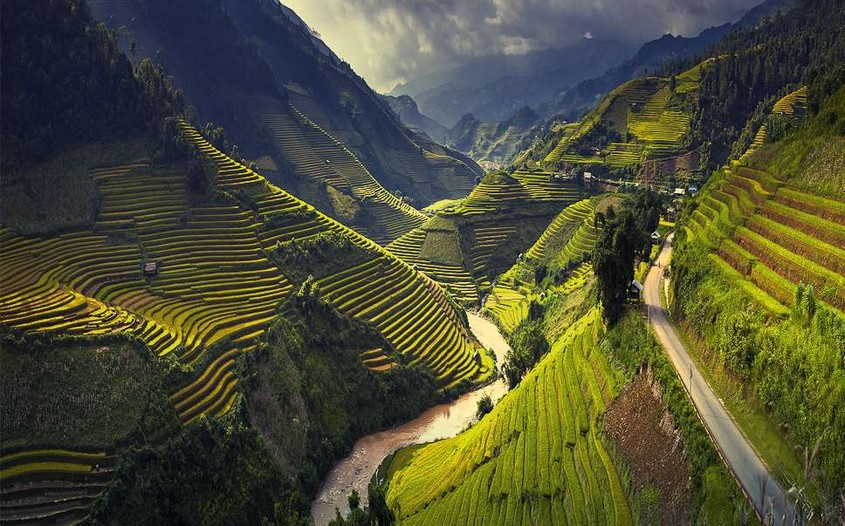 Ha Giang Travel Guide:
How to get to Ha Giang?
The distance between Hanoi and Ha Giang lasts for around 300 kilometers. This means you can opt for a motorbike trip by yourself if you are an adventurous person.
Just bear in mind that the whole road trip by scooter can last up to 8 or 10 hours depending on your speed.
Another alternative to be considered is hopping on a coach. First off, you need to get on a sleeping bus from Hanoi to Ha Giang, and then take another local bus to Quan Ba, Yen Minh, Dong Van or Meo Vac.
To move in between the attractions in each of the cities, then "Xe Om" or motorcycle taxi is what you need.
Authentic Cuisine in Ha Giang
Ha Giang specialties are brought by the breath of the mountains harmonized with the diversity in customs and culture of the ethnic communities. Here is an archive of 11 exotic food in Ha Giang that outstands the destination from others:
Cháo âu tẩu – Au tau porridge

Thang cố

Thit gác bêp – Smoked beef

Lợn căp nách – Mountainous pork

Chè Shan tuyêt – Shan tea

Thịt chuột La Chí – La Chi tribal mouse

Bánh cuôn trứng – Egg rice rolls

Phở chua Hà Giang – Hà Giang sour pho

Thăng dên – Sweetened sticky rice ball soup

Cơm lam Băc Mê – Bac Me grilled rice tubes

Rượu ngô – Corn wine
Must-See Attractions in Ha Giang
Heaven Gate and Quan Ba Twin Mountains
Quan Ba "Heaven Gate" is found 1500 meters above sea level, which is known to be the very first entrance leading to Dong Van Plateau.
In 1939, a giant 150-centimeter-thick wooden gate was established right at the entrance. Stories have it that a private different world conquered by the H'mong tribal ethnicity behind this gigantic gate.
The H'mong villages cover a large area including Quan Ba, Yen Minh, and Dong Van.
Meanwhile, the complex of Quan Ba Twin Mountains is located 40 kilometers away from Ha Giang downtown along 4C Highway.
This is such a magnificent scene offered by Mother Nature when a pair of huge mountains imposingly emerge in the middle of the infinite terraced rice fields, which delivers an enormous beauty of wild landscapes to travelers.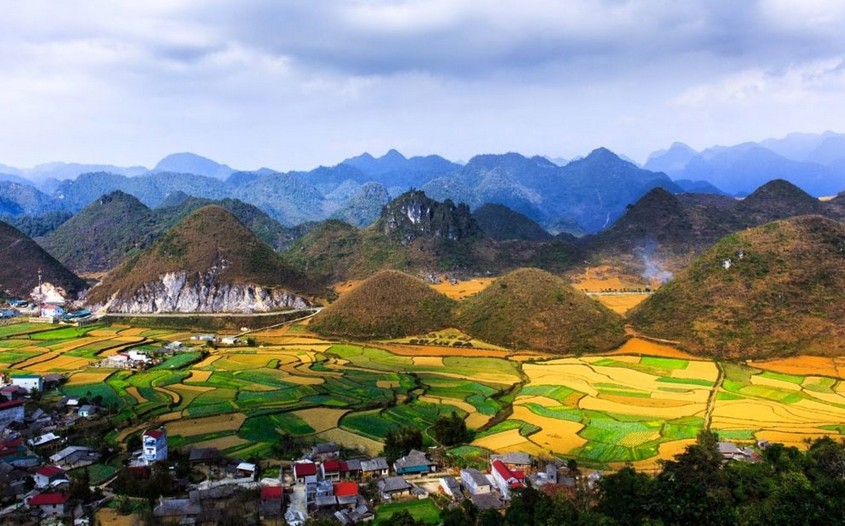 Dong Van Karst Plateau Geopark
Dong Van is a gigantic stoned plateau sharing by four districts: Quan Ba, Yen Minh, Dong Van, and Meo Vac. The total area is recorded to be over 2.300 square kilometers.
The Plateau shares an inland border with China and situated up to 1600 meters above sea level.
Dong Van is a spectacular topography when formed by at least 80 percent limestone along with a wide range of ancient creatures' fossils dating back to nearly 600 million years ago.
On the 3rd of October 2010, Dong Van Plateau Geopark was ranked as the 77th member of the Global Geopark Network, which marked the milestone of Dong Van being the first global Geopark in Vietnam and the second in Southeast Asia.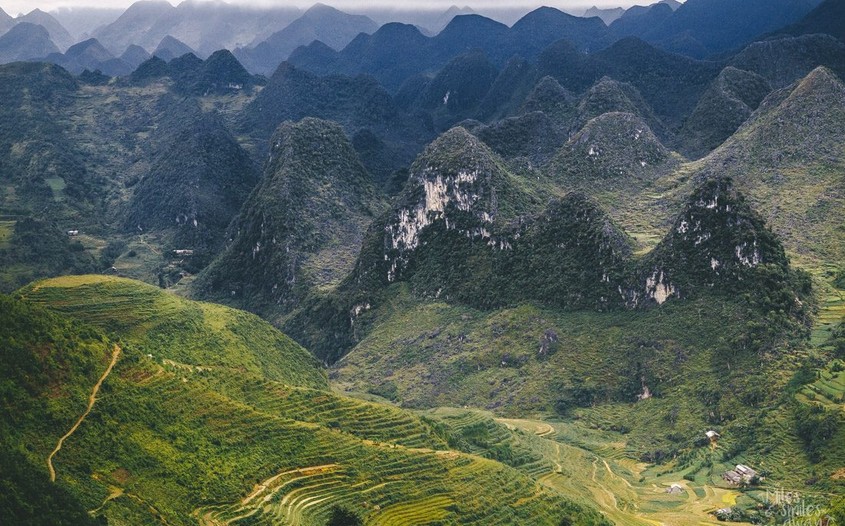 Hmong Royal Palace
Hidden behind the massive range of Cunninghamia trees, a stone entrance gate welcomes travelers to the former private living palace of a H'mong "King" – Vuong Duc Chinh.
The site is now a part of Sa Phin, Ha Giang located on the top of a hill.
According to history, Vuong Duc Chinh was the leader of the H'mong Vuong family in Ha Giang dating back to a century ago.
Building his own "empire" thanks to his cross-border business of trading opium through China and Burma, Vuong Duc Chinh gradually became a wealthy tycoon and soon conquered this stone highland.
Vuong's palace was built within eight years by the hands of artistic H'mong natives and still able to present a significant local architecture hiding an interesting story behind the master's family.
Ma Pi Leng Pass
Ma Li Leng has a literal meaning of "a horse's nose" in the native language, which represents a vertical mountain slope bringing an exact look like the nose of a horse, even though some documents stated that Ma Pi Leng should mean the nose of a cat.
Ma Pi Leng Summit is an iconic part of Dong Van Geopark, which is recorded o be 2000 meters above sea level and created by a system of fossils, such as limestones dating back to 426 millions of years ago.
A trip to Ma Pi Leng allows travelers to observe special geological formations, which includes a wide array of cracks resulted by the building of mountains.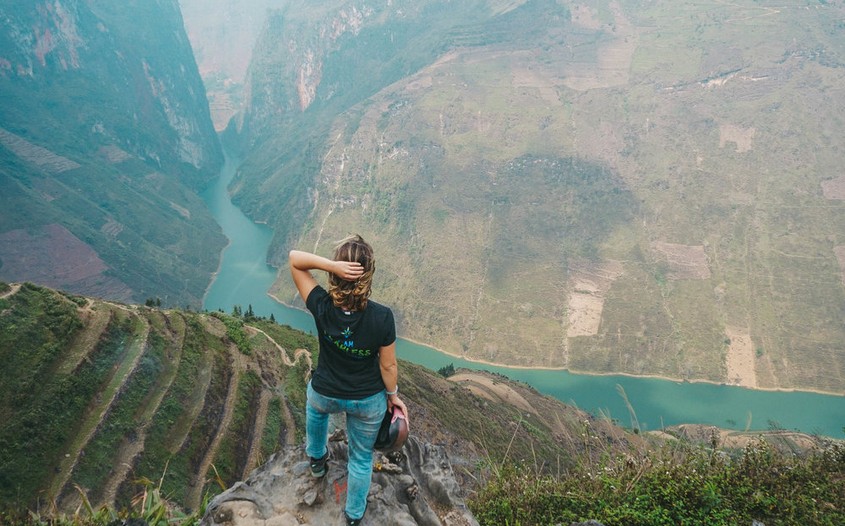 Top Recommended Activities in Ha Giang
The list of nine best activities in our Ha Giang Travel Guide down below bring trippers to a whole new level of traveling, which dedicate to both adventurous and culture-vulture fans:
Trekking to Ma Pi Leng Pass

Biking trip to observe the enormous ripening rice paddies

Conquering off-road trails

A camping night under the sky full of stars

Joining the locals in their unique festivals

Crossing Nho Que River on a bamboo float

Spending a night in a homestay

A discovery into mystic caves

Checking in the farthest boundary stones
Should you be alone traveler self-planning a trip to Ha Giang or should you find a local companion along the way? The answer is all yours! If being a backpacker allows you more free time on a budget, then signing up for a 4-Day Ha Giang Tour erases all your fears in finding the way, customizing a good schedule or language barrier.