Dalat, a precious gem in the Central Highland of Vietnam, is a must-visit destination for both first-time visitors and returnees. Born by the French and nourished by the Vietnamese, Dalat is covered with mild weather all year round and vast scenery of nature and mountains. In this article, we share you a complete Dalat travel guide if you're about to visit Dalat real soon!
I. Dalat: A Brief Introduction and A Look into Its History
Established in 1907 by the French as a breakaway and hill station, Dalat has been an iconic destination in Vietnam's Central Highlands for decades. The city has everything you need for an absolute vacation, from hotels, landscapes, mouthwatering cuisines, golf courses, and many more.
Dalat in soaked in an endless scene of pine forests and nourished by the temperate climate. This is the reason why Dalat becomes the "holy land" as the agricultural center of Vietnam. People talk about Dalat as a prosperous source of coffee, tea, flowers, and vegetables.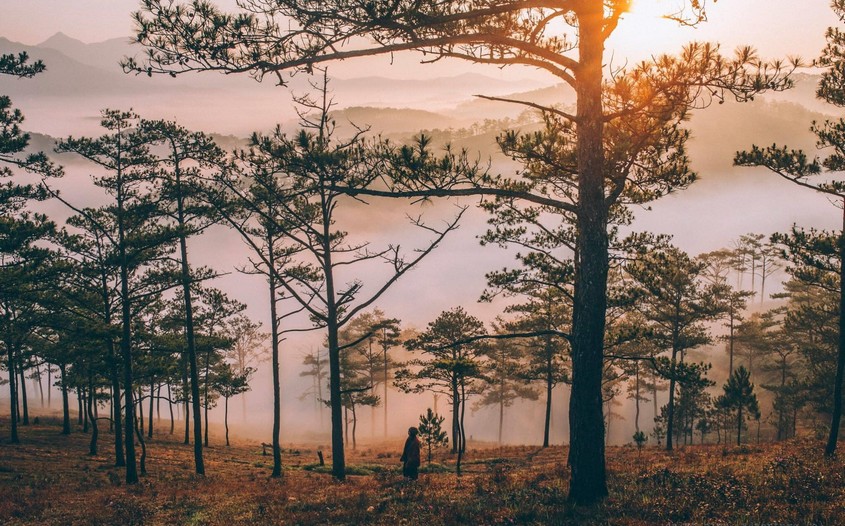 II. Best Time to Travel to Dalat
If the frequent downpour is not your thing, make sure to plan the trip to Dalat from November to April. This is the wintertime so remember to put on an extra coat.
April to October is when the milder temperature pampers the city of love. Yet the daily rainfalls may appear during the day.
All in all, Dalat is best to visit at any time in the year. Each season has its own charm that can wow any type of tourist.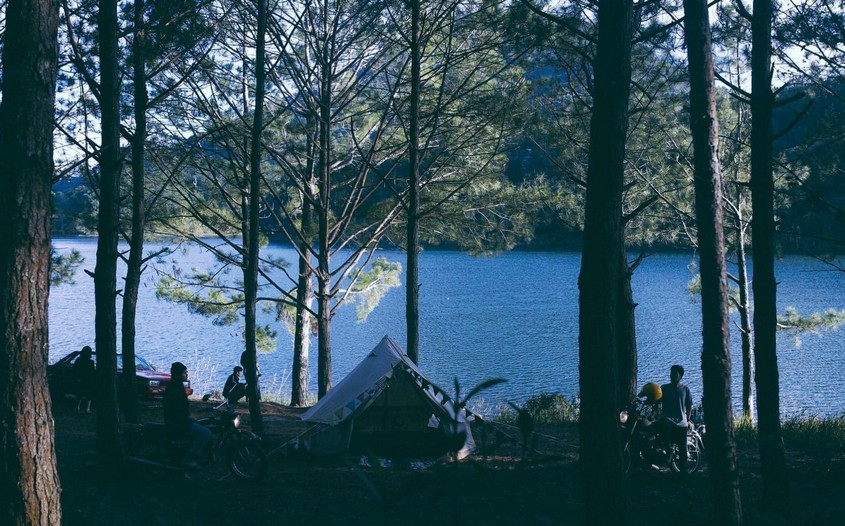 III. How to Travel to Dalat?
If you depart from the big metropolis like Hanoi or Saigon, then flying in the most recommended option. Daily flights are available which takes less than 2 hours.
A public bus, minivan, or private driver is the second-best choice if you are on the shoestring and don't want to miss the stunning scenery along the way. These means of transportation are available in either Saigon or the closer cities of Mui Ne and Nha Trang (which are both in the Central region).
Hopping on a train from any train station in the country is the third option you can go for. The ticket's price is roughly equal to the bus yet it takes quite a few more hours to reach Dalat.
IV. How To Move Around Dalat
Thanks to its cool and dry climate typical of the hilly region, most travelers visiting Dalat choose walking to explore the city to the fullest. Other than that, there are some means of transport that also convenient and popular. The three main ways to move around Dalat are listed below:
1. By Cycling
Cycling is the most perfect choice if you have an active soul.  You cant easily rent a normal bike at your hotel or in Dalat Central Market for 30,000Vnd per day (around 1.5 USD). If you are into discovering the mountains, renting a mountain bike is highly recommended.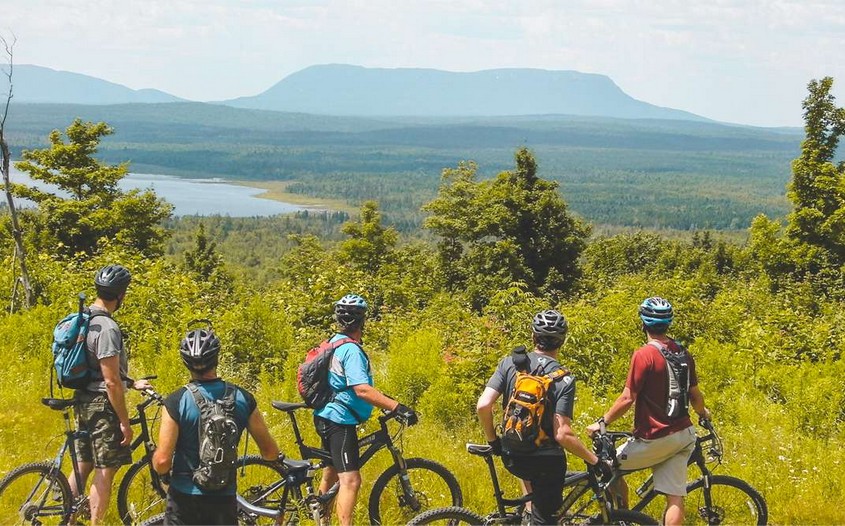 2. By Taxi & Motorbike Taxi
Taxi is a popular means of transport in most cities in Vietnam, and Dalat is not an exception. You can easily find a taxi anywhere on the roads or get contacts at your hotel's reception. Mai Linh taxi is most chosen by travelers and locals in this city. But don't forget to negotiate the price well in advance. Grab taxi is also available in Dalat which can give you a better deal.
Some popular contacts for taxi in Dalat:
Mai Linh Taxi: 0263.3511 511
Thang Loi Taxi:  0263. 383 5583
Da Lat Taxi: 0263 355 6655
Lado Taxi: 0263 3666 777
3. By Motorbike
Joining a motorbike trip is an enchanting way for you to conquer the hilly terrain in Dalat highland, especially when you would like to discover the mountains of Dalat to the deepest. The common rate for renting a motorcycle one day is from $5 USD to $10 USD.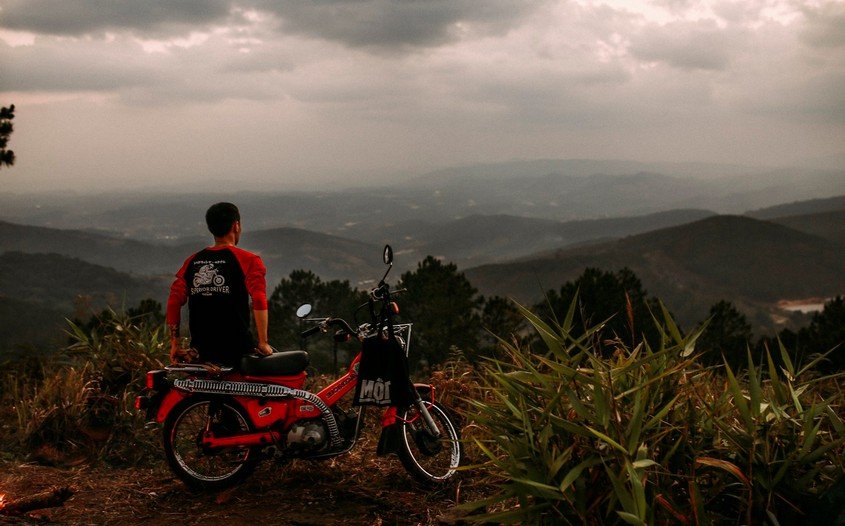 V. Things to Do in Dalat: 11 Must-See Attractions and 3 Thrilling Outdoor Experiences
11 Famous Attractions in Dalat a First-timer Cannot Miss
1. Bao Dai's Summer Palace
The palace belonged to the last emperor of Vietnam who abdicated his throne in 1945. His summer palace was built in 1933 as a retreat from the kingdom in Hue. Thanks to the mild weather of the mountains, the palace emerges amid the greenery as a precious gem.
Nowadays, Bao Dai's Summer Palace is a famous attraction for both foreigners and locals. The villa is perfectly preserved where you can admire the luxury furniture of the past century.
Location: Tran Quang Dieu Street, Ward 1, Dalat City
Ticket: 50,000Vnd / person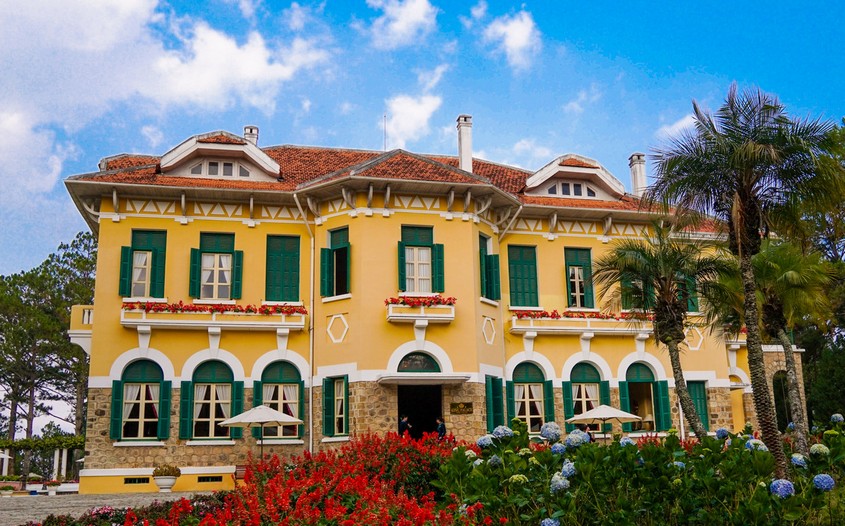 2. Lake of Sighs
The name originates from the story citing the sorrow faith of the star-crossed lovers who couldn't make it together at the end. The lake appears as a tranquil and stunning natural gem where the local couples love to take a long walk or sit for hours by one's side.
Other than sightseeing around the lake, you and your significant other can rent a paddleboat and ride around the lake. This is the perfect experience if you're up to admiring the lake-scape from a totally different vantage point.
Location: 6 km to the east of Dalat City
Ticket: 20,000 Vnd / person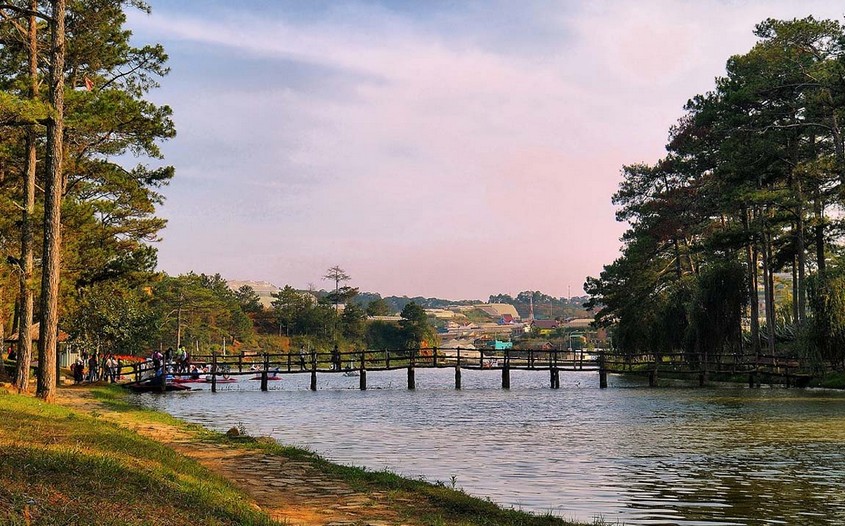 3. Linh Phuoc Pagoda
Linh Phuoc Pagoda is one of the most bizarre-looking yet impressive Buddhist temples in Vietnam. The site takes pride in the 37-meter-high bell tower and the incredible broken ceramics decorated on the exterior walls.
The vibrant main central hall is where you can dig into the interesting legend of the great Buddha who created this respectful religion.
Location: 120 Tự Phước Street, Ward 11, Dalat City
Ticket: Free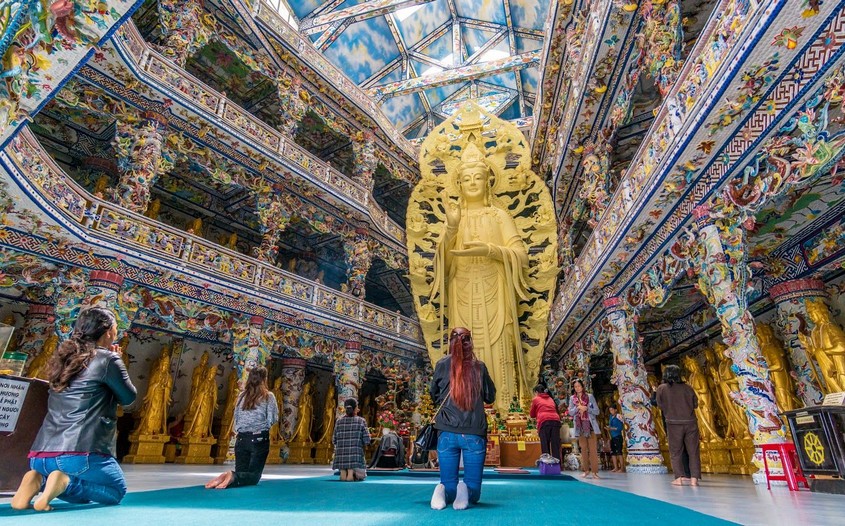 4. Dalat Flower Garden
The next destination you cannot miss when in Dalat is the gigantic flower garden. Covering 7000 square meters of the area is a vibrant and colorful garden which is known as the first flower garden in the city. This is home to over 300 kinds of flower species.
What makes tourists love about the garden is that the flowers take turn to bloom at different times in the year. So no matter when you visit Dalat, the flower garden is still a captivating site.
However, the time flowers put on its most impressive beauty is during the summer months of the year.
Location: Ba Huyen Thanh Quan Street, Ward 8, Dalat City
Ticket: 50,000 Vnd / person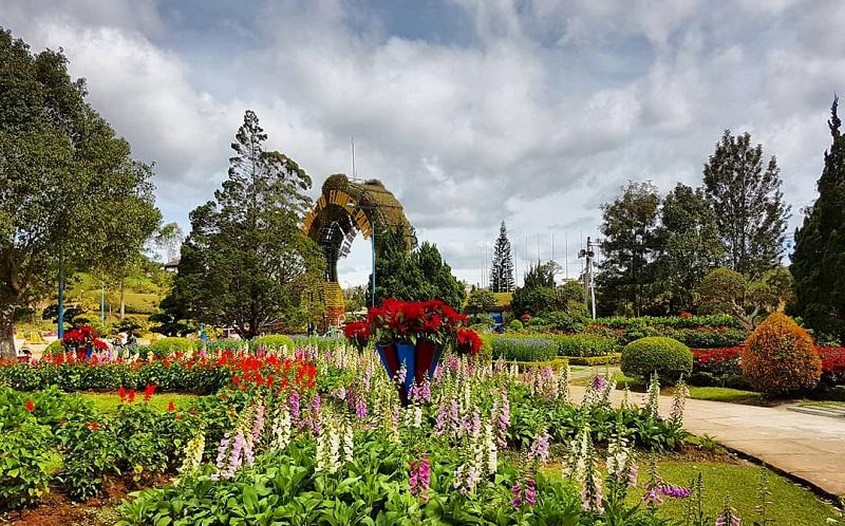 5. Dalat Market & Night Market
The iconic Dalat Market is the central point of the entire city where the most famous attractions and accommodations surround. The market houses around 1000 shops and kiosks scattering in different floors of the buildings. Most of the stalls supply dried food (which is native to Dalat) as well as fresh produce. While at the front, dozens of stalls line up to display the freshest flowers in the day to customers. The Dalat Central Market is most famous as a kingdom of souvenirs such as clothes, food, and textiles.
When night falls, the main market is closed and makes way to the night market. And this makes it another interesting scene that you can add to your nighttime bucket list.
Location: Nguyen Thi Minh Khai Street, Ward 1, Dalat City
Ticket: Free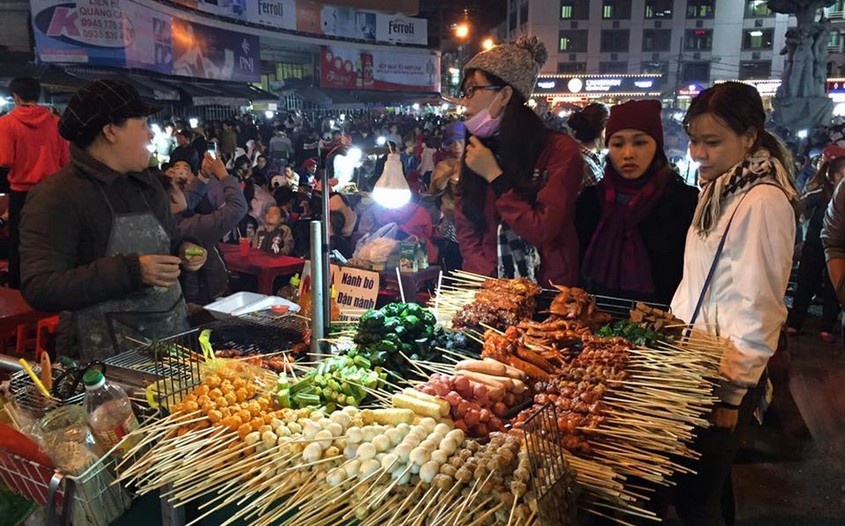 6. Dalat Train Station
Built by the French in the 1930s, the yellow piece of art, Dalat Train Station, is a vivid museum-like artifact. It takes pride in the awe-inspiring architecture and the mind-blowing history of the oldest train station in Indochina.
There are numerous souvenir shops, cafeteria, and restaurants where you can take a break after a long day traveling.
Location: 1 Quang Trung Street, Ward 10, Dalat City
Ticket: 5,000Vnd / person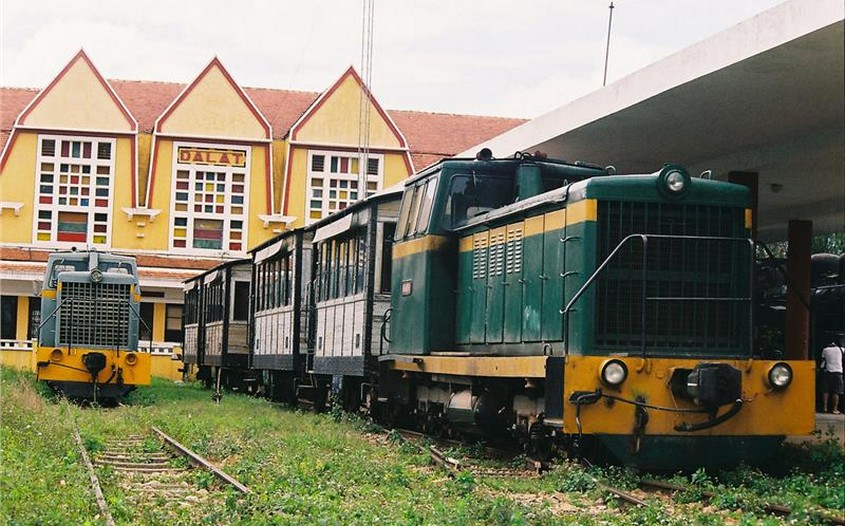 7. Elephant Falls
This is definitely the most famous and stunning fall across the hilly city. Located roughly 30 kilometers from the city center, the Elephant Falls promotes the wonderfully serene surroundings and the gigantic waterfall that Dalat is always proud of.
Along the way is the collection of mid-way stops such as the coffee and tea plantations, a cricket farm, a rice wine distillery, and a silk factory. If this type of culture is what you seek out for on a vacation, don't hesitate to bring along a local guide for the best insight!
Location: Gia Lam, Nam Ban Town, Lam Ha District
Ticket: 20,000 Vnd / person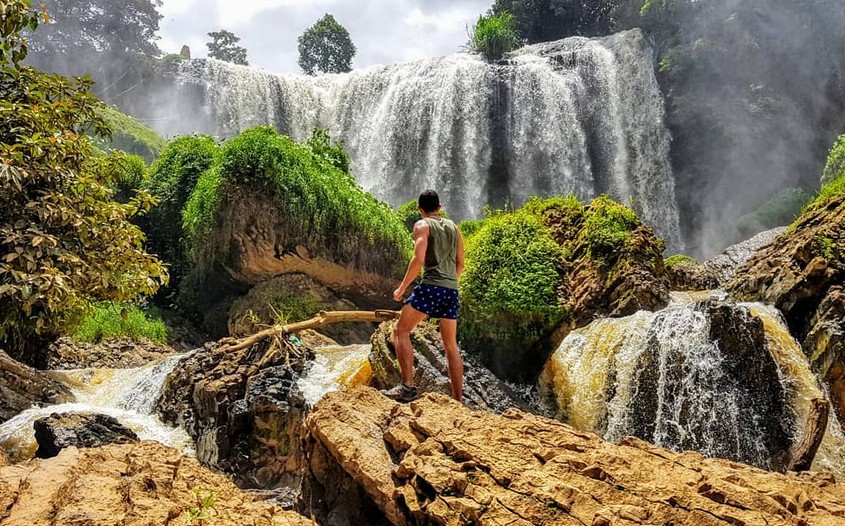 8. Lat Village
This is a lesser-known destination in Dalat which may be familiar to Vietnamese tourists but still a strange name in the mind of foreigners. The Lat Village is often referred to as Chicken Village due to the gigantic chicken statue set at the entrance gate.
If you follow a local guide as a part of a day trip in Dalat, you'll have a chance to know more about the legend behind the name. If you're up for traveling alone, then don't forget to take a glimpse of the rural life in the country. And even better, don't forget to snap the coolest photos of the vibrant farming community.
Upon departure from the village back to the city center, chance for you to scan through some authentic souvenirs to bring back home. The local handicrafts such as cotton textiles, alcohol, and traditional silk pieces are the best recommendations.
Location: K'long Village, Darahoa, Hiep An, Duc Trong District
Ticket: Free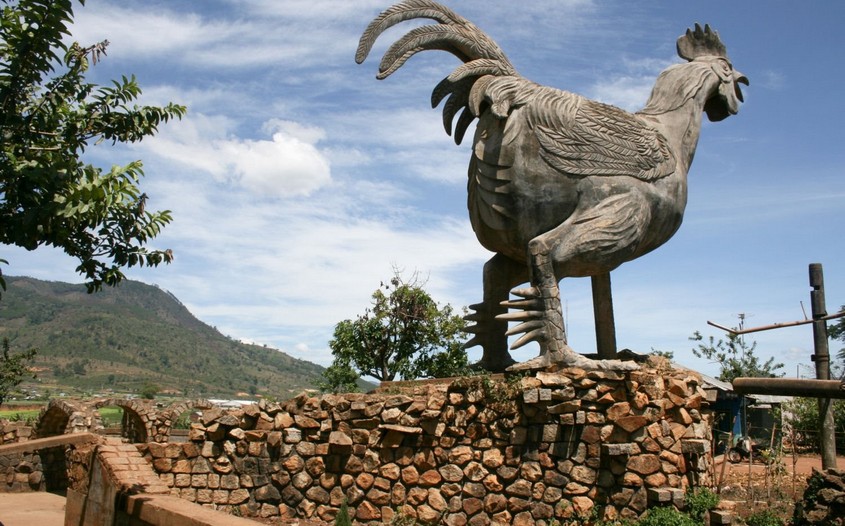 9. Take on Dalat Coffee Scene
Dalat is one of the top coffee producers in Vietnam and it makes a complete sense why you should indulge in the coffee scene when in Dalat.
The whole city is filled with plenty of coffee shops in various styles. This is where you can sit for hours and refresh amid the day trip. The best style to get is always Vietnamese coffee but some of the modern shops can wow you with the exotic brews. Cà Phê Chồn – weasel coffee is the hottest trend these years and you can take a sip while mesmerizing the infinite view at Cà Phê Mê Linh plantation.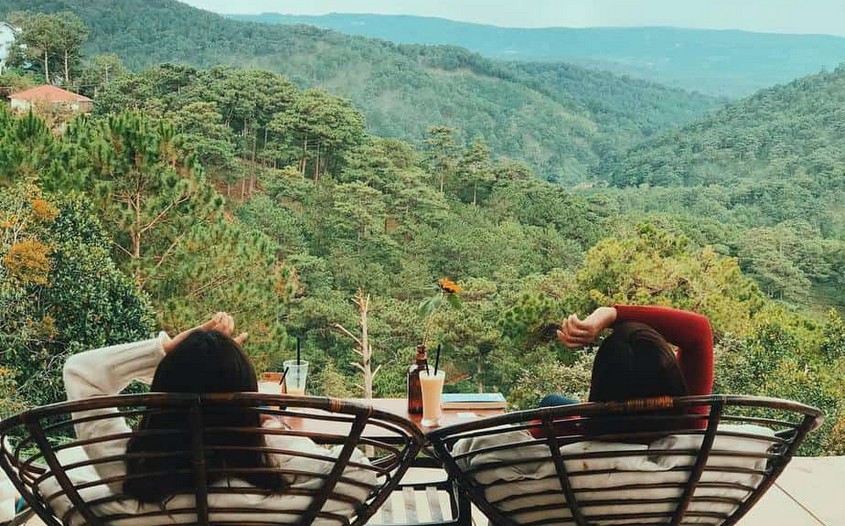 10. Langbiang Mount
Located at the height of 2,169 meters, Langbiang Peak promises to reward you with a wonderful panoramic view of the whole Dalat. There are two main ways to conquer this roof. The easiest way is by an old Russian Jeep which costs 300,000 for a round trip. The jeep can contain up to 6 people together. The other way is idealistic if you are an adventure seeker. You will then spend 3 hours off the beaten track on the forested trails to get to the mount.
Location: Lac Duong District
Ticket: 20,000 Vnd / person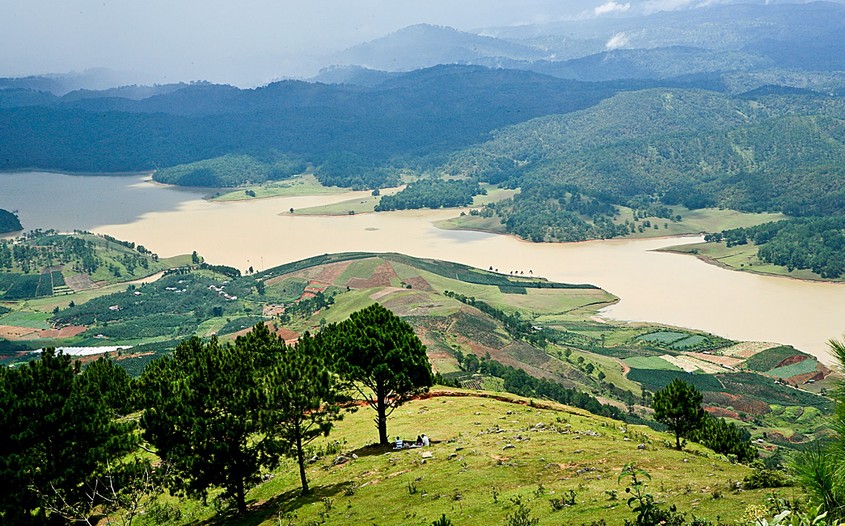 11. Tuyen Lam Lake
Known as the biggest freshwater lake in Dalat, Tuyen Lam lake is a must-see when you travel to this highland. The lake is covered by lush pine forests which will grant you a feeling of peace and mystery. Because of its raw beauty and enchanting surroundings, the lake is an ideal place for camping and enjoy the atmosphere of the wild. What is more, visitors coming to the lake can join some interesting activites like horse riding, fishing, mountain hiking or boating.
Location: 6 km to the South of Dalat City
Ticket: Free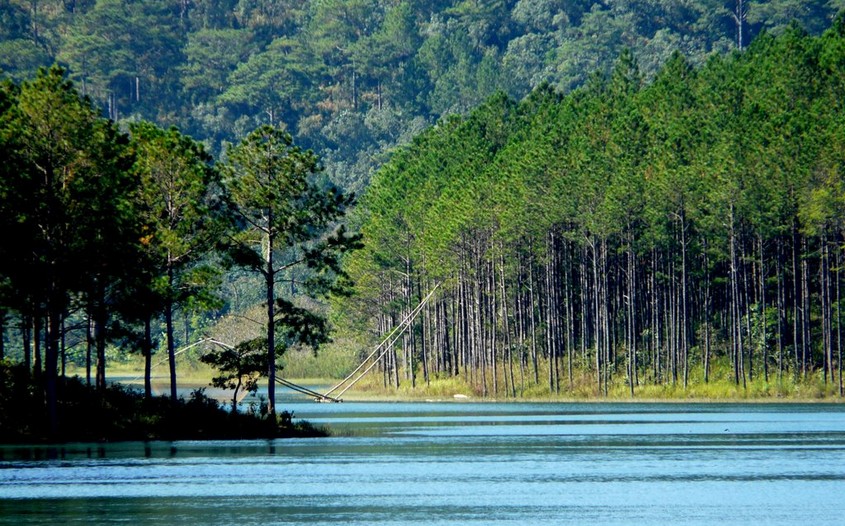 3 Adventurous Experiences in Dalat
1. Cliff Jumping and Canyoning in Dalat
The mountainous city of Dalat is ideal for any kind of thrilling activities. One of them is canyoning. Get ready to navigate through a canyon and rush down the waterfall in the middle of the pine forest! And if you have a bigger mind of an adventurer, don't hesitate to go cliff jumping! The best and safest way to enjoy this experience is joining a Dalat canyoning tour 1 day.
2. Trekking in Ta Nang – Phan Dung Route
Most people will refer to the Lang Biang Mountain when they opt for a trek in Dalat. However, another much more thrilling route is Ta Nang Phan Dung. The route is 250 kilometers away from Saigon by car and praised as one of the best trekking in Vietnam. What you see along the way is a beautiful transition from highland to central coastal plateau.
The diversity of landscapes on the trek takes you across the pine forest, green meadows, and basalt soil. Since the route is a newly emerging gem, it's only popular amongst the local trekking community.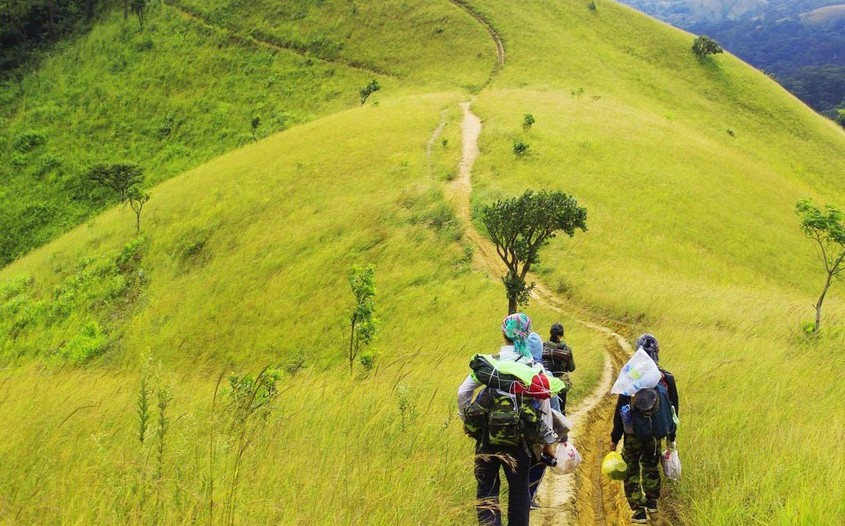 3. Rafting in Dalat
Speaking of rafting in Dalat, Da Don River is where you can find this thrilling experience. The river is a part of the Lam Ha District in the southwest Dalat.
All you need to do is to rent a paddle, hop on the raft, and get yourself ready for a wild and fun journey. To enjoy this experience most safely, don't forget to grab a local guide along and let him take care of your activity!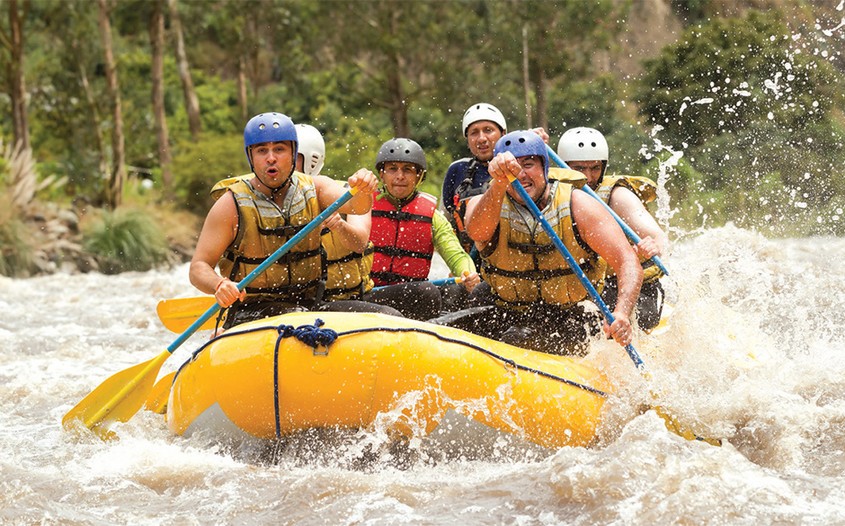 VI. What Are The Best Dishes to Try in Dalat
Enjoy the local food is one of the best way to explore the deepest cultures of the region you visit. Dalat is also a paradise of local food that you can seek for on your trip there. Here is the top-rated list of local food loved most by travelers.
1. Vietnamese Grilled Pork Sausage – Nem Nướng
Even though you can try this cuisine anywhere in Vietnam but Dalat is one of the best places to offer. It comes with a big portion of crispy rice paper rolls by the side of juicy pork balls, fresh herbs, and peanut sauce. Everything compliments each other and harmonizes beautifully on your taste buds.
Nem Nuong Hung Van (150 Bui Thi Xuan, Dalat) is the best spot in town serving this delicacy which you can find on Phan Dinh Phung Street.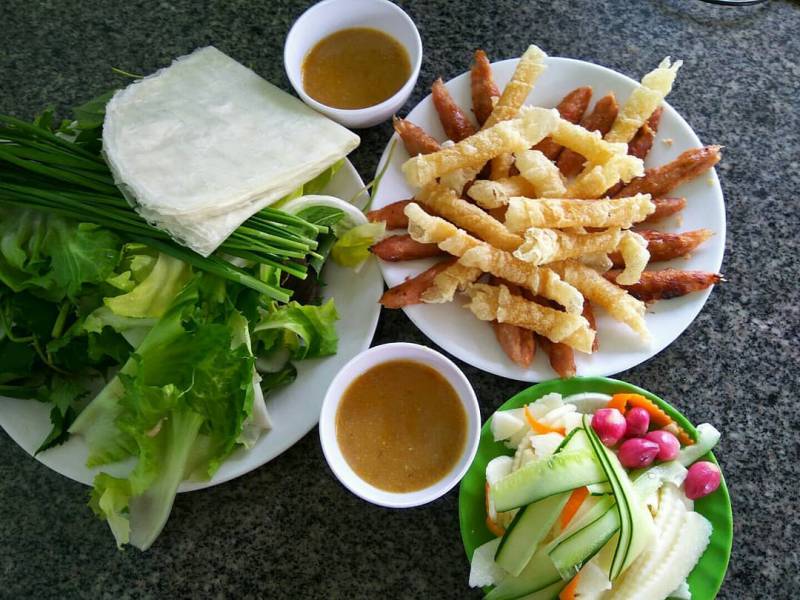 2. Mini Grilled Pancake – Bánh Căn
Made of rice flour and egg while the toppings are beef or quail egg, the mini pancake is a popular street food in Dalat and best enjoyed during the cold rainy days. Apart from the eating, watching the local chef mastering the art of grilling pancakes is also an interesting thing to do.
Bánh Căn Lệ (44 Yersin, Dalat) is the best place to try!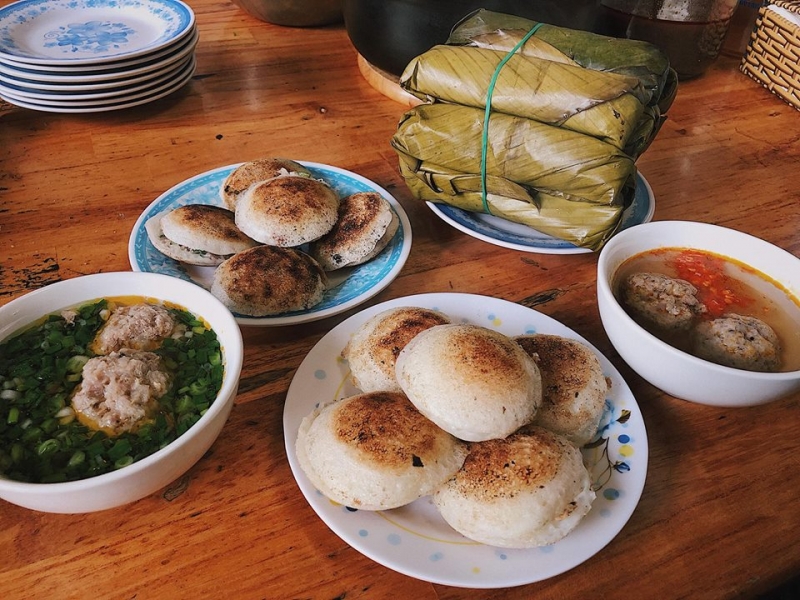 3. Steamed Rice Cake with Chicken Intestine – Bánh Ướt Lòng Gà
If you love to try something that extremely authentic and lesser-known, then this is your gem! The dish is named Bánh Ướt Lòng Gà in Vietnamese and comprising of a thick layer of steamed rice rolls, wrapped with pig's offal or chicken, onions, and fresh herbs. This delicacy is not complete without a serving of cooked fish sauce.
If you're ready for this, head over to Trang restaurant (15f Tang Bat Ho street, Dalat) and treat your tummy right away!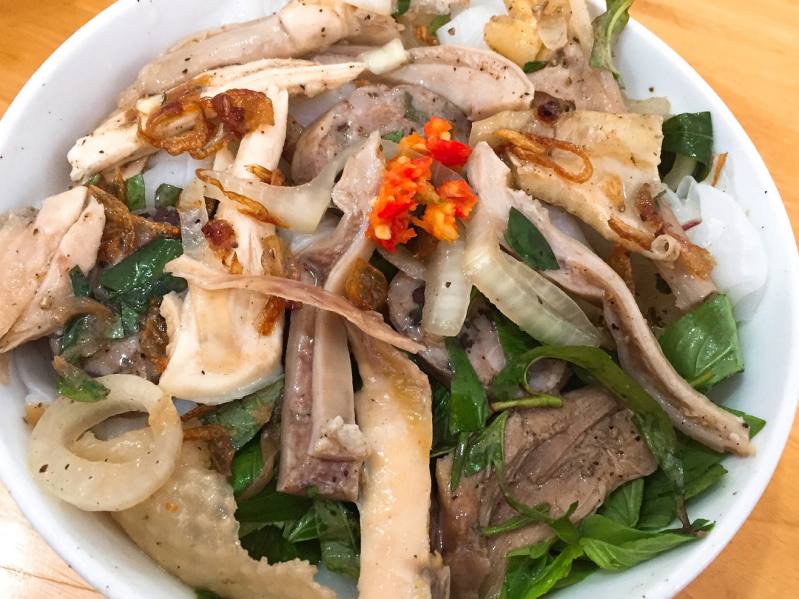 4. Vietnamese Meatball Soup with Hot Banh Mi – Bánh Mì Xíu Mại
This is the most common dish for breakfast, not only for the local Dalat dwellers but also for visitors. The hearty soup comes with multiple gooey meatballs swimming inside. Sometimes, it comes along with pork skin while green onion and fried shallots sit atop. However, the must-include side dish is the crunchy hot Banh Mi. You need to break the bread apart and dip it inside the sauce while sipping a mouthful serving of hot soymilk.
Banh My Yesin (10 Yesin Street, Dalat) is a recommended place for this dish.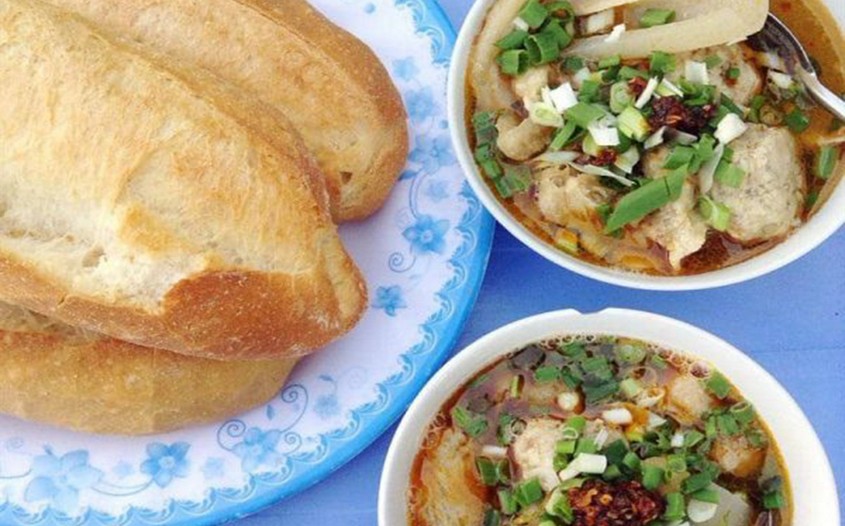 5. Vietnamese Pizza – Grilled Rice Paper – Bánh Tráng Nướng
The locals refer to Vietnamese pizza as Bánh Tráng Nướng, which is a form of grilled rice paper topped with minced pork, green onions, quail eggs, and dried shrimps.
The rice sheet is twisted and grilled atop charcoal fire before being wrapped into two and served hot inside a paper holder.
You can find a lot of vendors selling Vietnamese pizza all around Dalat Night Market.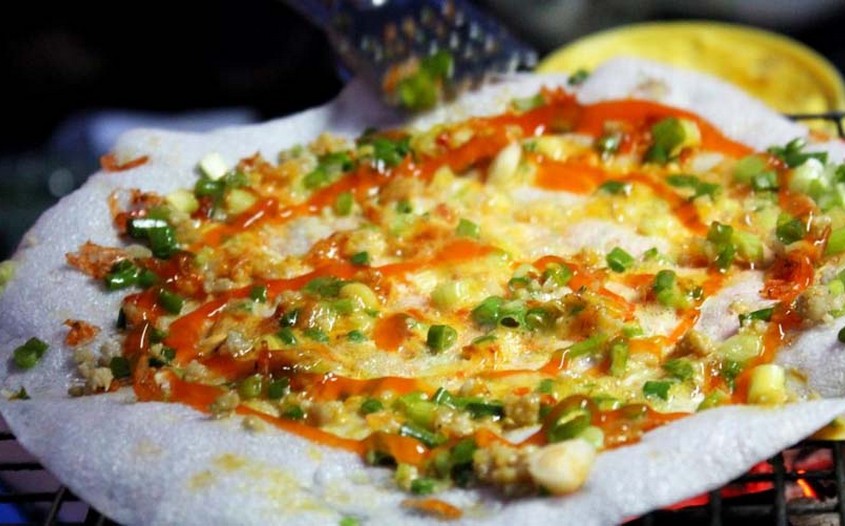 6. Avocado Ice Cream – Kem Bơ
The best dessert in Dalat is the creamy icy avocado ice cream. The portion is topped with coconut milk, coconut shavings, smashed peanuts and chocolate syrup.
Since avocado is one of the best sellers in Dalat, having a twist instead of making avocado smoothies can be a great idea.
The most famous store in Dalat where you can find this mouthwatering dish is Kem Bo Thanh Thảo (76 Nguyen Van Troi, Dalat). It's where you can jump into other tasty desserts as well.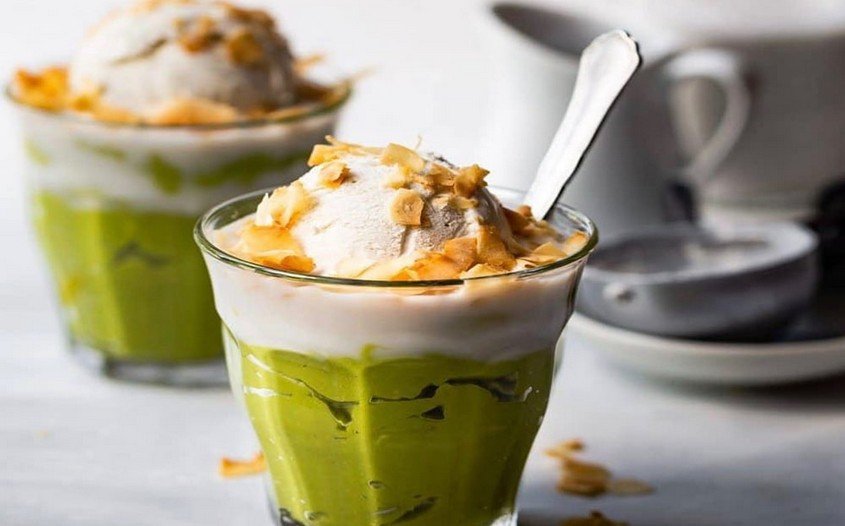 7. Chicken Hotpot With Lemon Basil – Lẩu Gà Lá É
This is one of the unforgettable specialties of Dalat, especially on cold days. The main ingredients are chicken cooked with lemon basil. This mixture creates a complex taste that is second to none.
The best places you can seek for Lẩu Gà Lá É is Tao Ngo Restaurant (no.5, 3/4 Street, Dalat)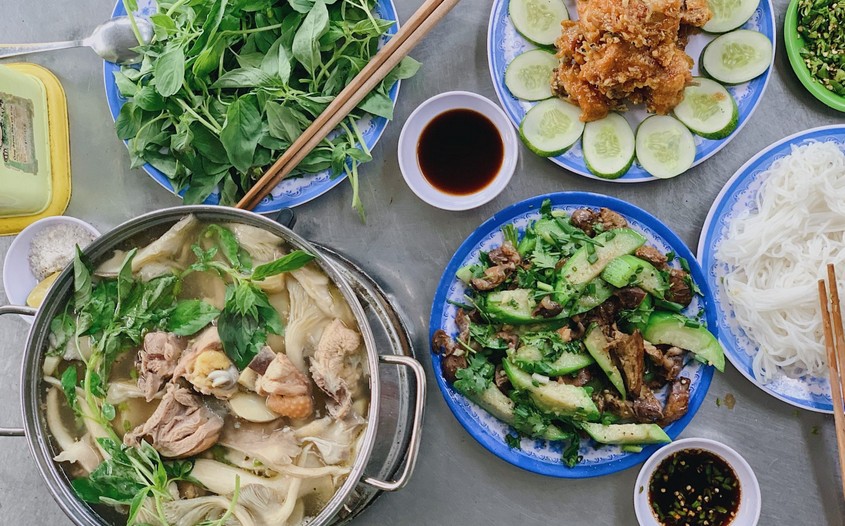 With all its interesting features, Dalat is indeed a perfect destination to put in your bucket list for your next Vietnam holidays, why not?