Hanoi Old Quarter is the one and only destination that no tourists can miss when traveling to Hanoi. Looking for a Hanoi Old Quarter travel guide seems like an easy task but it may end up disappointing many travelers. This is because the Old Quarter compiles so many things that can spice up your Hanoi vacation but are usually overlooked by many tourists and locals. Most of them simply list down the famous attractions, and that's it! You're left hanging.
But this article is different!
We don't just tell you where to go sightseeing, but we're showing you how to have the best fun like a real local! Because we are a team of passionate locals who love traveling so much and the number of times we've been in Hanoi is countless.
That's why you can count on us for showing you even the best-hidden gems that other mainstream tourists barely know! Let's dive right in!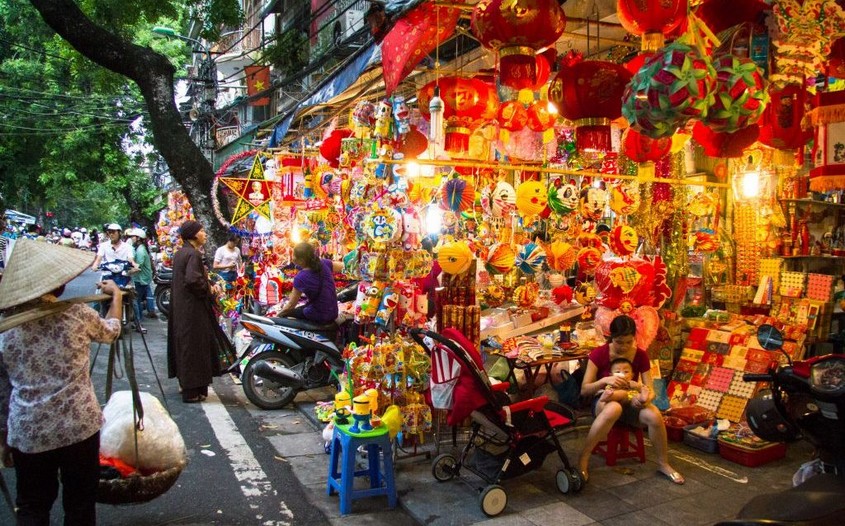 I. How to Get to the Hanoi Old Quarter?
Traveling from Noi Bai Airport to Hanoi Old Quarter: 3 Best Ways
1. Taking a Bus
We usually just hop on Bus No. 86 whenever we land at the Noi Bai Airport. It's a premium bus so you won't feel sandwiched or uncomfortable to get to Hanoi Old Quarter after a long flight. Plus, it's economic and modern. With only 1.5 USD and you have a spacious bus with A/C and an English – Vietnamese broadcast system.
Within only an hour chilling, you will reach the Old Quarter safe and sound. Of course, you will see other regular buses to the city center as well like No. 7, 17 or 90. But stay away from these as they are usually overcrowded and even some locals like us don't even bother to get one!
2. Taking a Taxi
It roughly costs you around 20 USD from the airport to anywhere around the city center. The taxi brands are widely common and they are also equipped with a meter to track your distance and price.
Please refer to some of the taxi contacts below with their phone numbers in case you need to book one in advance:
Taxi Group (0438.26.26.26)
Hà Nội Taxi (04.38.53.53.53)
Taxi Hanoi Tourist (04.38.56.56.56)
Taxi Việt Thanh (043.563.6666)
Otherwise, you can freely go to the taxi line and book one with the operator standing right in front of the airport (on the outside of the terminal gates). But, please bargain well before getting into any.
3. Just Grab it!
I won't spend too much time on what Grab is and how it works. Basically, it works the same way as Uber if that's what you're familiar with. In general Grab costs way less than a traditional taxi. One thing to remember is that Grab cars are usually in huge demand during harsh weather like the cold or rains. Anyway, we still highly recommend it!
You can download Grab App on your phone before your trip to Vietnam: Google Play and Apple Store
II. How to Travel Around the Hanoi Old Quarter?
1. By Rental Scooter
It's so easy to rent a motorbike wherever in Vietnam and ride around with it. In Hanoi Old Quarter, you can get it directly at your accommodation. It costs roughly 5 USD for the entire day depending on the model.
I just want to highlight the parking issue in Hanoi as it's a real pain for a lot of people, especially in the popular areas. So please look out carefully before you park your bike or else you can be fined by local police.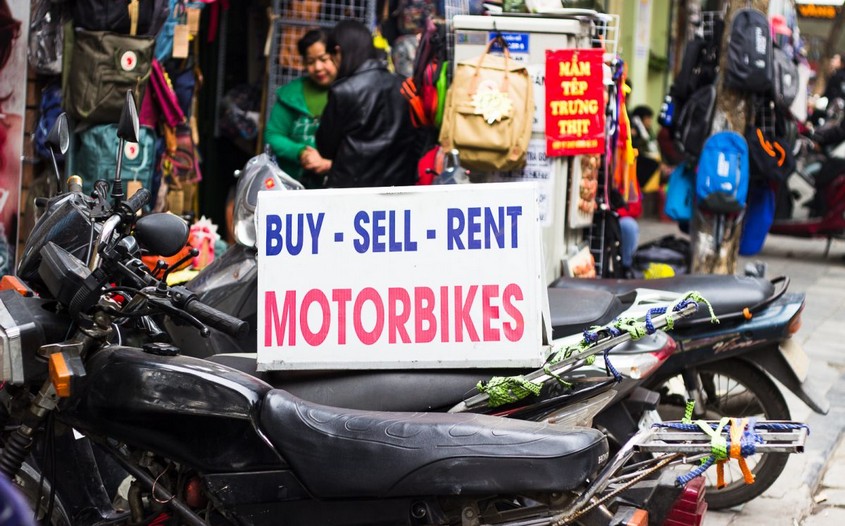 2. By Cyclo (Rickshaw)
Chilling on the cyclo and having someone drive you around the famous attractions in Hanoi is a complete joy! This means of transportation has been around for decades. If you're a first-timer to the city, don't hesitate to try it!
Sans-Souci is the largest cycle brand in Hanoi. Its name is translated to "No Worries". It is most ideal if you combine this experience with a Hanoi city tour 1 day.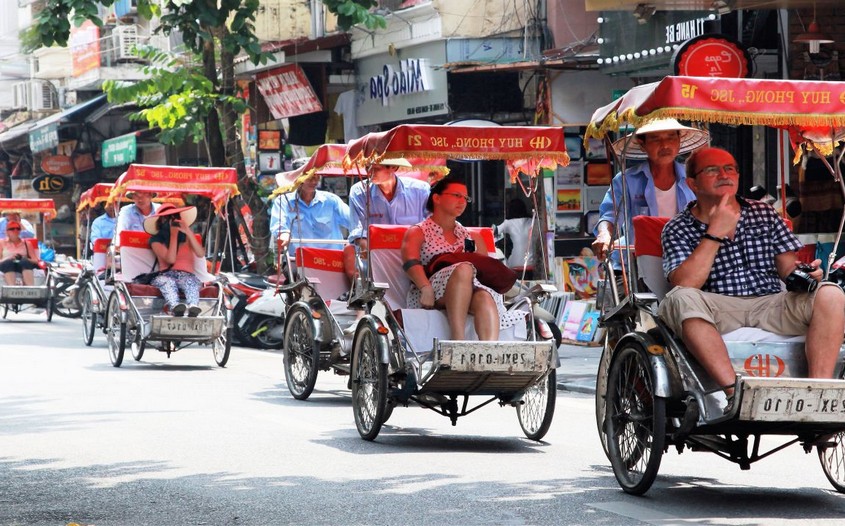 3. By Grab
Once again, Grab is here to be a lifesaver! You can switch from a traditional taxi and Grab car as long as it works best for you!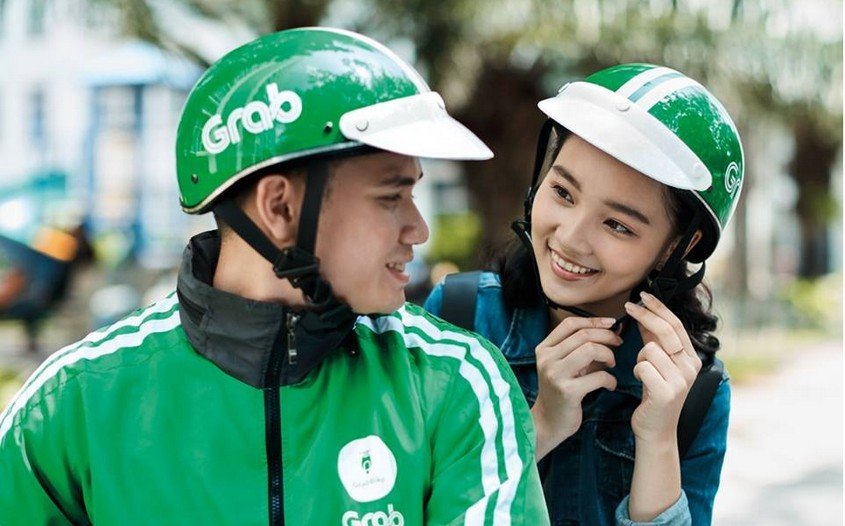 III. Things to do in Hanoi Old Quarter
1. Must-see Attractions in Hanoi Old Quarter You Should Not Miss as a First-time Visitor
Hoan Kiem Lake
The first name to be called is definitely the all-time iconic Hoan Kiem Lake. Also known as Lake of returning Sword, it relates to a historical legend of the country in the 15th century. Even though the legend remains a mystery, in fact, an oral story and the scenic landscape of the lake are worth a check!
What we want to emphasize is the Turtle Tower and the attraction complex in the middle of the lake. It has a lot to do with the culture and history of Hanoi that you don't want to miss. To fully understand each attraction that you visit, find a local companion who knows best about the city he or she lives in. Or even better, a local guide!
A large green park surrounding the lake adds a better charm to the scene. Many locals hang out and play music, chess, dance, or take a long walk around the lake. It means you have a better idea to engage in the local scene and be a part of the community.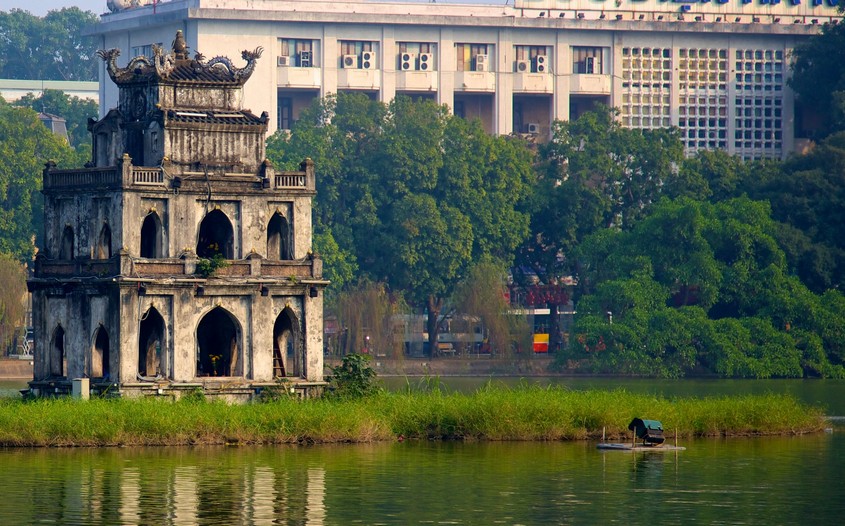 Ngoc Son Temple
This temple is the symbol of the capital and located right in the middle of Hoan Kiem lake. What you can expect to infer from the Temple is the religious culture and history related to the tale of the Lake. Ngoc Son Temple puts on a stunning oriental beauty with a wooden red-painted bridge called "The Huc Bridge – Morning Sunlight".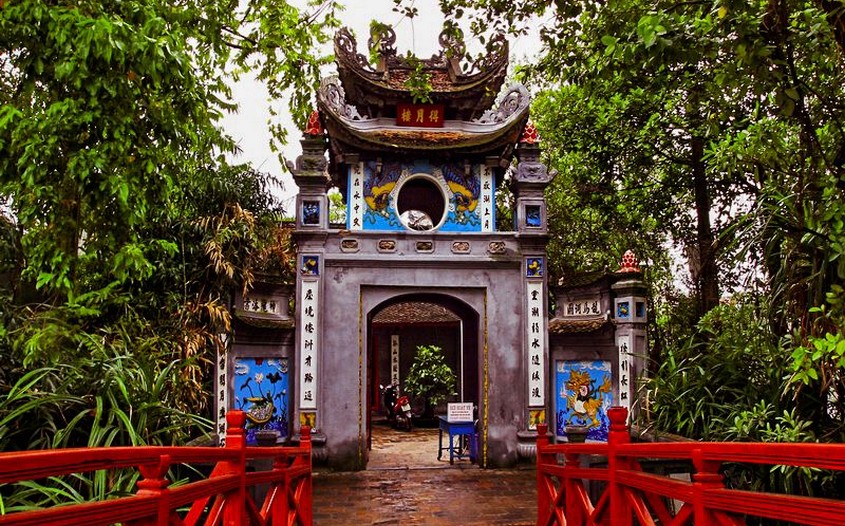 Dong Xuan Market
Any shopaholic here? If you visit Hanoi Old Quarter with a heart full of shopping vibe, remember to check out this busy place! Dong Xuan Market was established by the French administration in 1889 and has been through quite a few reconstructions and renovations to bear the look you see today.
The market is home to the wholesales goodies which include clothes, household appliances, and food. You can take a break at the food court and move on with the shopping time later in the day!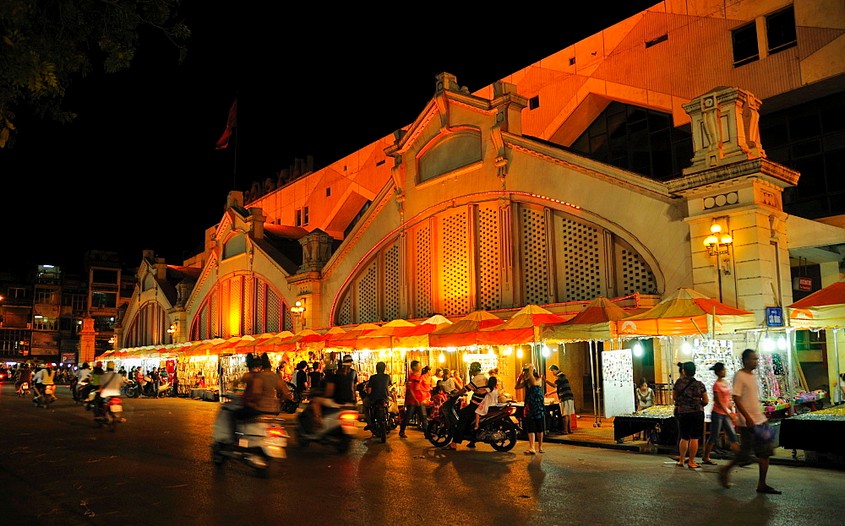 Ma May Ancient House
The ancient house is the hit of the trip for architecture fans and photographers. It is located at 87 Ma May Street and has been existing since the 19th century. The Ma May house comes to life as a symbol of the typical architecture of that era.
Even though the house has been restored, it still reflects the traditional vibe that you barely see anywhere else! It shines through the collection of the narrow facade, yellow walls, wooden pillars, and even the bathroom at the back of the house. The place also offers some traditional food and souvenirs for tourists to bring back home.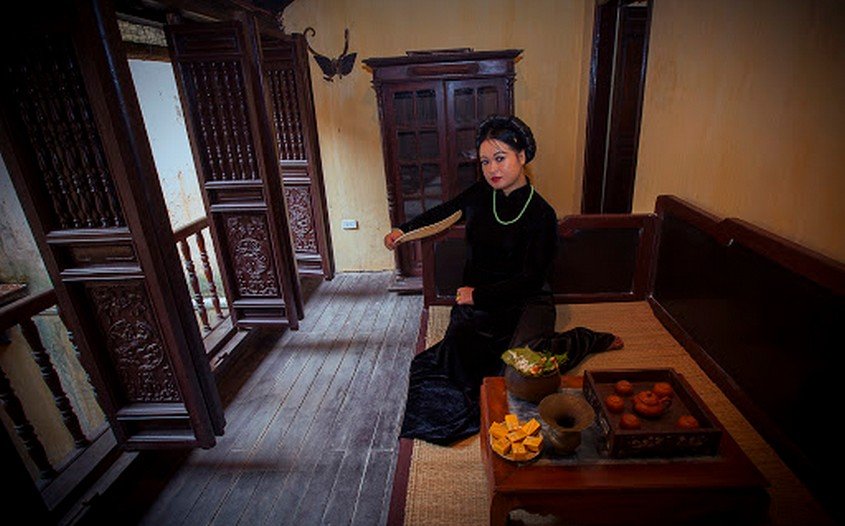 St. Joseph's Cathedral
The St. Joseph's Cathedral is the most iconic religious attraction in Hanoi. This is also the oldest cathedral built by the French all over Indochina. And that is one of the reasons why you should check it out as a first-timer to the city.
The Cathedral expresses the stunning beauty of the Gothic Revival (Neo-Gothic) style, which helps bring out the mystic and magnificent look of the building. You can reach the site by coming to the end of Nha Tho Street. There are plenty of restaurants and cafes to chill as a break amid the day tour.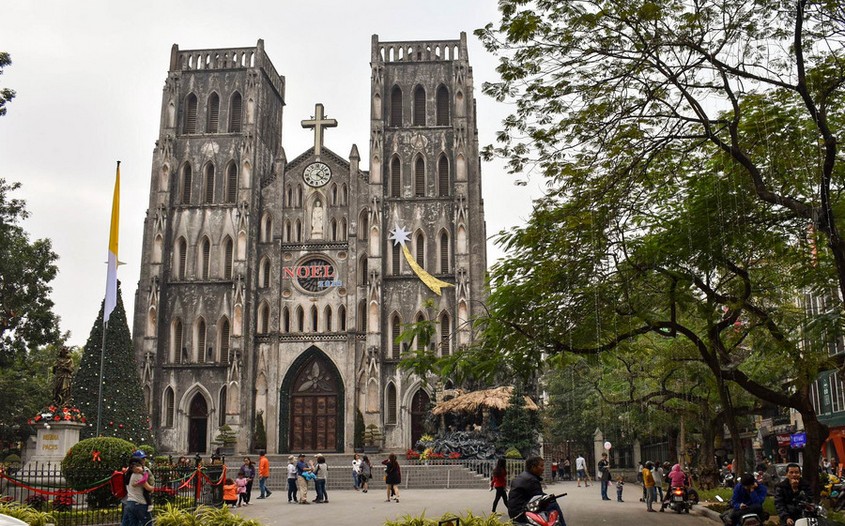 Long Bien Bridge
Known as the historical witness of Hanoi, Long Bien bridge was once the pride of Hanoi people to be the first bridge crossing Red river. The bridge was built in 1899-1902 by the architects Daydé & Pillé. The architecture was inspired by the Eiffel tower of Paris, which makes another name of it: Eiffel Brigde.
People can walk or cycle to Long Bien bride from Hanoi Old Quarter to get the panoramic view of Red River. There is one highlighted place for adventure seekers who would like to get off the beaten track is Hanoi Banana Island, which lies on the bank of Red River. From the Long Bien bridge, you can easily get down to the island and make the best of your exploration.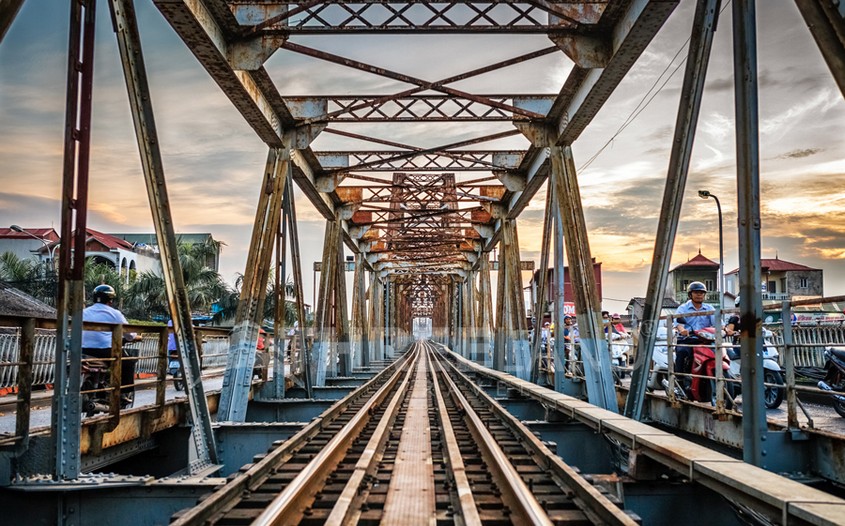 2. What to Eat in Hanoi: Must-try Dishes and Where to Find Them
Pho – Beef or Chicken Noodle Soup
Without a doubt, if you don't try Pho in Hanoi, your vacation here is incomplete! 90% of those who have ever tried the dish would seek for the recipe to make Vietnamese noodle when they are back home. It's not only a typical cuisine of Hanoi but also the national dish of the entire country. You can choose to have beef as a traditional way or chicken if you want to top up your game or simply switch to something new.
Here are the best Pho restaurants in Hanoi:
Pho Ly Quoc Su: No.10, Ly Quoc Su street.
Pho Bat Dan: 49 Bat Dan Street.
Street vendor Pho: 1 Hang Trong Street.
For those looking out for chicken Pho, head to Hang Dieu Restaurant at 1 Hang Dieu Street or Hang Bun Restaurant at 13 Hang Bun Street. These are our top choices as a local.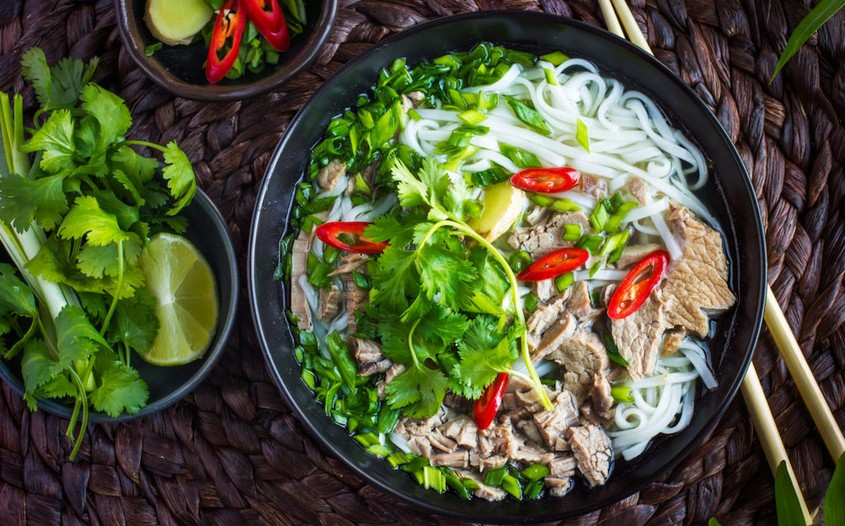 Bun Cha – Kebab Rice Noodles
Bun Cha has been around for quite a while but it officially made a hit when President Obama visited Hanoi. There was a scene when he enjoyed Bun Cha with the legendary Anthony Bordain in a local restaurant. Ever since the dish has taken its wings to a whole new level of fame.
Bun Cha refers to a dish of grilled meat served in a bowl of cooked fish sauce. Beside is a prosperous serving of fresh herbs and vermicelli. The right way to eat Bun Cha is mixing noodles and herbs all into the fish sauce bowl and consume all at once.
Here are the best Bun Cha restaurants loved by thousands of travelers:
Dac Kim: 1 Hang Manh Street
Hang Quat: 74 Hang Quat Street
Bun Cha Huong Lien (Bun Cha Obama): 24 Le Van Huu Street
We usually like to order a portion of fried crab roll aside the plate of Bun Cha. It's mouthwatering and crunchy! Just try it!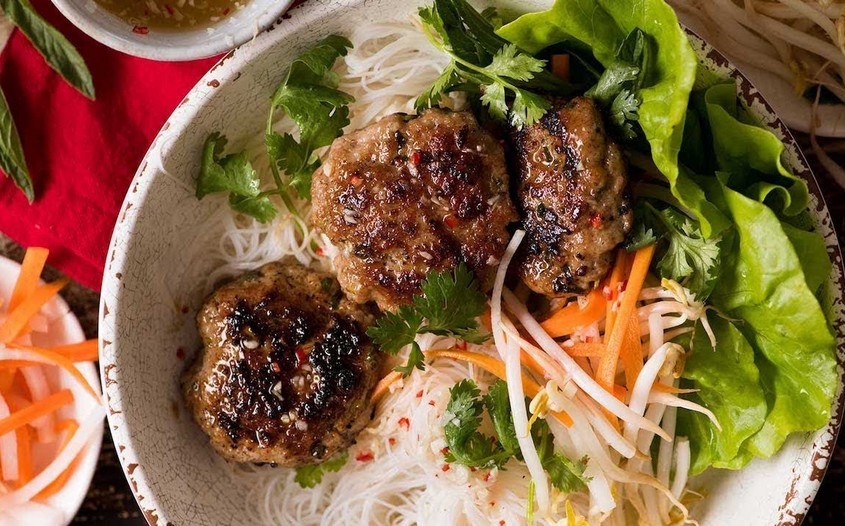 Xoi – Sticky Rice
Tradition-wise, Xoi is a handy breakfast for the Vietnamese to grab a bite before school or work. It comes in 2 varieties, one is sweet and one is savory. The stuffing (or you can say topping) is not all about one ingredient. They come in an extensive diversity that defines the reputation and style of each vendor or eatery.
You can expect to have eggs, Chinese sausage, brined pork, chicken, and paste. Or sometimes it can be mung bean, quail eggs, pork floss, and so on. In Hanoi, you can spot the sticky rice vendor almost every corner in town. But the best place is probably Xoi Yen ( at 35B Nguyen Huu Huan Street). You can eat on the premise or get a take-away.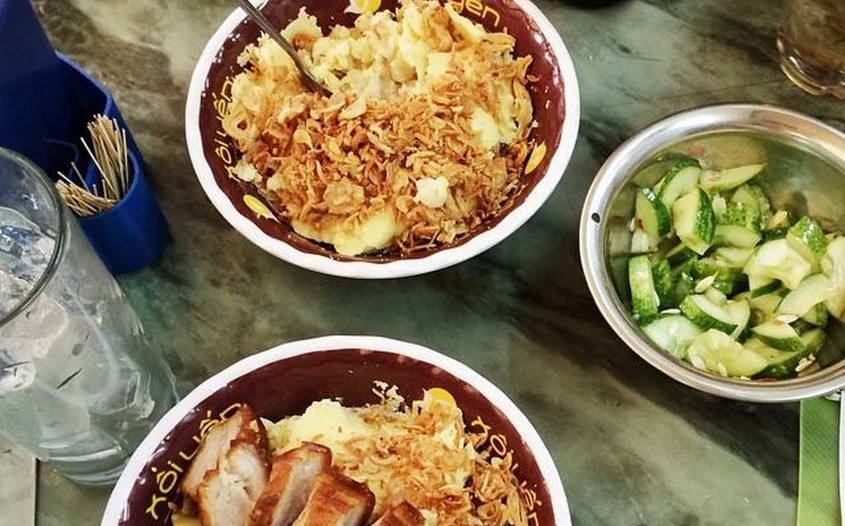 Bun Dau Mam Tom – Fermented Shrimp Paste with Vermicelli
This cuisine is so authentic that some of you love while others hate. A full serving of Bun Dau Mam Tom comprises vermicelli, fried tofu, pork, pork pie, fresh herbs, and of course, a small portion of shrimp paste. Some people who don't like the strong taste of shrimp paste can replace it with fish sauce.
Before eating, don't forget to mix the sauce with a squeeze of kumquat juice, a few slices of chilies, and sugar! Stir it well together until you see a layer of foam on the top. And off you go! The best restaurant for Bun Dau Mam Tom in Hanoi Old Quarter is at Bun Dau Ma May ( No.8 Ma May Street ).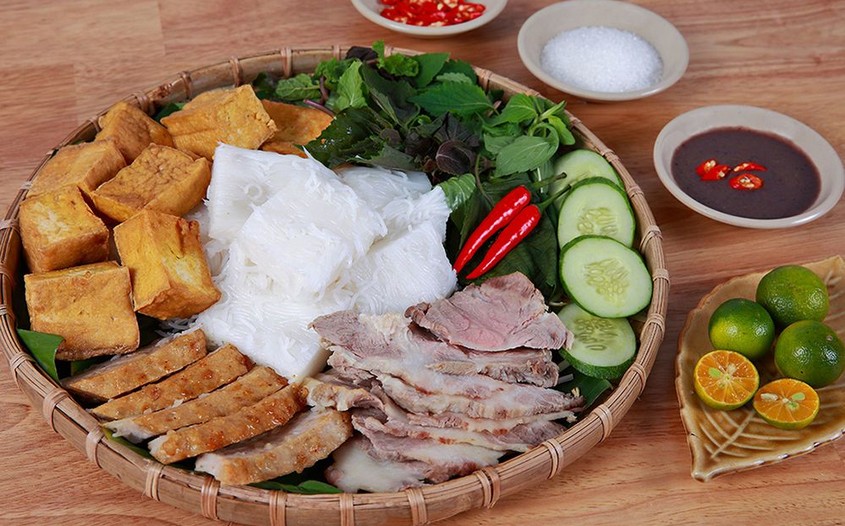 Egg Coffee
The egg coffee is a traditional drink of Hanoians. The unique taste that is made from egg yolks, condensed milk, and coffee impresses most of the travelers to Hanoi. Now this kind of drink is so popular that there are a lot of cafe' serving this specialty. But the best one is at Giang Cafe' (35 Nguyen Huu Huan Street).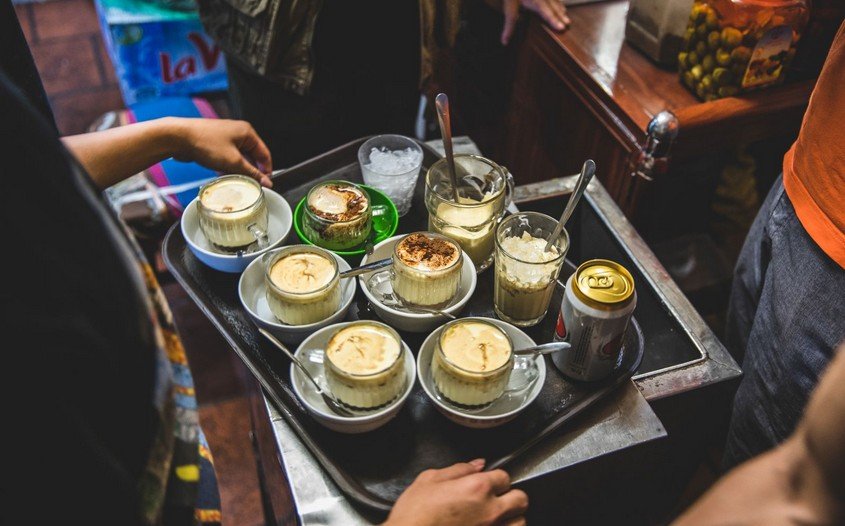 Above are all the recommended local food loved by most of travelers. If you are a real foodie, it is suggested you join a Hanoi walking food tour to reveal all the hidden secrets of local Hanoi taste.
3. The 4 Most Famous Coffee Shops in Hanoi Old Quarter
Even though Vietnamese coffee is everywhere across the country, the coffee scene in Hanoi appears to be a little different. Each coffee shop in the capital has its own charm that sets itself apart from the rest of other destinations.
If you ask what the best coffee in Hanoi is, we would say egg coffee, hands down! In the section below, we list down our favorite spots in town to not only enjoy egg coffee but also other tasty beverages!
Giang Cafe
This brand is one of the oldest and most sought-after coffee shops in the Hanoi Old Quarter. It is known as the birthplace for the legendary egg coffee. The egg coffee made by Giang inherits the sweetness of cocoa flavor or even matcha that stands beside the bitterness and aroma of Vietnamese coffee.
Address: 39 Nguyen Huu Huan Street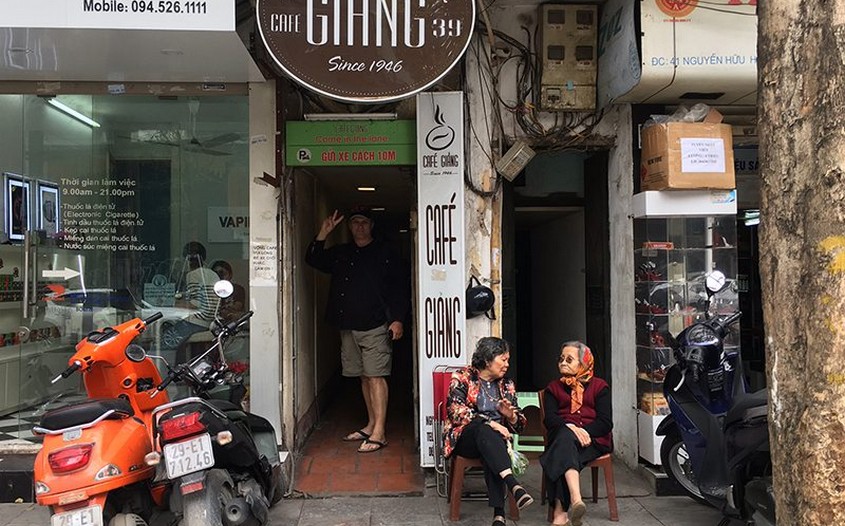 Dinh Café
Hidden on the second floor of an old French villa, Dinh cafe offers a stunning view to the central Hoan Kiem Lake. Little do we know that the owner of Dinh Café is indeed the daughter of Giang Café's founder. That explains a lot why the two coffee styles bear a big similarity.
Address: 13 Dinh Tien Hoang Street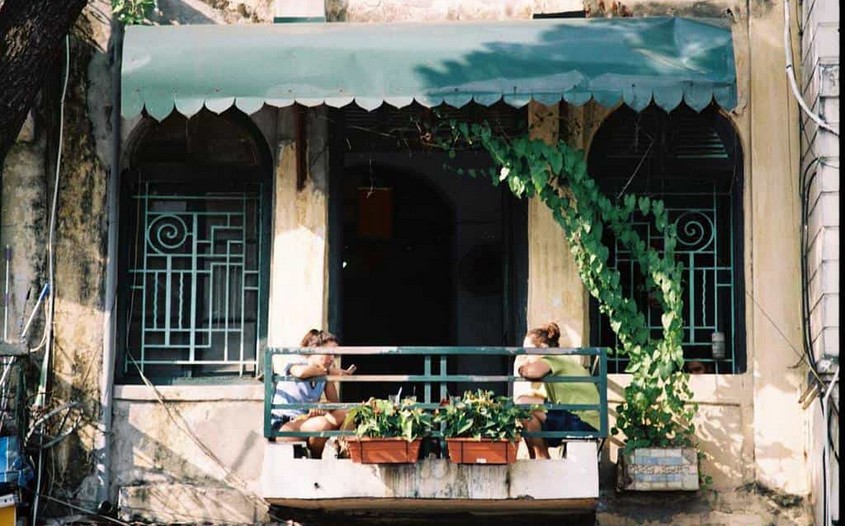 Old Town Café – Café Pho Co
This coffee shop is hidden at the back of a small alley and curtained by a few souvenirs and fashion stores at the front.
Old Town Café is lesser-known and therefore you get to feel the local vibe in a better way. Apart from the coffee scene itself, this coffee shop is famous for the vintage décor and a spacious rooftop view.
Address: 11 Hang Gai Street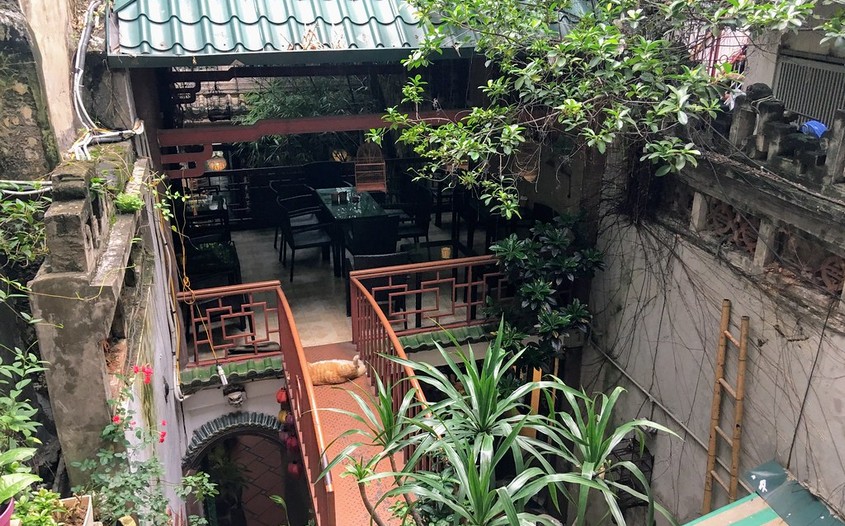 4. Shopping in Hanoi Old Quarter: 4 Best Shopping Paradise to Shop Like a Local
Hanoi Weekend Night Market
The first name to be called is the iconic Hanoi Weekend Night Market. This is not only a shopping paradise but also a place to hang out and discover the authentic nightlife scene.
What you can find at Hanoi Night Market are handicrafts, ceramics, porcelain, fashion, food, and many more. There are plenty of cultural shows and entertainment activities performed by the young locals in town. The night market is only open during the weekend.
Opening Hours: Friday to Sunday, from 8 pm till late.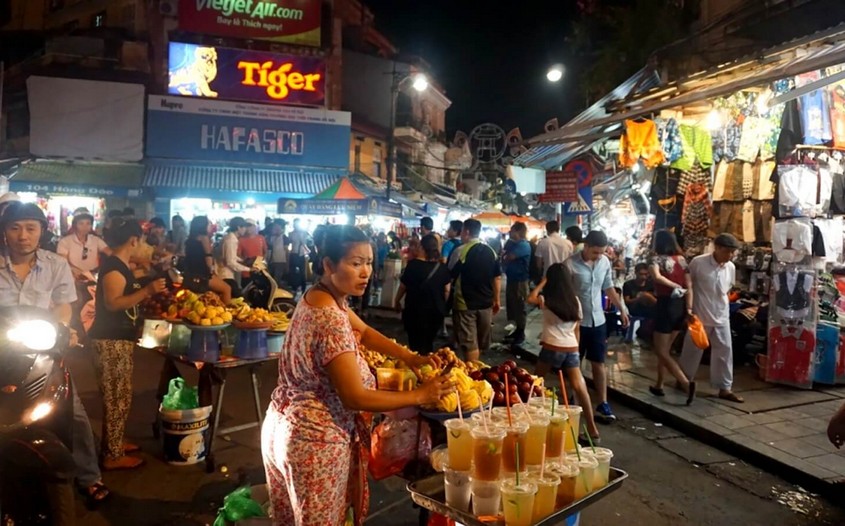 Dong Xuan Market
Touristy as it seems, Dong Xuan Market is still a shopping icon that stands the test of time. This is a typical wholesale and wet market where we shop for food every day. It offers an extensive range of goodies such as souvenirs, accessories, and clothing. There is a large food court where you can sample the Hanoian cuisines amid the trip.
If you're seeking souvenirs, head to the upper floors where you can find Tees, fabrics, school uniforms, handicrafts, accessories, and many more.
Opening Hours: 6 am – 7 pm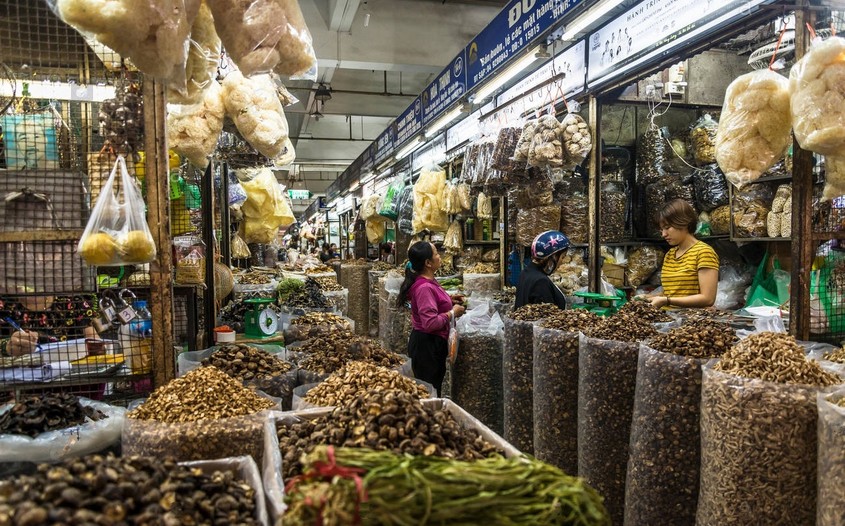 Hang Da Market
Hang Da market is a 3-story building located in the heart of the central business district of Hanoi. The market is smaller and lesser-known compared to Dong Xuan Market. Yet, you can expect to find a wider range of goodies including wines, flowers, second-hand clothes and fabrics.
The local shopaholics prefer Hang Da Market over other centers thanks to the diversity of fashionable clothing updated every week.
Opening Hours: 5 am – 5 pm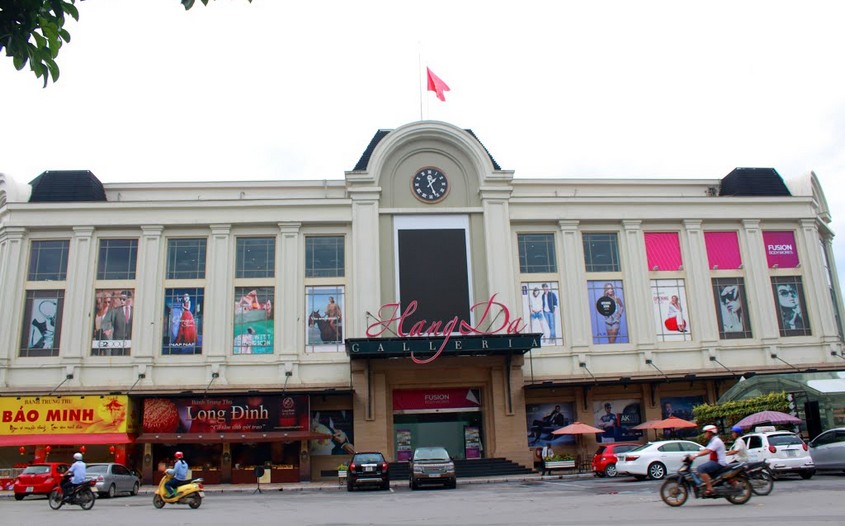 5. Nightlife in Hanoi Old Quarter: What to Do and Where to Go?
Throw a Beer Party at Ta Hien Beer Street
Any beer fanatics in Hanoi? If you have been craving for a real beer scene for long, this is the right time to throw a party! Ta Hien Street is one of the most crowded places in Hanoi Old Quarter that shows the most vibrant beauty when night falls.
Grab a cool glass of craft beer and order a plate of snacks, put them on s small table, and call it life! At this so-called beer corner, there are plenty of minibars, restaurants packed with customers covering the entire pavements.
Have a Blast at Hanoi Night Market
Once again, Hanoi Night Market is all you need for a fun night blast with your besties! Apart from the shopping scene, the market offers a large section for street food at a very reasonable price. Hanoi Night Market dominates numerous streets stretching from Hang Dao Street to Dong Xuan Market.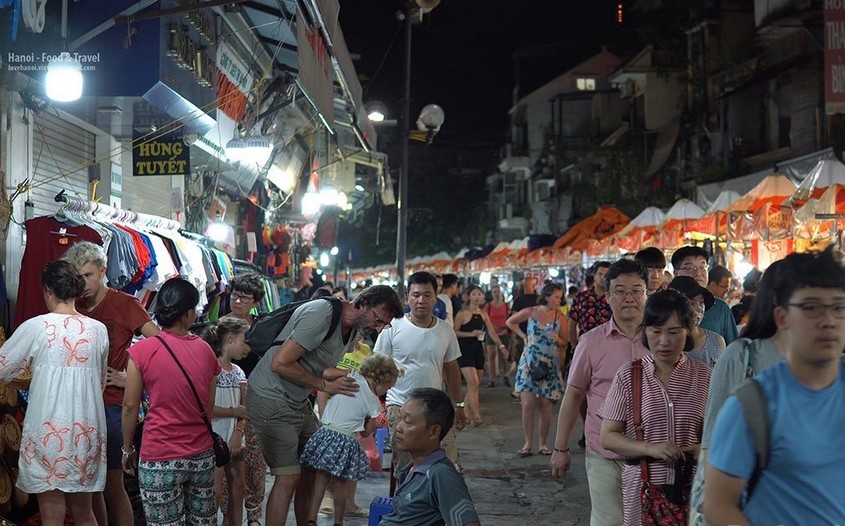 Travel Back in Time Watching the Traditional Folk Performances
When I say street arts, it's not simply about contemporary arts but also the traditional performance. Bach ma Temple is your destination if this is what you look for! This is where all the famous folk performances are held such as Xam singing, Ca Tru, and Chau Van.
These forms of performance have been around since the feudal dynasty time. Xam was performed by blind artists in the past. Ca Tru is a geisha-like form of performance that involves the female vocalists. Meanwhile, Chau Van is a combination of singing and dancing.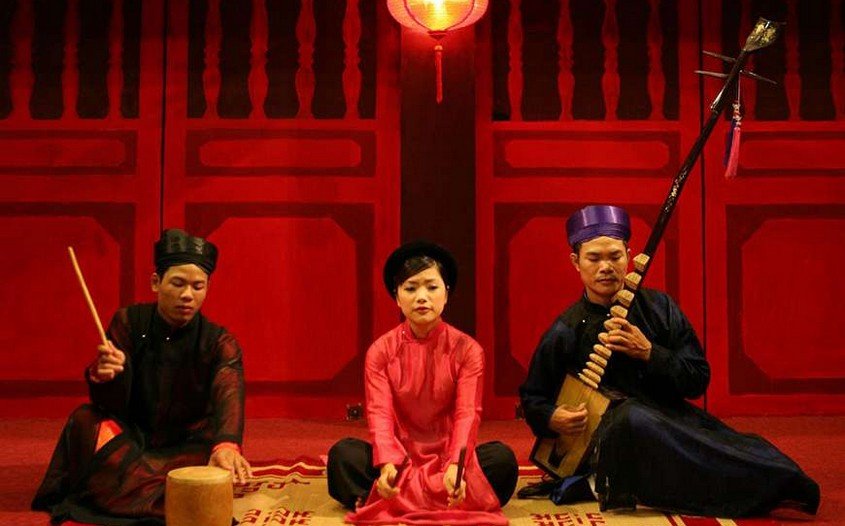 And that is how you travel to Hanoi Old Quarter like a real Vietnamese! Bookmark our article, pack your bag, and claim your ticket right now!