Vietnam is a safe and interesting destination for family travelers. Especially when you tag your children along, choosing great places to spend your days and explore is extremely important. Spanning over 3000 kilometers, Vietnam has so much to offer. Nature, cuisine, history, shows, workshops are a few to be named. In this article, we have compiled an ultimate list of 10 best kid-friendly activities to do when traveling to Vietnam. We well cover all aspects to help your kids learn and experience the best of Vietnam.
1. Master Their Gastronomy Skills in a Cooking Class
Traveling is meant to be easy and enjoyable. But getting some hands-on challenges brings you a lot more fun, especially for the kids. Joining a cooking class in Vietnam is a perfect way to discover the hidden talents of your kids. Other than that, they will learn more about the country they are in through gastronomy.
Most of the cooking classes start with a trip to a local market. Over here, your kids will learn to differentiate the diversity of fresh Vietnamese ingredients and their functions for health benefits. Afterwards, it's time to enter the kitchen! The kids will try with chopping, grinding, mixing, and decorating the plates. Each class is categorized depending on your specific level of cooking. The menu is available to choose beforehand, which is convenient to pick the right one for your little guys and girls.
Where: Hanoi, Hoian, Ho Chi Minh City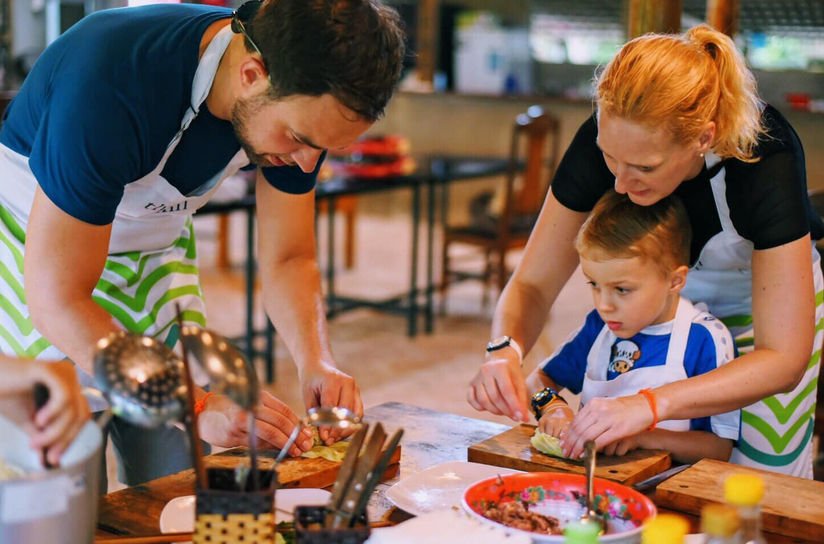 2. Watch a Water Puppet Show
Watching a water puppet show brings your family a pleasant and insightful evening activity in Vietnam. It's not only fun but also full of historical information about the country you're visiting. Even though the dialogue is completely in Vietnamese, you can still figure out the storyline and meanings behind it.
The puppeteers behind the screens control the puppets completely under the water. Meanwhile, the traditional folk music plays along. All the characters resemble the beloved Vietnamese farming life that happens in the villages. What you see on stage brings you back to the ancient Vietnam in the 11th century. It is displayed through the costumes, the background, the stage setting, and the speech.
The water puppet show takes root from the Ly Dynasty. Nowadays, there are numerous shows taking place in Hanoi, Hoian, Hue, and Ho Chi Minh City. The entire show lasts for an hour, which is not too long to keep your children interested and concentrated. Most shows are held indoor, which means this is a great moment to escape from the heat.
Where: Hanoi, Hoian, Hue, and Ho Chi Minh City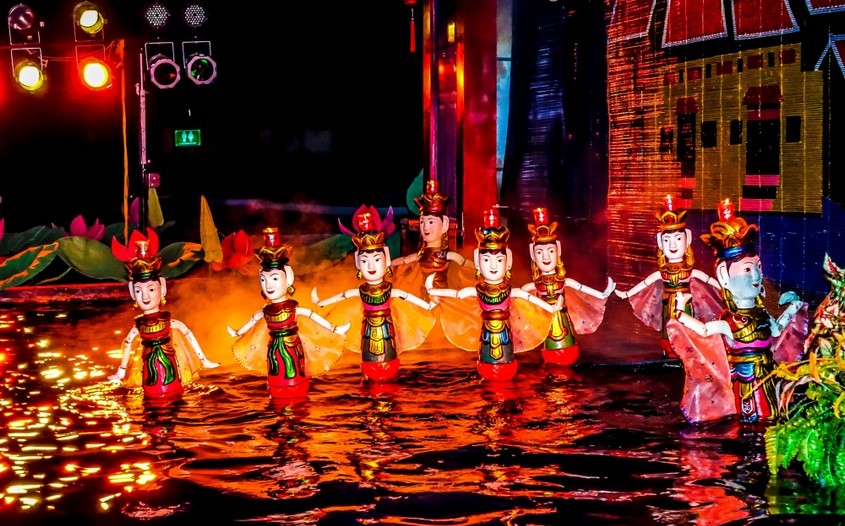 3. Make a Traditional Lantern in Hoian
Hoian is home to a three-century old quarter that has taken the world by storm recently. Located in Quang Nam, a coastal province in Central Vietnam, Hoian is always on the bucket list of many family travelers. It is also the first workshop for kids we'd like to recommend on this list of top 10 kid-friendly activities in Vietnam. The vivid lanterns have been one of the strongest representative images for Hoian. This ancient town is famous amongst other things by lanterns. The dim brightness from these lanterns lit up at night make the whole town become dazzling and romantic.
The making of traditional lanterns has been around for centuries. Brought by the Chinese immigrants, these lanterns have evolved with time. Nowadays, it's not hard to spot a big curtain of lanterns in all shapes and patterns in the center of Hoian Old Quarter.
There are numerous places to learn how to make lanterns in Hoian. These workshops are scheduled at certain times in a day. First of all, you and your kids will receive the read-made bamboo lamp frames. Afterwards, choose your favorite fabric and color before stretching the glue onto the frame. It takes roughly 40.000 VND per person to get one done with the help of a local artist. This is not only a souvenir but also a useful decorative item to light up your home. Apart from lantern making, Hoian is the paradise for cuisine, attractions and outdoor activities that your kids will surely love.
Where: Hoian
4. Enjoy the Seascape Vista from a Phu Quoc Cable Car
Phu Quoc is home to the world's longest cable car. Because of such, riding in one of these is the best thing to do in Vietnam if you have kids along. The whole system lasts for 8 kilometers and connects two scenic islands in An Thoi archipelago. This group of islands belongs to the Southern tip of Vietnam with a mesmerizing seascape.
The whole trip in the cable car only lasts for 15 minutes. Sitting in a spacious cable car made of glass and looking out the sky is such a memorable experience.  Meanwhile, the landscape down below is covered by the vast fishing villages and hundreds of boats. The entire picture becomes such a peaceful paper on water. Located at the end of the cable car system is a white sandy beach of Thom Island. Take this chance to immerse into the deep blue sea for absolute relaxation.
Where: Phu Quoc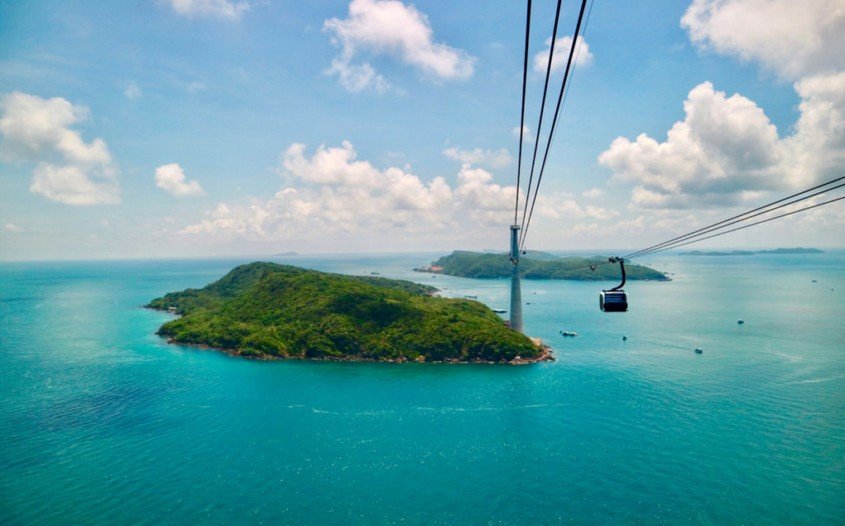 5. Sail along Tam Coc River
Let's move on to a peaceful and relaxing experience. Tam Coc is a gorgeous getaway in the Northeastern region of Vietnam. The place is a real heaven on Earth with calm waters winding through the golden rice fields and karst mountains. Thanks to such magnificent beauty, Tam Coc becomes one of the top places in Vietnam for a boat ride.  Here your kids can embark on a 1.5-hour cruise on a wooden rowboat. The local sailors will lead you through the mystic grottos, crossing the peak limestone mountains surrounding the vivid paddy fields.
All the caves have been around for millions of years. They behold the otherworldly stalactites and stalagmites reaching out to and from the caves' ceiling. This is not just a ride but also an amazing geography lesson where your kids can discover other parts of the world. Riding a boat along Tam Coc river does not mean your kids have to sit still for 1.5 hours straight. There are several stops along the way where your family can get off, stretch your legs, and get beautiful family pics. These sites include the ornate waterside temples and ancient pagodas.
Where: Tam Coc, Ninh Binh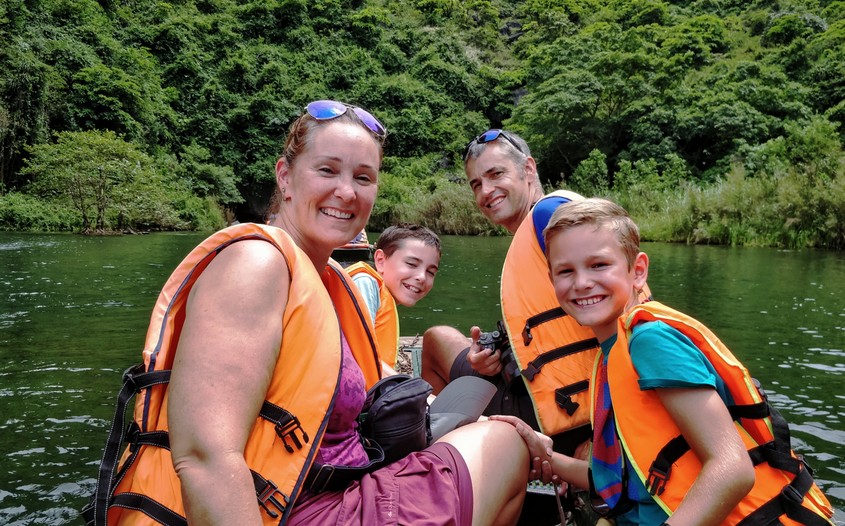 6. Shape Their Own Pottery Items at Bat Trang Village
Located just on the outskirt of Hanoi, Bat Trang Ceramic Village is home to interesting workshops where your kids can test their skills. The pottery village of Bat Trang is one of the most talked-about traditional handicraft villages. Bat Trang houses a great collection of ceramics of all kinds. Traveling to Bat Trang is only a 13-kilometer short ride. Here in the village, your kids will turn into the real potters working on their own clay, trimming, and glazing pots. This is a great chance for them to learn about a special tradition of the Vietnamese, as well as discover their hidden talents. Last but not least, your family can bring home your own masterpieces after the baking process. Take this as not only a memory but also a graceful souvenir made with your kids' bare hands!
Where: Bat Trang Ceramic Village, Hanoi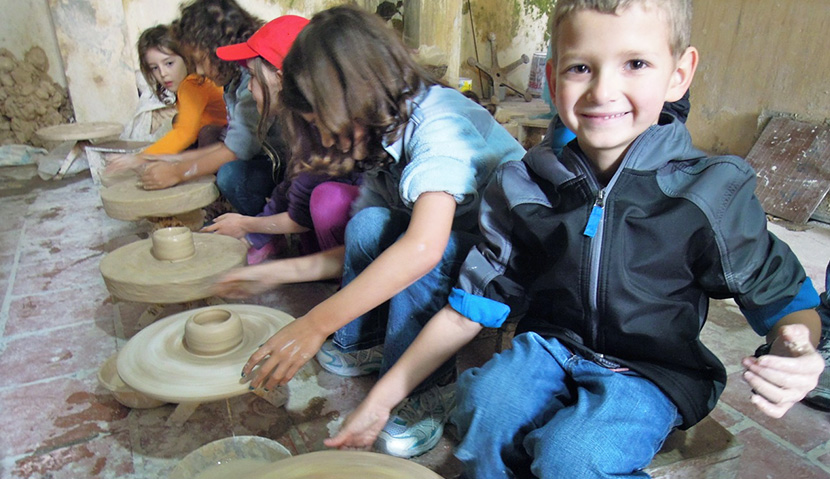 7. Ice Skating at Landmark 81
Landmark 81 is the latest skyscraper in Ho Chi Minh City where you can spend the day in its very own ice skating rink. Landmark 81 is also the highest building in South East Asia with 461 meters high, making it the 14th tallest building worldwide.
The ice skating rink is on the ground floor where you can borrow the ice skates and skating aids. Other essential safety gadgets and helmets are also available for the game. For those who have not ice-skated before, feel free to sign up for their daily ice skating classes. The complex is open from 9:30 am to 10 pm every day. Getting some great laughter and challenging your kids in the cold and blasting disco music brings a lot of fun. As the kids get enough of fun from the ice skating rink, pause on the leave and head to the observation deck on the top of Landmark 81 for an amazing panorama!
Where: Ho Chi Minh City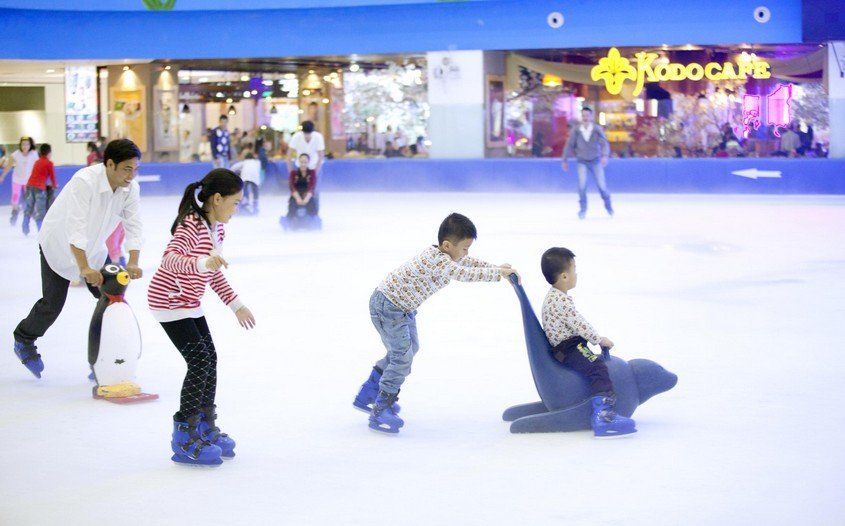 8. Ride an Alpine Coaster at Dasara Waterfall
Dasara Waterfall is a gigantic natural waterfall in Bao Loc, Lam Dong Province. This Central highland destination is off-the-beaten-path since it's usually overlooked by tourists. You can include this spot on the way from Saigon to Dalat and make an escape to the Dasara Waterfall.
The one and only Dasara Waterfall is located right close to the famous Dambri Waterfall. These two incredible natural wonders can make it a perfect pair as a picnic and adventurous destination for families with children.
The Dasara Waterfall puts on itself a calmer cascade. It's such a stunning hidden gem surrounded by the lush forest of Central highland. Once visiting the Dasara Waterfall, don't forget to ride the alpine coaster to the base of the waterfall! In order to enjoy this activity, two riders will share a bobsled cart and adjust the speed of the ride with a lever. If your family has a big passion for adventures and fun, remember to note this game down on your list.
Yet riding the alpine coaster is not the only thing your kids will enjoy. The site offers a wide range of outdoor experiences including riding a Ferris wheel or paddling a swan boat. There is a section on the site dedicated to Vietnamese local folk games. You can challenge your little family members to balance on the bean or cross the monkey bar. In case it's getting hot, feel free to jump in the swimming pool and glide down a water slide in the middle of the pool!
Where: Dambri Ecological Complex, Bao Loc, Lam Dong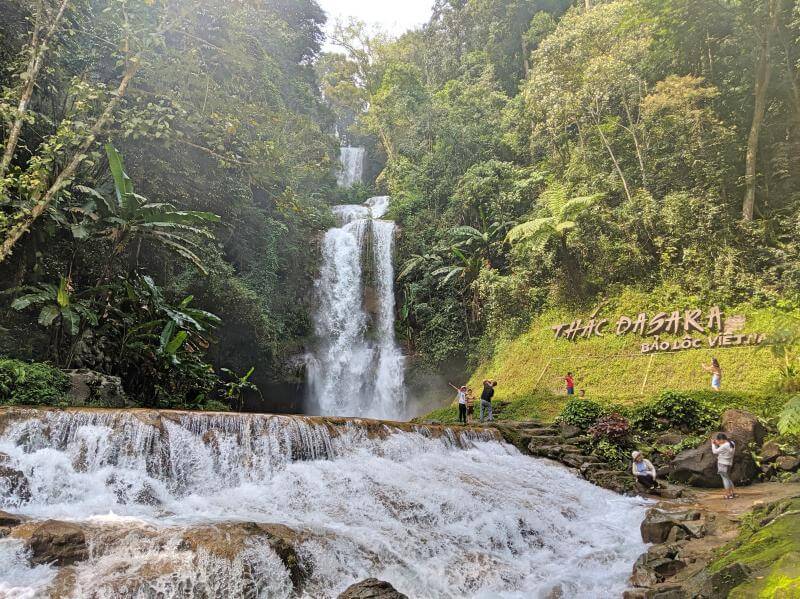 9. Family Check-in at Sun World Ba Na Hills
Sun World Ba Na Hills has been emerging as a new top destination for families with kids traveling to Vietnam. Known as the home of the magnificent "Golden Hand Bridge", Ba Na Hills resembles a typical European village with towels, stone-paved paths, and gardens. Some of the most attractive units in Ba Na Hills are the ornate gothic cathedral, a French Chateau, and a German-style beer garden.
The reason why Ba Na Hills is a heaven on Earth for kids is the wide collection of amusing games and photogenic spots. They are all connected via a series of cable cars. We all know kids love riding cable cars! There is a gigantic castle housing a large fantasy park full of arcade games and interactive rides. All of these games are included in your entrance ticket. So feel free to get your kids to express themselves to the fullest and bring home the best memories!
During the day, variable live shows and street performances are scheduled on the background of vivid music and colorful setting. Apart from these amusing activities, the Golden Bridge is also a compelling spot to save some memories through pictures. The bridge is held aloft by two massive stone hands. They are designed to spring out of the mountain underneath.
Where: Bana Hills, Danang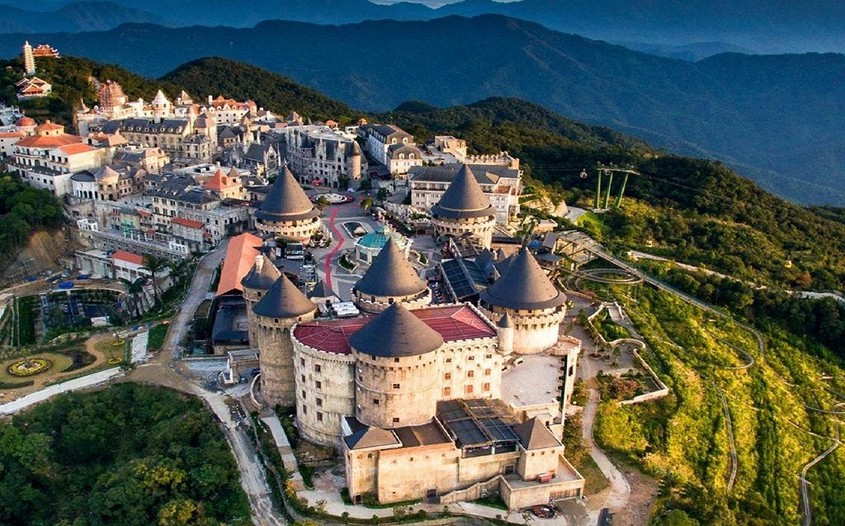 10. Explore Vietnamese Cuisine with a Street Food Tour
One of the best things to do in Vietnam with kids is to get them to explore and sample the Vietnamese street cuisine. Amongst many food experiences in Vietnam, joining a walking street food tour is the top activity with a lot of fun and insight.
They say cuisine and museum are the best reflections of a culture. And that saying does a perfect job in Vietnam. Every first-timer to Vietnam should reach out to the local eateries and learn to travel like a real local. A Vietnam food tour gives you an opportunity to try foods native to the country. Most of them are very reasonable and full of local visitors. You can find a lot of food tour companies offering different types of culinary experiences. Yet they share the same purpose in introducing their favorite dishes.
Apart from sampling the food, you will get hands-on experience in making them. Depending on which region you're in, your food tour of choice will represent the authentic regional cuisine. Bun Cha in Hanoi, Cao Lau in Hoian, and BBQ in Saigon are some of the most common picks.
Where: Hanoi, Hoian, Ho Chi Minh City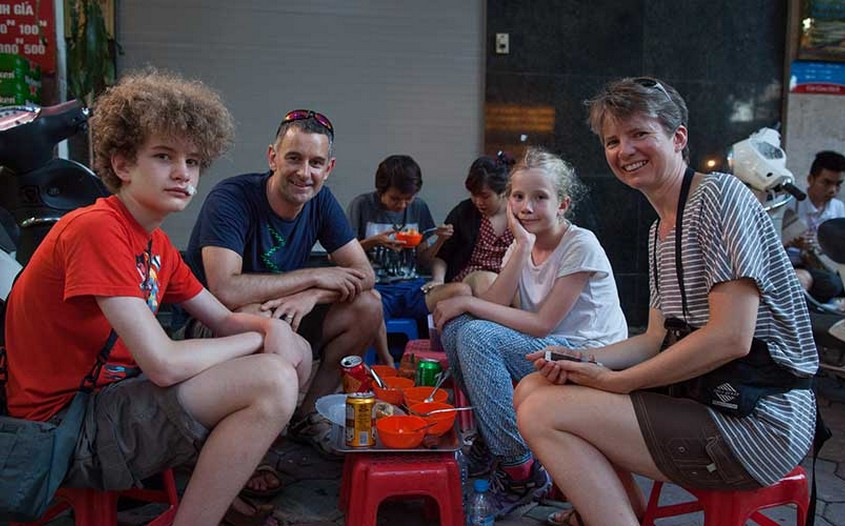 These top 10 kid-friendly activities in Vietnam are highly recommended to be bookmarked for your next trip to this country. It's time to scan through each of them once again and talk to your little sweeties. Let them choose their favorite and contact the best local Vietnam tour operator for well-organized preparation!