Dong Van Karst Plateau Geopark encompasses a large area including four districts: Quan Ba, Yen Minh, Dong Van, and Meo Vac in Ha Giang. In 2010, this area has been recognized as an international geopark by UNESCO. Located at an average height of 1.000 to 1.600 meters above the sea level, this area is one of the most special limestone areas of Vietnam. The plateau is also home to many ethnic minorities like Hmong, Yao, Zay, Tay…etc, some native only to this area. Hence, the local culture here is very unique and evident.
Visiting Dong Van Karst Plateau, you are going to get blown away by the breathtaking view of nature with spectacular mountain ranges and the rugged beauty of indigenous culture. Dong Van plateau is full of beautiful scenery all year around.
From January to February is the season of cherry blossom and canola flower. From September to October is the time for harvesting when paddy fields are painted yellow with ripe crops. But the most ideal time to visit Dong Van might be from October to December since it's when the buckwheat flower blooms, which is one of the most special features of Ha Giang province. During the flower season, the whole plateau immerses itself in a pink shade instead of the greys of rocks-a romantic touch for the usually rough and craggy highland.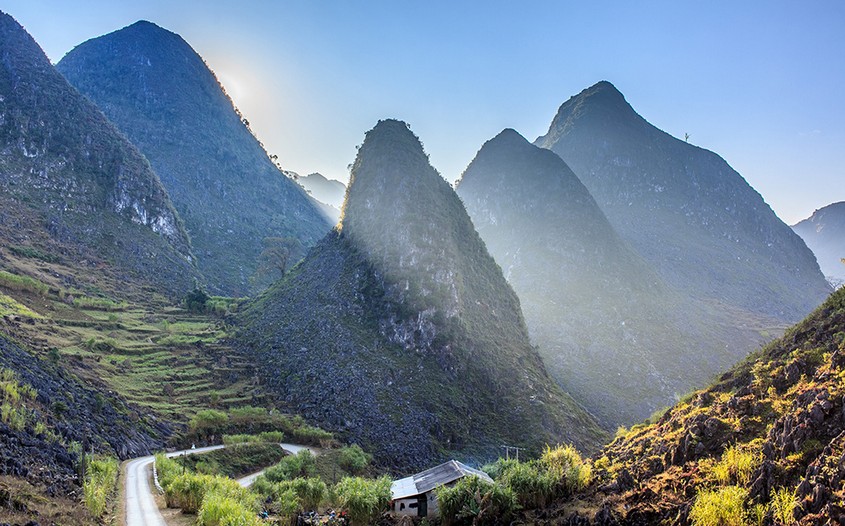 Where to visit?
Vuong's Family Mansion
This is a 3000m2 mansion that was built in 1898 and took 9 years to finish. This house originally belonged to Lord Vuong Chinh Duc – the leader of the Hmong community. The palace is a combination of the Chinese, French, and Hmong architecture.
This complex includes 4 horizontal compartments and 6 vertical compartments with 64 rooms. The entrance to the house is made of granite carved with many patterns. The roof is curved, the gate roof is made of yin-yang tile with many sophisticated designs.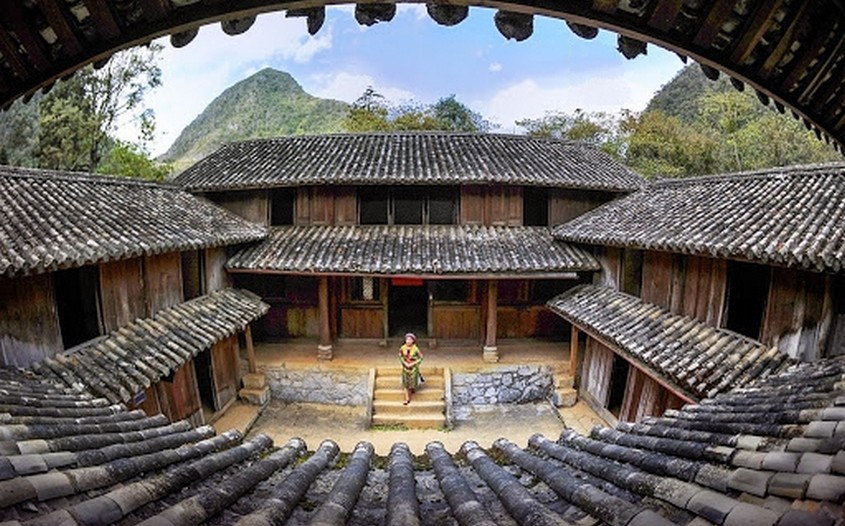 The Ancient Town of Dong Van
Consists of more than 40 ancient houses spreading along a street for about 1 km, the Ancient Town of Dong Van is where you can see typical architectural features of highlanders such as thick clay wall, yin-yang tile roofs, paved floors.
At the beginning of the street is an old market – the highlight of the ancient town, which was built by stone. On full moon nights, the entire street is lit up with red lanterns of various sizes, serving food and other cultural activities. During the daytime, you can get there to find some coffee from the cafe' long the street.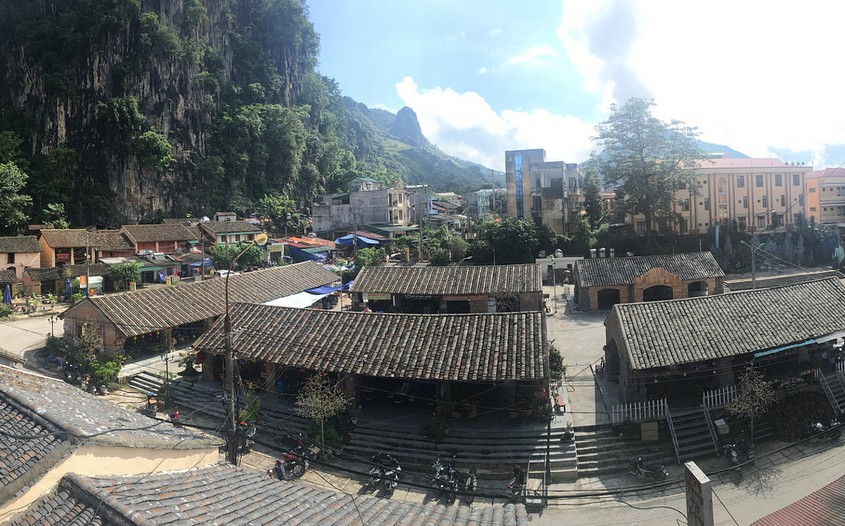 Lung Cu Flag Pole
Located at 1400m above the sea level, this is the place that marks the far most point in Northern Vietnam. To get to the flag pole, you have to climb a total of 839 steps but the view from the top is absolutely magnificent. Here is also the living place of Lo Lo ethnic people. Paying a visit to Lo Lo Chai Village is such an interesting experience.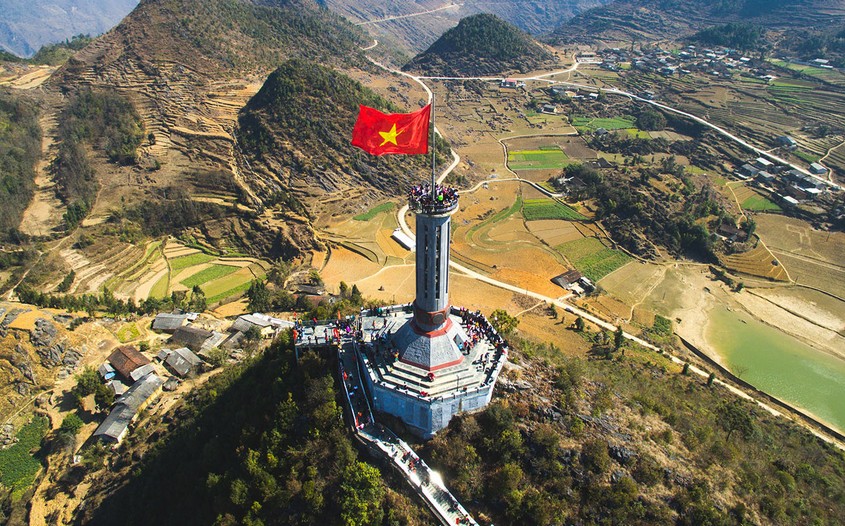 Ma Pi Leng Pass
Regarded as one of the four greatest passes in Northern Vietnam, Ma Pi Leng is an unmissable place when you travel to Dong Van Geopark. The pass offers enchanting hiking trails along the mountains with a view to Nho Que river and Tu San Canyon.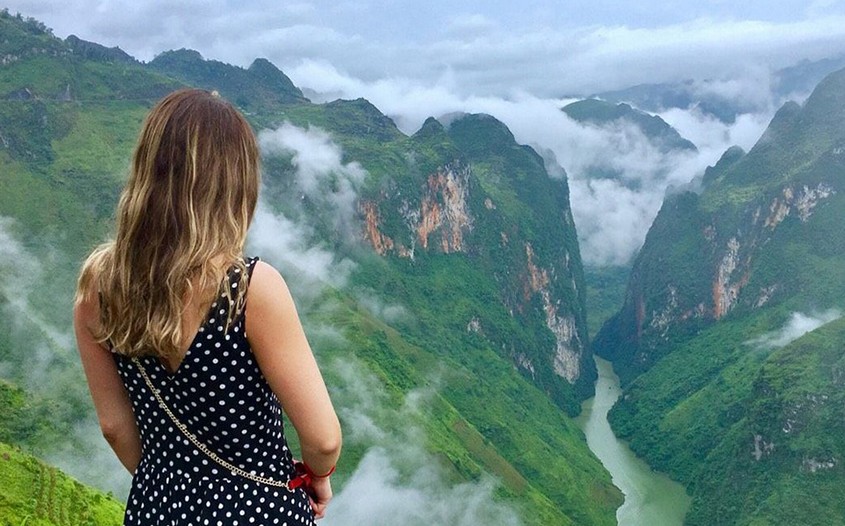 Quan Ba Heaven Gate
Located in the first district of Dong Van Karst Plateau Geopark, Quan Ba Heaven Gate is a beautiful stop for photo opportunities. Don't forget to get to the top and take the awesome panoramic view looking down to Quan Ba town and the one and only Quan Ba Fairy Bosom.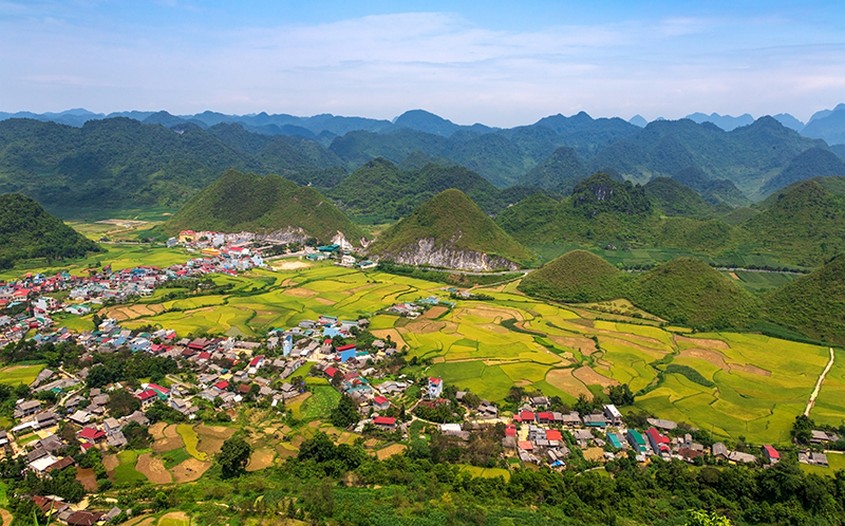 Lung Cam Village
Right in Dong Van district, Lung Cam is a typical tribal village of Hmong people. Hmong ethnic minorities count for 50% of the whole population in Dong Van geopark. Their unique cultures and lifestyles have been one of the best attractive features of Ha Giang. You will have the chance to visit some local families and learn about the unique architecture of their houses. The village used to be a movie set for films about Ha Giang.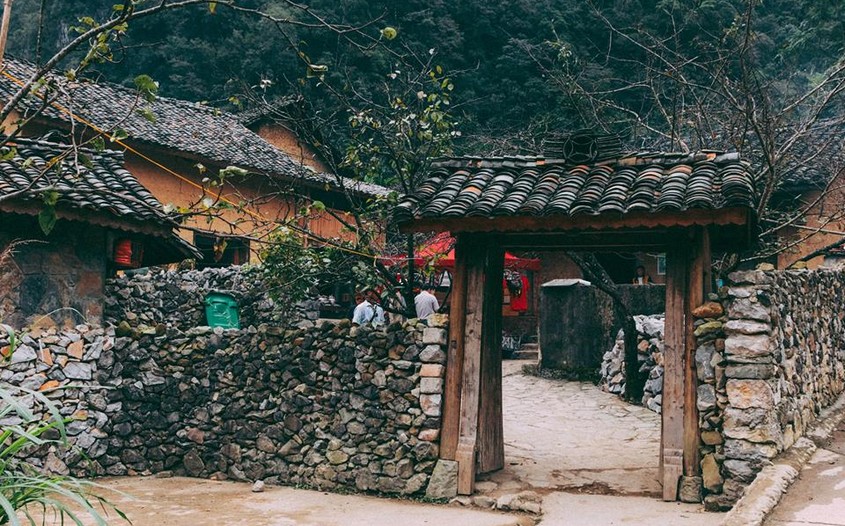 Hmong Weekly Market Fair
You will only make your trip to Ha Giang to the fullest with a visit to the unique weekly market fair of Hmong people. Most markets take place on Saturday and Sunday. There you will have the chance to see the colorful cultural costumes of Hmong people selling and buying. The market is also the chance to explore the best local specialties.
Some most popular market fairs in Dong Van Geopark:
Quyet Tien Market (Quyet Tien Town, Quan Ba District): every Saturday morning
Yen Minh Market (Yen Minh Town): every Sunday morning
Pho Cao Market (Pho Cao, Dong Van District): every 6 days starting from the 6th day of the month according to the Lunar calendar.
Lung Phin Market (35 km from Dong Van Town): every 6 days starting from the 4th day of the month according to the Lunar calendar.
Dong Van Market (Dong Van Town): every Sunday morning
Meo Vac Market (Meo Vac Town): every Sunday morning
Khau Vai Love Market (Provincial Road 217, Khau Vai, Meo Vac): annually on the 27th of March according to the Lunar calendar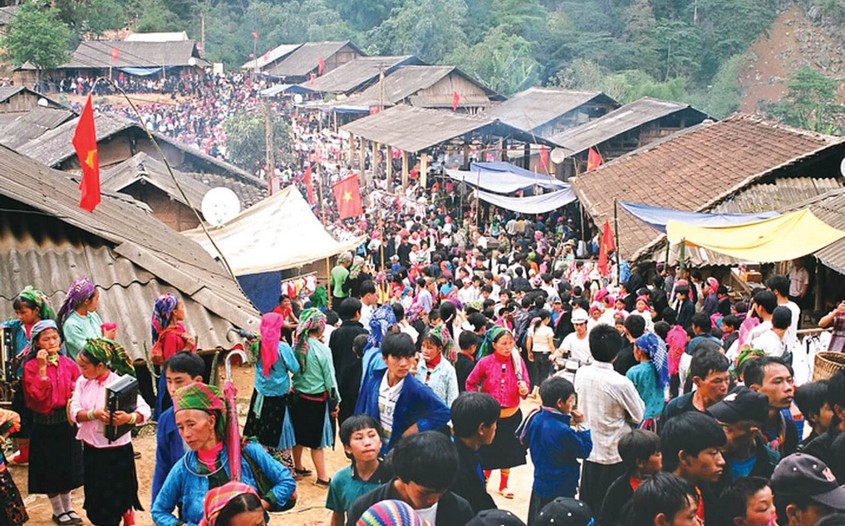 Lung Khuy Cave
Lung Khuy Cave is regarded as the most beautiful cave in Dong Van Karst Plateau Geopark. The cave is 10 km from Tam Son town of Quan Ba District. It is a 300m long cave with a lot of magnificent stalactites and stalagmites. Lung Khuy is such a masterpiece of nature in the rocky plateau.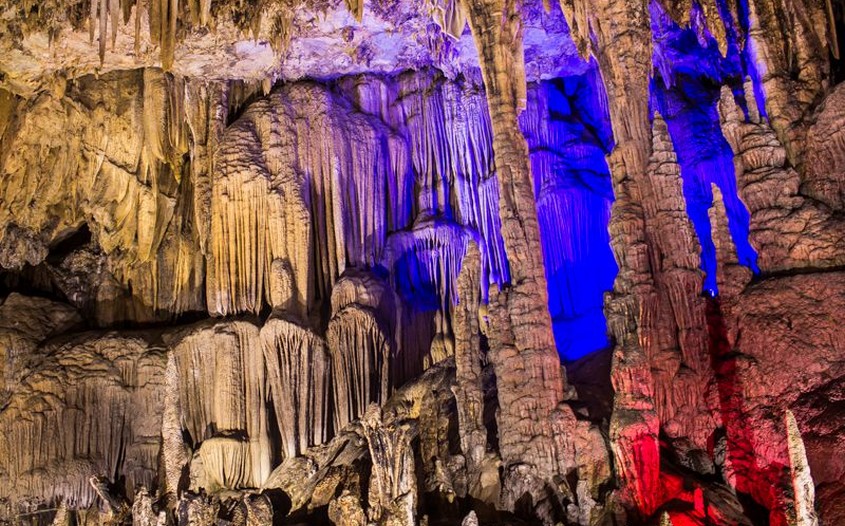 What To Eat?
Since Dong Van Plateau is a place where many ethnic minorities reside, you can enjoy some of the most unique dishes that cannot be found anywhere else:
Mèn Mén
The ancient Hmong people have been eating Men Men as part of their daily diet for a long time ago. The natural condition of this mountainous area makes it difficult for Hmong people to grow rice, that's why they cultivate corn as a substitute and use them to make this dish.
The recipe is simple. They ground corn until it becomes smooth, mix it with water, then steam the corn flour until it's cooked. Today, this is still an indispensable dish on many special occasions of the Hmong people.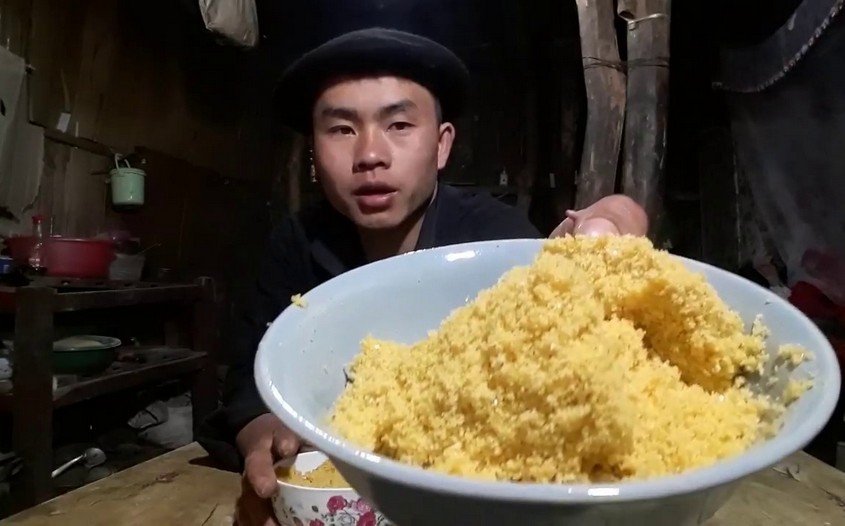 Thang Den
This hot sweet soup will warm you up on a cold winter day. The snack is round glutinous rice cake in a bowl of soup made from sugar and ginger. The soup is a perfect mix between sweetness and spiciness, warm enough to dispel the cold in this mountainous region.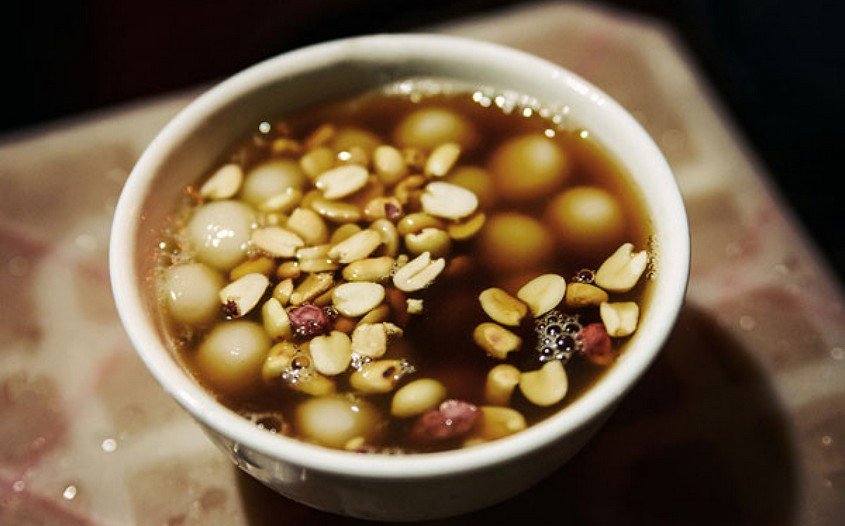 Thang Co
If you are interested in exotic special food, then Thang Co might be the perfect dish for you. Originally, this dish was made from horse organs but nowadays, people in Dong Van use cow's instead.
After pre-processing and cleaning the organs, people marinate them with some spices such as cardamom, anise,… There are totally more than 12 spices combined, which gives Thắng cố a distinctive smell. Then they will let the pot simmer for about an hour before digging into it.
Thắng cố is definitely a dish to share with friends. Eating this special dish while chatting with your mates over a glass of corn wine has become a tradition of local people since the beginning of time.