Trying the local cuisines is one of the best ways to disclose the cultures and traditions of the destinations you visit, especially with foodie travelers. Besides the popular food, there are a lot of secret cuisines which can be common with locals but lesser-known to travelers. And it is those kinds of food that help you learn about the localities you travel in a deeper and more local way. Our guide below will reveal to you the top 10 secret local cuisines in Vietnam you should try when traveling the country. Those food are not too popular but promise to grant you unforgettable experiences with their mouth-watering tastes and interesting stories behind.
Exotic Local Cuisines In Northern Vietnam
1. Xoi Khuc – Spinach Sticky Rice Balls
Spinach Sticky Rice Ball is a traditional delicacy in Hanoi. The locals usually have it for breakfast as an easy and affordable take-away.
The sticky rice balls put on a fresh greenish color with mung bean as the fillings. The method of cooking Xoi Khuc is steaming. Instead of spinach, the home cooks can replace it with other available greens in season at the market. Xoi Khuc is such a secretive local cuisine that you need to try at least once in your life.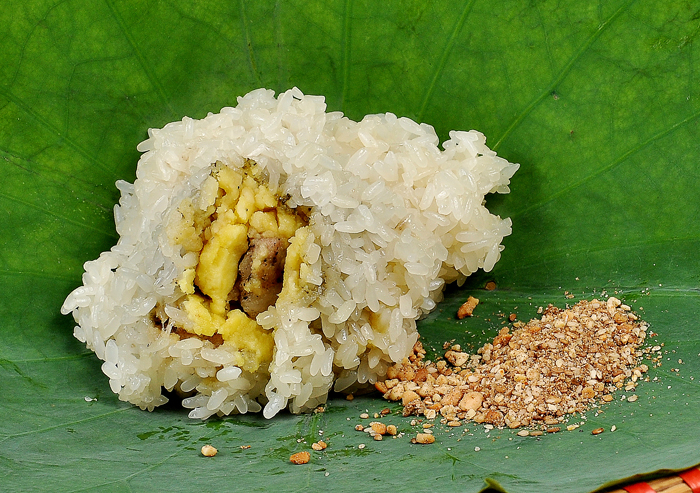 2. Banh Duc – Steamed Rice Cake
This is a plain rice cake made of sticky rice and mixed with flour. Even though Banh Duc is available across Vietnam, the Northern Vietnamese version is the most common.
Banh Duc is popular street food in the North of the country that tourists usually overlook. The dish takes root in the countryside and is sold at a very reasonable price. Banh Duc in Northern Vietnam always comes in hot. And it's topped with ground pork, wood-ear mushroom, fragrant herbs, deep-fried shallot, and fish sauce.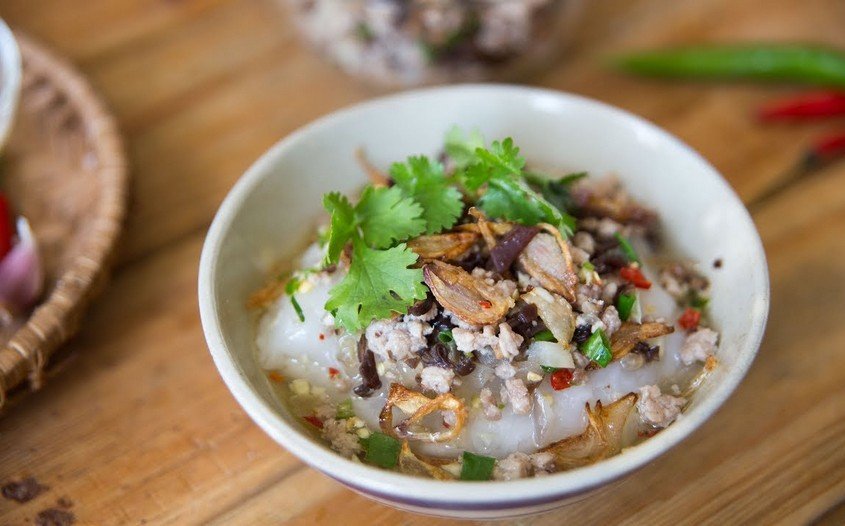 3. Cha Ruoi – Clam Worm Pie
Scary as it seems, but once you take a bite, you will want to come back for more! Clam worm is an exotic food in the coastal cities of Northern Vietnam. This is a grilled dish made of clam worm, which is a source of nutrition for your health.
Clam worm pie is not meant to be eaten alone. Eaters will pair it with eggs, green onions, mandarin zest, and mix them all into a round cake. They are deep-fried until it turns golden and crispy on the outside. Clam worm pie is a seasonal cuisine, which is only available from the end of September to the beginning of October. Vietnamese locals vote this food as one of the best local cuisines in Vietnam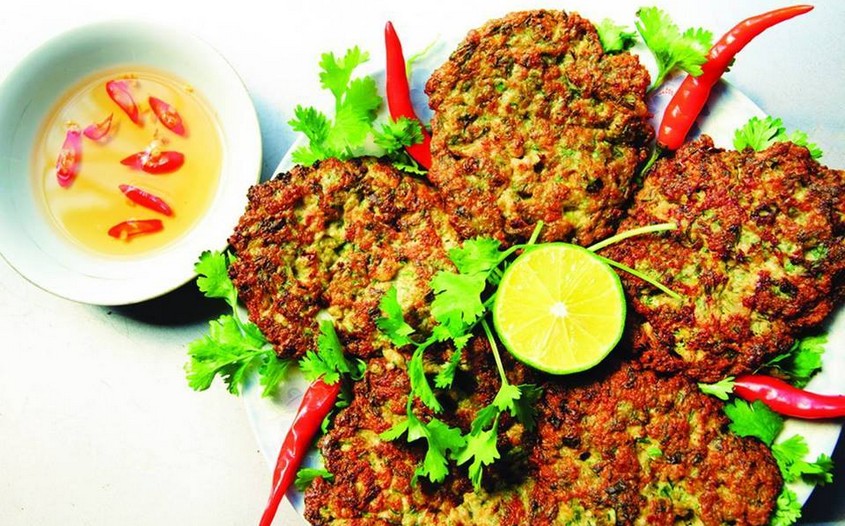 Exotic Local Cuisines In Central Vietnam
4. Com Hen – Baby Clam Rice
The Hue people are clever to make use of the leftover rice and turned it into a local delicacy. They add in a full-spoon of baby clam harvested domestically and mix with fresh herbs.
The baby clams are stir-fried with dried bamboo shoots and pork belly. The boiled broth out of baby clam is re-used to mix with smashed ginger as an added sauce into the rice before serving.
Each bowl of Com Hen has a prosperous topping of peanuts, roasted sesame, crispy pork rind, and grilled rice crackers.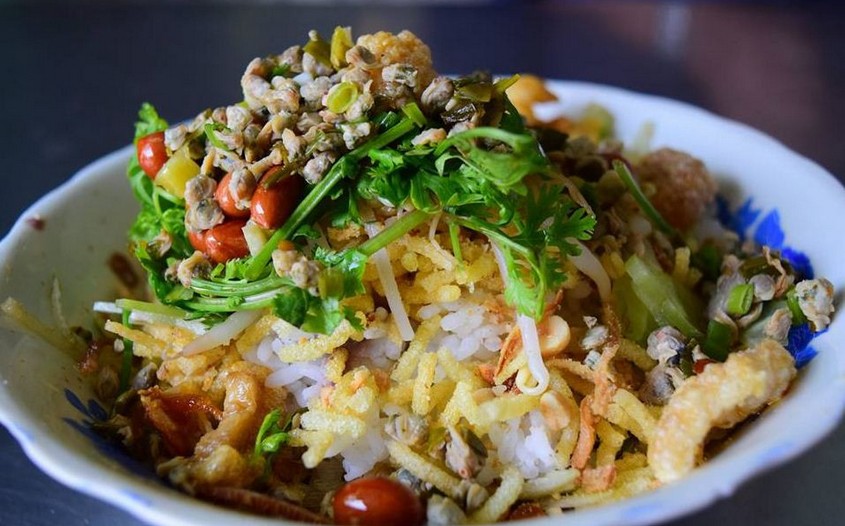 5. Ram It – Fried Sticky Rice Cake with Shrimp
Ram It is simply a round sticky rice bit topped with crushed shrimp. But shrimp is not the only topping you have in a pie of Ram It.
Another mouthwatering add-in is crispy and golden pork rind. Meanwhile, the bottom of the cake is soft and tender with a pleasant aroma of rice. Ram It is a super common street food in the Central of Vietnam that very few foreigners know. Don't forget to try one when visiting the Central region of Vietnam!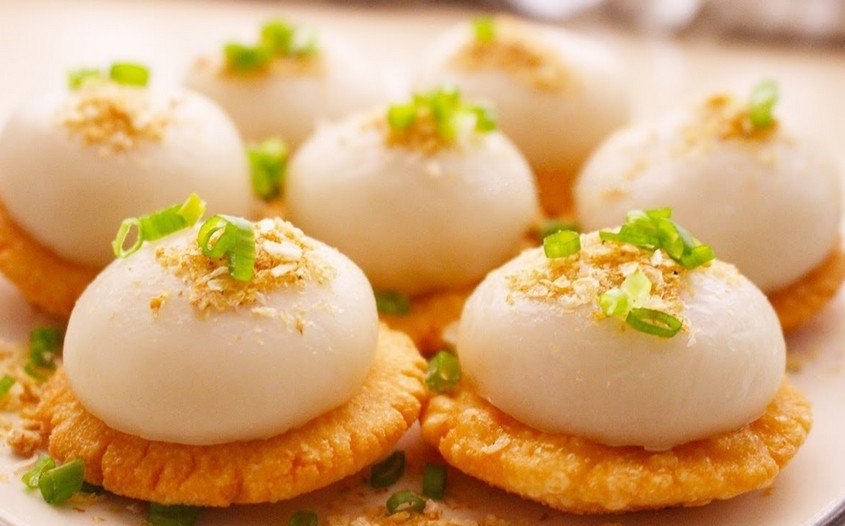 6. Banh Beo – Rice Pancake Topped with Crispy Chopped Shrimp
Banh Beo is common in Hue but usually overshadowed by other famous cuisines. Appearing in a small cute round pie, Banh Beo is a rice pancake with chopped shrimp on the top. The most common way of eating Banh Beo is ordering dozens of small bowls and dipping into cooked fish sauce.
A portion of Banh Beo costs less than 5 cents at a street vendor. And obviously, one plate of Banh Beo is never enough. So feel free to have them served non-stop till you're full.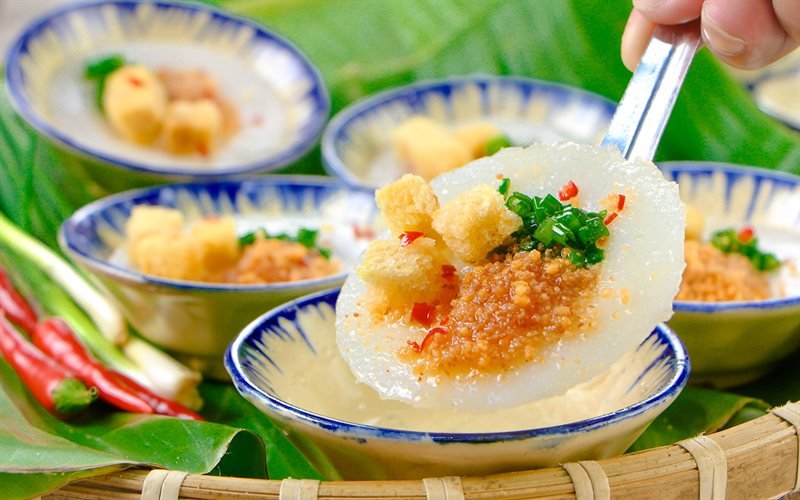 Exotic Local Cuisines In Southern Vietnam
7. Bun Mam – Fermented Fish Noodle Soup
This secretive noodle soup if the gift from the Khmer community in the Mekong Delta. The broth is the key factor that decides on the quality of the dish. Fermented fish is the must-have ingredient for the cooking of the broth.
A typical bowl of Bun Mam comprises of vermicelli noodles sitting underneath a full topping of eggplant, shrimp, squid, pork belly, and snakehead fish. Bun Mam cannot go without a big serving of fresh veggies such as yellow velvetleaf, sliced water spinach, knotgrass, and shredded banana flowers.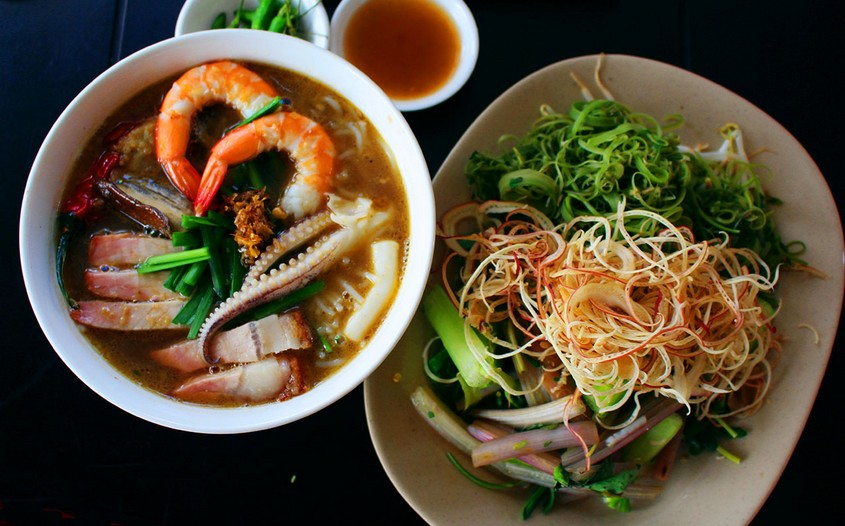 8. Banh Bo Thot Not – Palm Sponge Cake
This golden cake is a specialty in the Mekong Delta with an alluring fragrance and a tender sweetness. The cake is best to eat hot. And that is when you will feel the fluffy and spongy feeling that wakes up your taste buds.
Banh Bo Thot Not is made of rice starch, palm sugar, coconut milk, and crushed mung bean. The locals will steam the cakes for a few hours before serving. You can easily find this cake in An Giang province. This is the largest granary of the country.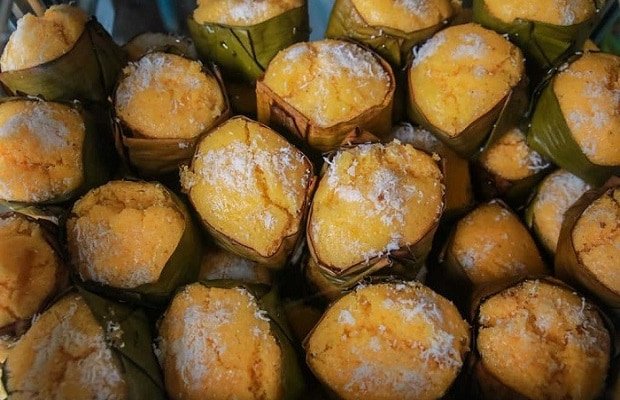 9. Lau Ca Linh Bong Dien Dien – Siamese Mud Carp Hotpot with Common Sesban
Not many travelers to the Mekong Delta are aware of this exotic and loving cuisine. It's such a special dish that you can only find it during the flooding season of lunar September and October.
Ca Linh refers to Siamese mud carp, which is a species of freshwater fish. Meanwhile, Bong Dien Dien is the Vietnamese name for common sesban or river hemp flower. It has a radian yellow and usually grown along the riverbank, swamps and rice fields.
The Siamese mud carp releases a nutty and buttery flavor when blanched. It makes a perfect pair when stewed with common sesban in a smoky and tasty hotpot.
The key factor of this hotpot is the broth itself. The coconut juice pairs with chicken or pork stock to make a mouthwatering broth. The generous serving of dipping vegetables includes yellow velvet-leaf, water lilies, water spinach, banana flowers, and many more riverside greens.
10. Mantis Shrimp – Tom Tit or Be Be
Known as Tom Tit or Be Be in Vietnamese, Mantis shrimp is a local delicacy in the coastal town of Ha Tien. Mantis shrimp breeds in the 3rd and 4th lunar month. It means the best time to catch the freshest mantis shrimps is from six months ahead of that time. During this period, the mantis shrimps will carry a huge mesh of ripe roe, which are eggs of the young shrimps. These shrimps will deliver a fatty and alluring aroma to your taste bud.
You can choose to have them steamed with lemongrass, roasted with garlic, or stewed in a hotpot. However, the easiest and best way to enjoy mantis shrimps is boiling. This way maintains the fresh and natural sweetness of the meat without any additives.