When it comes to Vietnam travel, most of you will think of war sites and food. However, do you know that Vietnam is also a paradise on Earth for adventurous souls? Stretching up and down the length of the country are plenty of adventurous spots for thrill-seekers. And what's even better is that Vietnam is a family-friendly destination. It means visiting Vietnam is a chance for you to bond more with your beloved ones and challenge yourself with a wide range of daring games and sports. If this is what you look for, here are the top 15 places and activities for your next Vietnam family adventure holidays!
1.  Lao Cai – Mountain Biking
Going on an adventure in Thailand is mostly portrayed as long-tailed boats cruising along the beach. In Vietnam however, traversing through picturesque landscapes while getting your blood pumping and heart racing is best depicted at the back of a bike! The popular dreamy town of Sapa, the lush rice paddies coupled with steep valley walls is one of the top adventurous places the country has to offer. A word to wise, prepare your calves and thighs, as cascading through the hills means a serious leg work-out!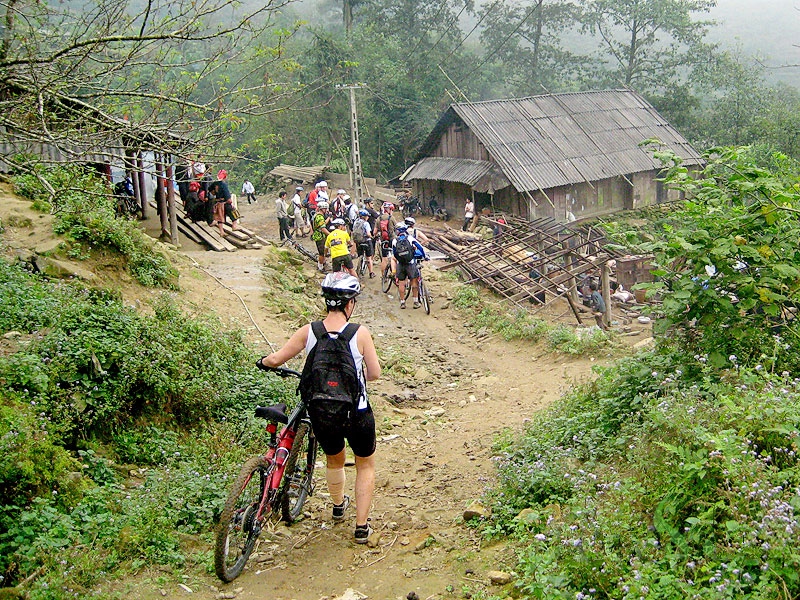 2. Sapa – Trekking
Those who wish to escape the busy streets of the city would find comfort trekking into nature. And look no further, because the country has a huge list of trekking sites to satisfy even the most adventurous souls. One of the most popular trails is found around Sapa in the mountainous region of northern Vietnam. Trekking in Sapa will take you through off-the-beaten paths and remote rural areas where you can encounter the friendly ethnic minorities in the country. It's recommended that you go along with a certified tour company to allow better interaction with the locals.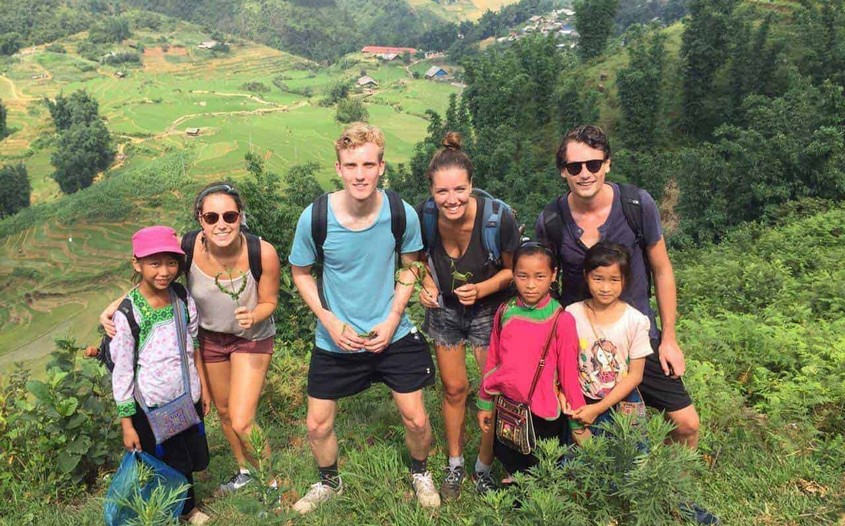 3. Ba Be National Park
Ba Be National Park covers an area of more than 23,000 hectares filled with waterfalls, rivers, deep valleys, lakes, and caves. This park is 240km away from the capital city of Hanoi. And it can be found in the northern extremities of the Bac Can province. Ba Be is also home to diverse ethnic minorities including the Hmong, Yao, and Tay. They live not in the central town but hamlets scattered in the middle of the park.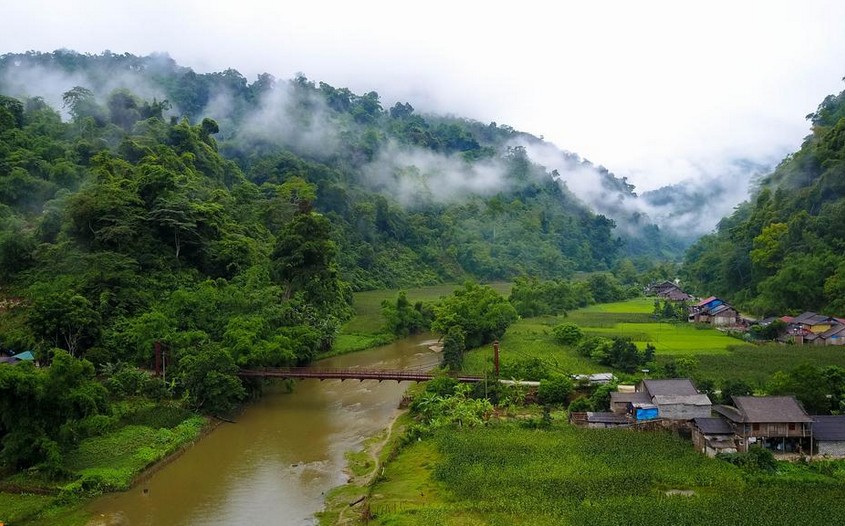 Cycling In Ba Be is such a thrilling adventure
The well-maintained roads and minimal traffic make cycling on the roads of Ba Be very welcoming. It also means that you could potentially cover more distance and have more time for pit-stop. You can take a break or to simply appreciate the countryside. On a good-weather day, cycling around can show you the towering mountains, flourishing rice paddies, and even multi-layered waterfalls.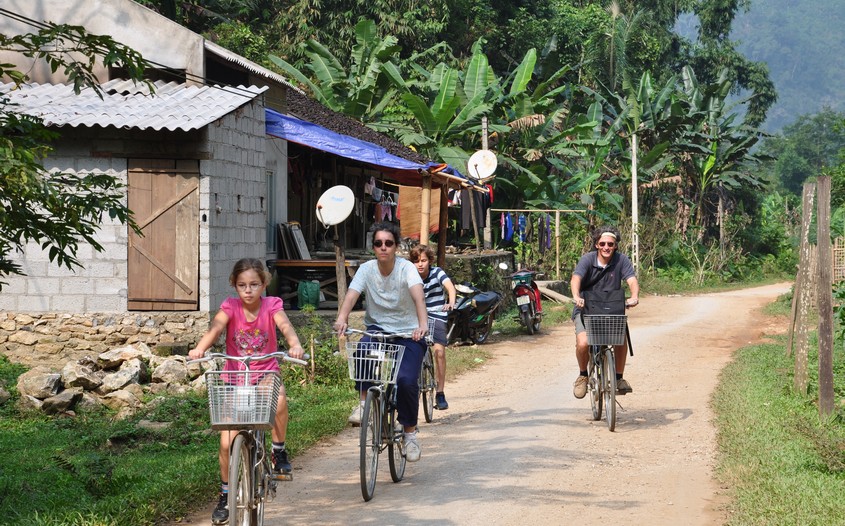 Most visitors go to Ba Be National Park for trekking
Both locals and visitors agree that Ba Be National Park is one of the best trekking spots in the country. Mass tourism is uncommon as the area is protected by the Vietnamese government since its designation as a Heritage Site back in 1992. The combination of the karst outcrops and the paddy fields carpeting the lower slopes of the mountains makes trekking in Ba Be National Park worth your while. It's also a chance to brush up your social skills and meet locals that can guide you with the best trails to take.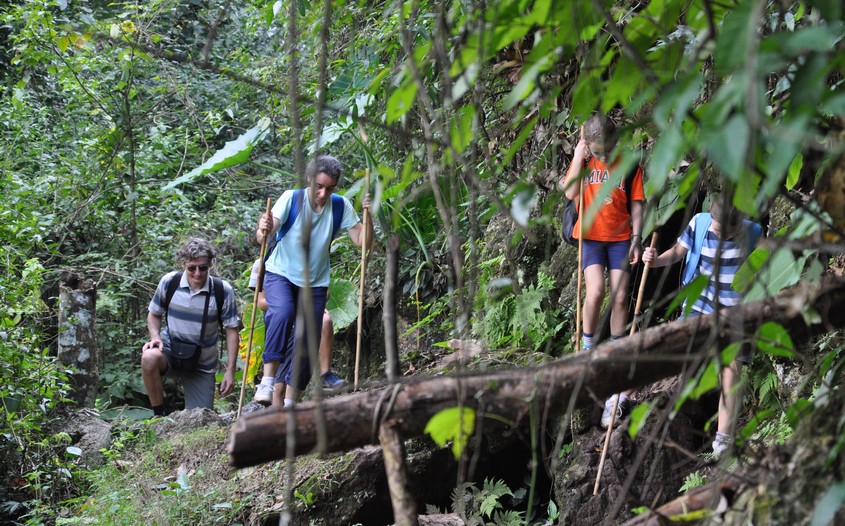 Great chance to mingle with ethnic locals
A local homestay is the only sensible choice if you want to complete your experience of Northern Vietnam. Staying with the locals at the homestays available is as authentic as you can get for that countryside-living experience. Families of up to several generations commonly stay under the same roof. This presents an opportunity to share meals,  exchange stories, and learn invaluable lessons from the host.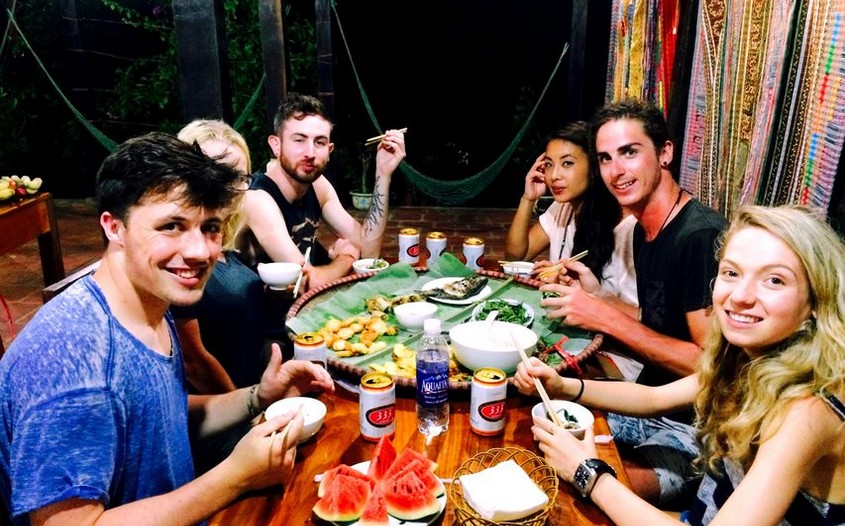 How about swimming and kayaking in Ba Be Lake?
After a day of cycling or trekking for that matter, nothing beats dipping on the cool waters of the Ba Be Lake. The waters are relatively safe with 35 meters at its deepest point. We recommend Widow Island as the best place to take a swim. The reason is that it looks like a jewel silhouetted against the clear green waters. Besides swimming, kayaking is also a thrilling experience.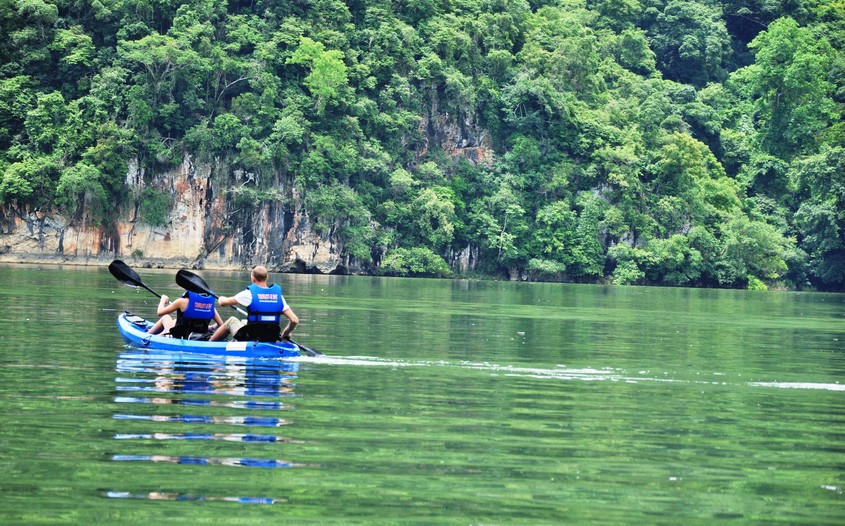 Boating is one of the best ways to explore the breathtaking beauty of Ba Be Lake.
If you'd prefer to take a backseat from the extreme adventures, traveling by boat is one of the best ways to explore Ba Be Lake. The boat will take you to witness the majestic karst mountains, the natural surroundings, the peaceful riverside village of Tay people, and the mysterious Puong tunnel cave.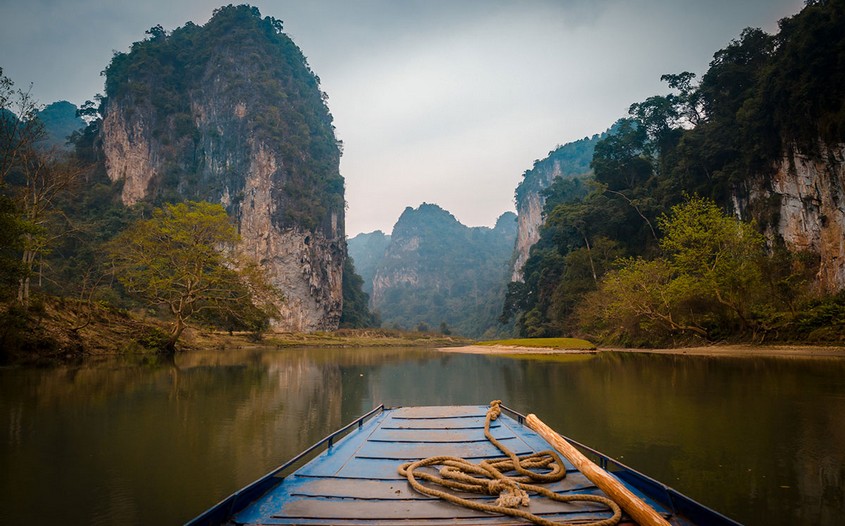 4. Ha Giang – Trekking and Sightseeing
The province of Ha Giang is located in the remote northernmost region of Vietnam. It is a frontier area bordering China to the North. And it is a brand-new tourist attraction for its rugged landscapes and unique local cultures
People visit Ha Giang mostly for a trekking experience. Most treks in Ha Giang lasts from 2 to 5 days. The best place to trek is in Dong Van or Hoang Su Phi. Before getting there, you need to be granted a border permit which costs 10 USD per person by the Ha Giang Immigration Office.
Even though you can trek all by yourself but we highly recommend you to get a guide. It's easy to get lost and end up in the middle of nowhere if you're trekking all by yourself.
You can scan through some of the best trekking tours in Ha Giang which includes a homestay overnight and dinner. These tours take you to the ethnic villages, golden rice terraces, and end up at a local ethnic homestay for dinner.
You can choose to join a tour from Hanoi to Ha Giang. Otherwise, get to Ha Giang on your own by night bus and chill for a while first before getting it serious for the trek!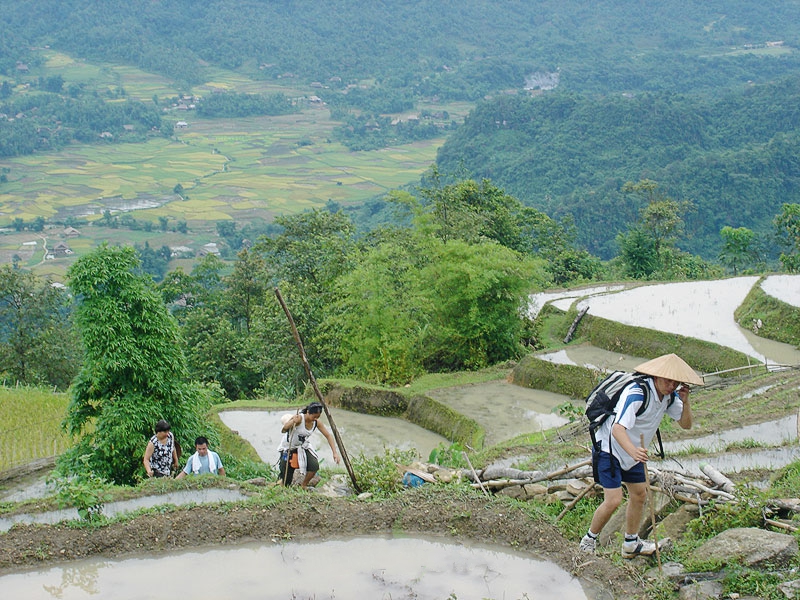 5. Sapa – Mount Fansipan Climbing
Mount Fansipan, regarded as the "Roof of the Indochina" is Vietnam's highest elevation standing at 3143 meters at the summit. If you're up to the challenge, this tough undertaking would normally take 3 to 4 days to conquer and claim victory. Nothing says adventure better than battling against the biting winds and uneven terrain as you ascend to the top. If this is your calling, make sure to prepare thoroughly both physically and mentally; and as taxing the adventure maybe, you'll be rewarded with heavenly panoramic views that can only be seen in Vietnam's highest peak.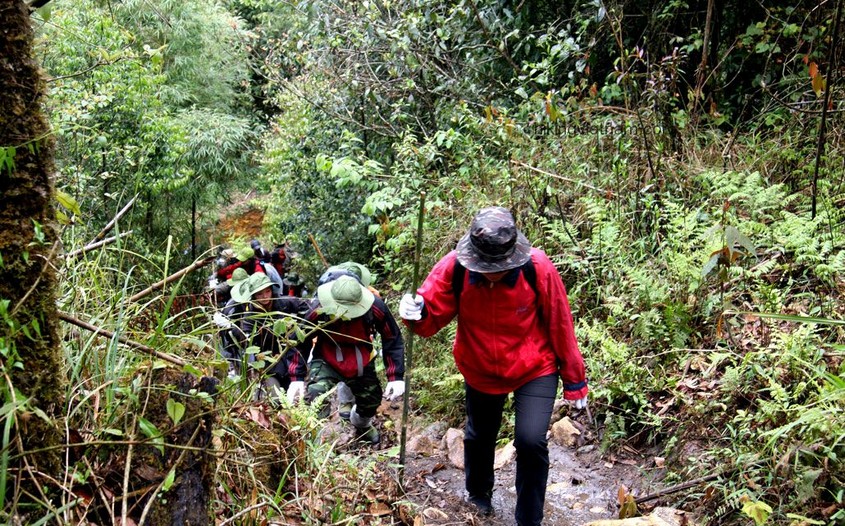 6. Halong Bay – Kayaking
Ha Long Bay is by far the best place in Vietnam for kayaking enthusiasts. The hundreds of limestone islands complement the cruise as you make your way through the emerald waters. Because of its surreal beauty, the atmospheric landscape of Ha Long Bay was declared as a UNESCO World Heritage site back in 1994. It holds its beauty until today that's why the area remains full with tour boats and day-trippers in kayaks. This could be your chance to discover some of the secluded beaches and natural caves that are left untouched in this emerald bay! Such a great idea for life-time Vietnam family adventure holidays.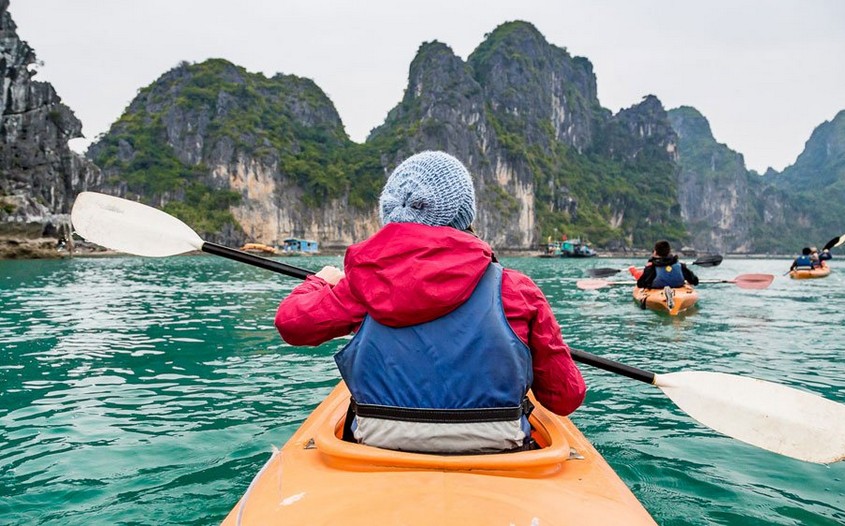 7. Quang Binh – Explore Son Doong Cave
The Son Doong cave located in Quang Binh province is the largest natural cave in the world; and no adventure bucket list would ever be complete without spelunking in it. The cave is so huge that the wide-body airliner Boeing 747 can fit through the passageway. A self-sustaining ecosystem exists inside the cave. And braving through the passageways is a testament to dedicated adventurers. Expeditions are solely facilitated by the operator company. The tours are operated annually from January to August.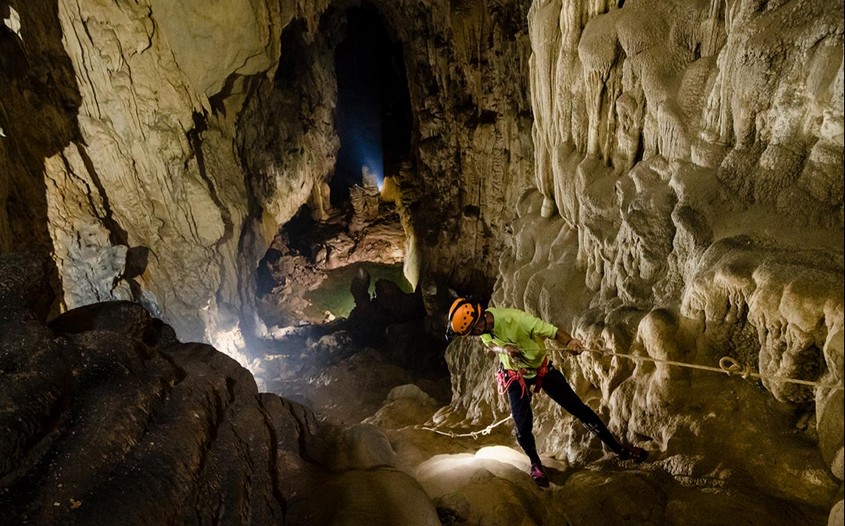 8. Quang Binh – Zip-lining
One outdoor activity that has been steadily gaining popularity in Vietnam is ziplining. For over 400 meters, the zip-line in Phong Nha Ke Bang National Park is the longest in the country. There are plans of making an even longer line stretching up to 3.5km. (2.2mi.) which will touch down on the entrance of the Dark Cave. At almost 1000 thrillseekers in attendance each day, visitors claim that this is one of their highlights when visiting Vietnam.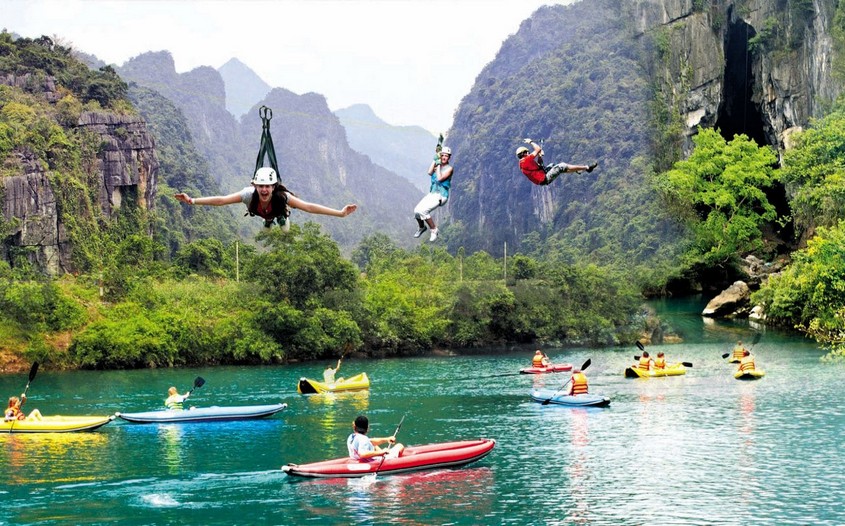 9. Danang – Marble Mountain Rappelling and Cave Exploration
Adrenaline junkies will find rappelling down caves and Marble Mountain the perfect idea of a blood-pumping epic adventure. Granted it might sound scary at first but the sheer thrill of dangling over the cliffside or descending a pitch-black cavern might otherwise convince you. Trained experts will provide you clear guidelines on proper and safe rappelling techniques. All you need to do is enjoying Non Nuoc's spectacular views as you make your way down Marble Mountain.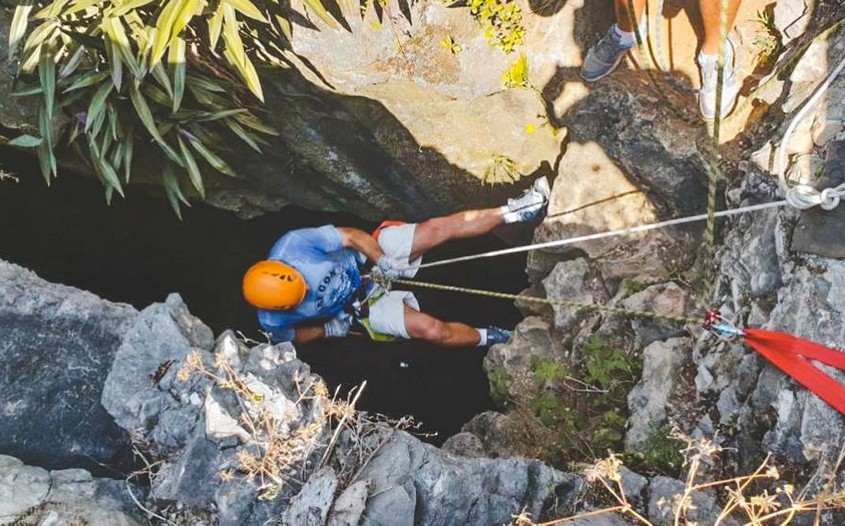 10. Kon Tum – Discover the Forest Hills
Tourists usually forego the town of Kon Tum on their itineraries. But for anyone who knows better, they surely love its unique charm. The city of Kon Tum has the hustle and bustle you'd normally expect. However, the experiences worth getting into are waiting for you once you go out of town. Renting a bike and traversing through the forest hills will take you to the ethnic minorities residing in the Central Highlands. These tribal villages along with their traditional architectural prowess are the highlights of that authentic rural experience.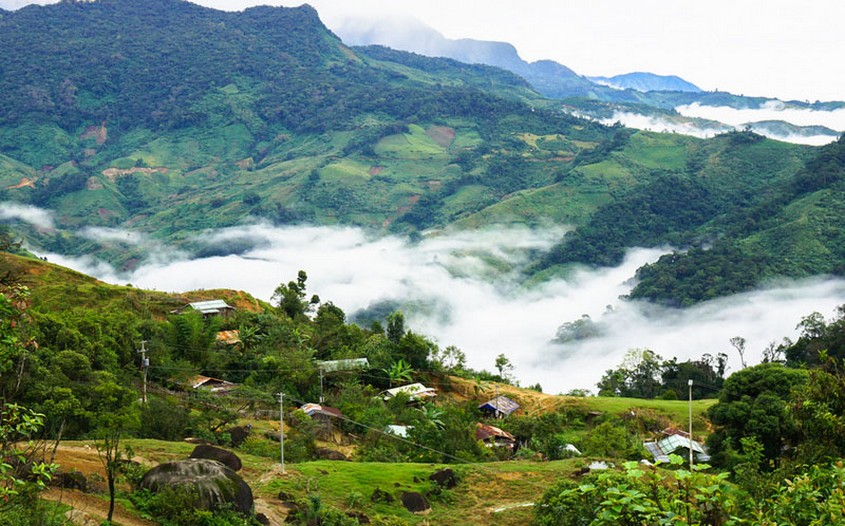 11. Dalat – Canyoning
Wilderness travel skills are essential when you go on canyoning. And if you've ever been on one, you'll be weary but hungry for more! Dalat exists the "Dalat Canyoning Challenge" where adventure tours and outdoor expeditions are available. It's the perfect place to learn the sport and discover charming sceneries pictured with waterfalls, hills, pine forests.
Beginner trails suited for new-comers are ideal especially for those on half-day tours. Meanwhile more complex routes are available to those wishing to challenge their strength and mettle. It's not for the faint-hearted, but who could resist the opportunity for such an adventure?
12. Mui Ne – Sandboarding
Windsurfing, kitesurfing, and sandboarding are some activities that made Mui Ne an adventure sports capital in Vietnam. The dunes in particular have provided a medium for heart-racing pursuits. With shifting winds and uneven terrain, it poses a challenge when you're practicing to surf down the dunes. If you're a beginner at this, don't worry, rolling around and sliding down ain't a bad choice either. One thing's for sure, once you get the hang of it, you'll be chasing down steep "big daddy dunes" for that undeniable amusement and Instagram-worthy shot.
13. Nha Trang – Scuba Diving
The months from March to October make up the diving season in Nha Trang. During this period, you'll have plenty of time to gaze at the reef filled with aquatic life such as dugongs, bamboo sharks, and nudibranchs. The weightless sensation as you freely explore the beauty of the life below is enough to lure anyone into the water's depths. Make sure to get your timing of visit correctly! This is because the selling point of diving is solely dependent on the season. Diving lessons are available in case you're unfamiliar; just remember to relax, enjoy the dive, and explore the ocean floor!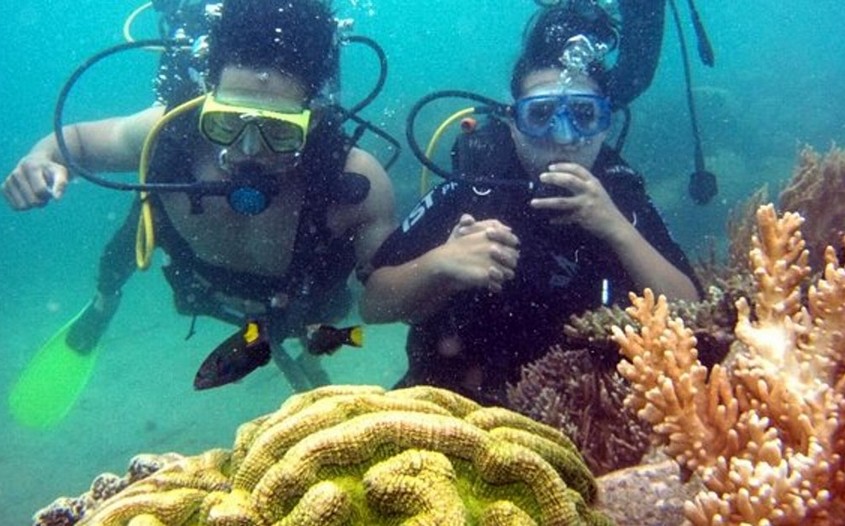 14. Nha Trang – Cliff Jumping
Muster up your courage for the next one which will make your heart fall, quite literally! Ba Ho Falls located in the province of Nha Trang consists of three natural waterfalls with a clear basin lake surrounded by dense rainforest. The commute to the falls usually takes around an hour. If you're daring enough to hike to the top, you'll need one more hour. As with any extreme activities, dive with precaution as the jumping point is slippery. However, if you have no plans to take the 36-meter plunge, the trip still merits a visit because of its crystal turquoise waters and natural surroundings.
15. Mekong River – Boating
On the southernmost part of Vietnam lies the incredible Mekong Delta. It is one of the most fascinating places in the country supporting the life of up to 21.5 million inhabitants. The river hosts Vietnamese villagers that fish, trade, and vend its produce in a variety of ways you might have not imagined! The flow from the river also supports the irrigation of the crops planted on which the locals depend for their livelihoods. With life revolving much around the river and its canals, the best way to explore the Mekong Delta is by taking a cruise or a boat ride. It will give you a fresh perspective and understanding of how the locals make their daily living. If your time is limited, boat tours from the nearby cities like Can Tho or Ben Tre are suitable for half-day trips.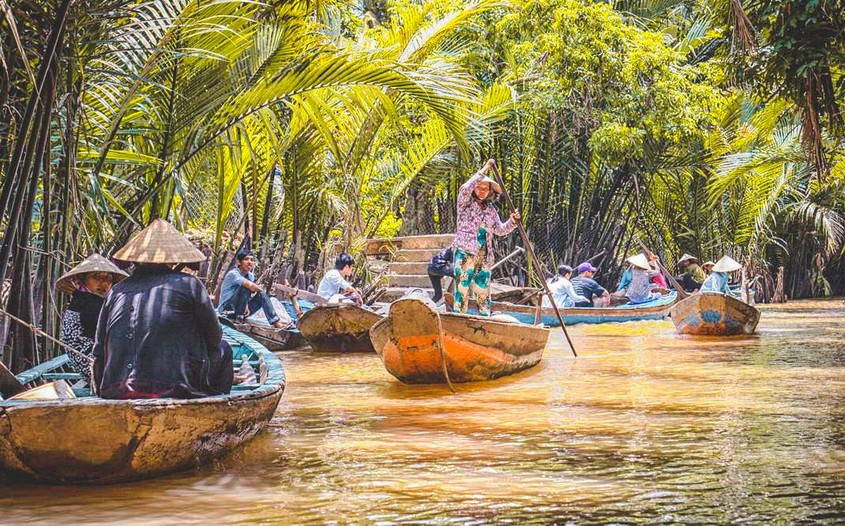 These 15 awesome activities are great for even a 30-day trip all across Vietnam. One thing to consider is to get a local guide who takes the best care of your trip and instruct you with essential skills and tips! Why wait to share with your friends and family for the next awesome holidays?